Trump Phone Call Triggered Whistleblower Complaint
A mysterious conversation with a foreign leader is at the center of a controversy between the intelligence community and Congress.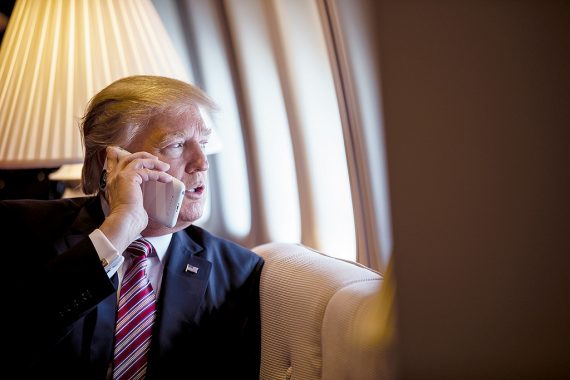 The Washington Post's headline, "Trump's communications with foreign leader are part of whistleblower complaint that spurred standoff between spy chief and Congress, former officials say," is long. The story that follows, alas, is short on answers.
The whistleblower complaint that has triggered a tense showdown between the U.S. intelligence community and Congress involves President Trump's communications with a foreign leader, according to two former U.S. officials familiar with the matter.

Trump's interaction with the foreign leader included a "promise" that was regarded as so troubling that it prompted an official in the U.S. intelligence community to file a formal whistleblower complaint with the inspector general for the intelligence community, said the former officials, speaking on the condition of anonymity because they were not authorized to discuss the matter publicly.

It was not immediately clear which foreign leader Trump was speaking with or what he pledged to deliver, but his direct involvement in the matter has not been previously disclosed. It raises new questions about the president's handling of sensitive information and may further strain his relationship with U.S. spy agencies. One former official said the communication was a phone call.

The White House declined to comment. The Office of the Director of National Intelligence and a lawyer representing the whistleblower declined to comment.

Intelligence Community Inspector General Michael Atkinson determined that the complaint was credible and troubling enough to be considered a matter of "urgent concern," a legal threshold that ordinarily requires notification of congressional oversight committees.
The thing is, Trump is the President of the United States. As such, he's the commander-in-chief of US armed forces and the ultimate classifying authority for all US intelligence agencies. While it may be "troubling," he can disclose any information that he's received from them at his sole discretion.
Similarly, he's the nation's chief diplomat. He's allowed to talk to any foreign leader he wants. And he'd have to promise something extraordinary, indeed, to violate the law.
Furthermore, he's entitled to an inordinate amount of deference from the intelligence community and other federal agencies before notification of congressional oversight committees. He and his team have, in my judgment, abused Executive privilege repeatedly. But it's actually still a thing.
So, what happened that has triggered "urgent concern"? The report doesn't say.
The complaint was filed with Atkinson's office on Aug. 12, a date on which Trump was at his golf resort in New Jersey. White House records indicate that Trump had had conversations or interactions with at least five foreign leaders in the preceding five weeks.

Among them was a call with Russian President Vladimir Putin that the White House initiated on July 31. Trump also received at least two letters from North Korean leader Kim Jong Un during the summer, describing them as "beautiful" messages. In June, Trump said publicly that he was opposed to certain CIA spying operations against North Korea. Referring to a Wall Street Journal report that the agency had recruited Kim's half-brother, Trump said, "I would tell him that would not happen under my auspices."
There were other conversations, but Putin and Kim are obviously the leaders with whom sharing of sensitive information or making outrageous promises would seem to have the most potential for damage. If, to engage in wild speculation, Trump handed over Top Secret information in exchange for Russian interference in the 2020 election, for example, Congress should certainly know about it.
We'll see how the standoff goes. The Inspector General is scheduled to testify before Congress today on the matter. Will he reveal what he knows in direct violation of the orders of the Acting Director of National Intelligence?