Trump Piling Irresponsibility on Irresponsibility
The world's worst COVID manager is now the world's worst COVID patient.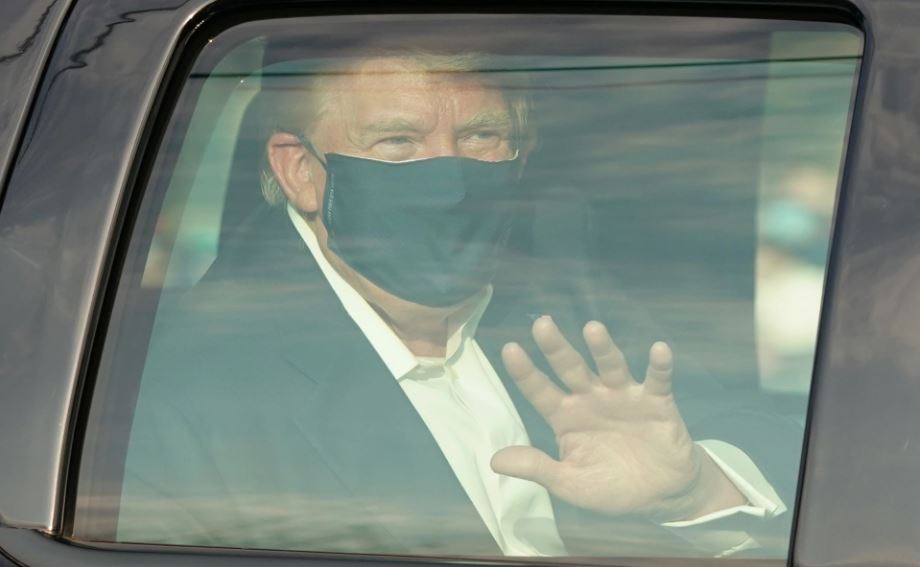 President Trump's impromptu limousine ride while recovering from COVID-19 is rightly drawing near-universal condemnation:
Guardian ("'This is insanity': Walter Reed physician among critics of Donald Trump drive-by visit"):
Donald Trump drew immediate rebuke from doctors on Sunday afternoon for an "insane" surprise drive-by visit to supporters outside the Walter Reed military medical center, where the president is being treated for an infection of Covid-19.

At least two other people, probably Secret Service agents, wearing respirators and eye protection, were seen on video in the vehicle accompanying Trump, who was also masked, during the short drive.

James Phillips, doctor of emergency medicine at George Washington University, who is an attending physician at Walter Reed, called the stunt "insanity".

"Every single person in the vehicle during that completely unnecessary Presidential 'drive-by' just now has to be quarantined for 14 days. They might get sick. They may die," he wrote in a tweet.

"For political theater. Commanded by Trump to put their lives at risk for theater. This is insanity."

In a second tweet, Phillips added: "That Presidential SUV is not only bulletproof, but hermetically sealed against chemical attack. The risk of COVID19 transmission inside is as high as it gets outside of medical procedures. The irresponsibility is astounding. My thoughts are with the Secret Service forced to play."
Secret Service agents assigned to the presidential protective detail knowingly risk death to stop assassination attempts on the head of state and his family. That's the job. But there's a reciprocal responsibility on the part of the protectees not to undertake foolish risks.
Meanwhile, the lies and misinformation about the President's health status are sowing needless confusion.
NYT ("As Trump Seeks to Project Strength, Doctors Disclose Alarming Episodes"):
President Trump sought to dispel any perception of weakness on Sunday with a surprise and seemingly risky outing from his hospital bed to greet supporters even as his doctors once again rewrote the official narrative of his illness by acknowledging two alarming episodes they had previously not disclosed.

The doctors said that Mr. Trump's blood oxygen level dropped twice in the two days after he was diagnosed with the coronavirus, requiring medical intervention, and that he had been put on steroids, suggesting his condition might be more serious than initially described. But they insisted that his situation had improved enough since then that he could be released from the hospital as early as Monday.

The acknowledgment of the episodes raised new questions about the credibility of the information provided about the commander in chief of a superpower as he is hospitalized with a disease that has killed more than 209,000 people in the United States. With the president determined not to concede weakness and facing an election in just 30 days, officials acknowledged providing rosy assessments to satisfy their prickly patient.

[…]

Mr. Trump's camera-friendly, morale-boosting "surprise visit," however, may have masked the reality of his condition, and his seeming energy may have reflected the fact that he was given the steroid dexamethasone, according to medical experts. Dexamethasone has been shown to help patients who are severely ill with Covid-19, but it is typically not used in mild or moderate cases of the disease.

[…]

Even as the White House released new details about the president's condition on Sunday, it continued to withhold others, including when Mr. Trump had his last negative test for the coronavirus and his first positive one. Two administration officials speaking on the condition of anonymity acknowledged that he had an undisclosed positive result from a rapid test on Thursday evening after returning from a fund-raiser at his golf club in Bedminster, N.J. But he did not reveal it when he subsequently called into Sean Hannity's Fox News show and, in a raspy voice, said he was still waiting for results.

Only after the television show did the results of another, more sophisticated PCR test come back confirming the positive reading, according to the officials, an account previously reported by The Wall Street Journal. It was that later test result that Mr. Trump announced on Twitter around 1 a.m. Friday.
We simply don't know how sick the President is and, indeed, have no reason to believe anything the White House or anyone under Trump's influence—including military doctors at Walter Reed—tell us.
As to Trump's taking dexamethasone, it could either be an indication that he's very sick and therefore getting the most aggressive treatment available. But it's just as likely that he's only mildly ill and ordering that he be given every possible treatment all at once—a potentially dangerous course of treatment that no responsible doctor would give an ordinary patient.