Trump Remains Odds-On Favorite for 2024 Republican Nomination
As tired as we may be of him, his nominating electorate appears ready for another round.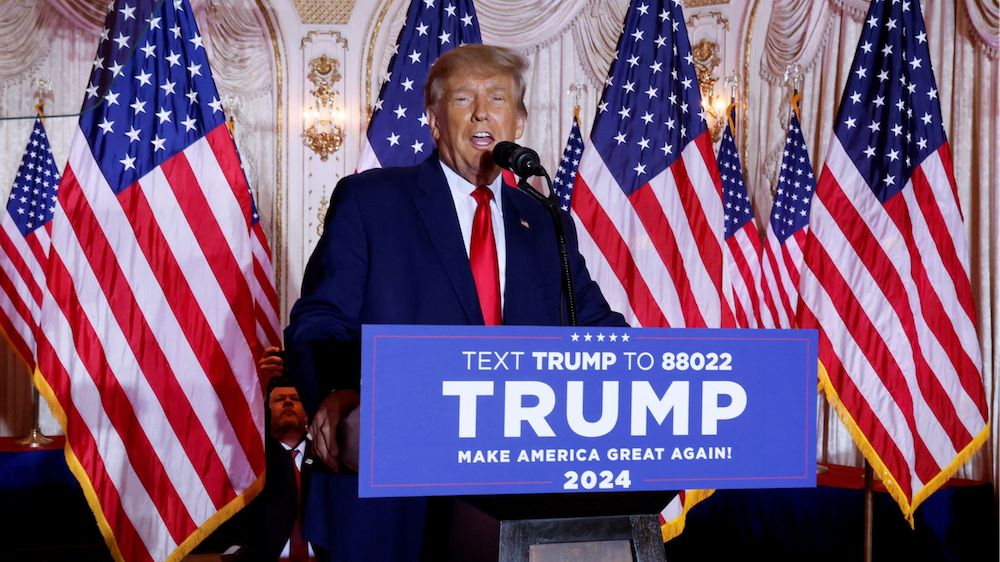 Josh Kraushaar at Axios ("Trump's February bump"):
After a shaky start to his presidential campaign, Trump has quietly found his footing over the last month.

His visit to the derailment site in East Palestine, Ohio — ahead of President Biden and Transportation Secretary Pete Buttigieg — showed off a touch of empathy, at least by Trump standards.
The former president got out of his mega-rally comfort zone in favor of several small campaign stops for ice cream in South Carolina and McDonald's in Ohio, where his impromptu visits were well-received by the restaurant staff.
Ah, the old McDonald's Restaurant Staff Barometer. It's right up there with Punxsutawney Phil's Shadow and the Dixville Notch Midnight Vote in its predictive power.
A new Emerson poll found Trump with a 30-point lead (55%-25%) against Florida Gov. Ron DeSantis — up from a 26-point lead (55%-29%) over DeSantis in Emerson's January survey.

Trump wins a whopping 72% support among Republicans with a high school degree or less.
Emerson's poll also found Trump leading Biden, 46%-42%. DeSantis trailed Biden, 44%-40%.
Okay, that's fairly convincing. Still, it's just one poll.
The findings in the Emerson poll, which has lately been favorable to Trump, were matched by three other top pollsters.

A new Yahoo News/YouGov poll has Trump opening up an 8-point lead on DeSantis (47%-39%), after DeSantis led the former president by 4 in the pollster's previous survey at the beginning of February.
The GOP polling firm Echelon Insights found Trump leading DeSantis by 15 points (46%-31%) on a national ballot test. Last month, the pollster found Trump only leading DeSantis by 2 points (36%-34%).
Fox News' first presidential primary poll, testing the GOP presidential ballot, found Trump leading DeSantis by 15 points (43%-28%).
Well, shit. That's starting to look like a trend.
Even as Trump appears to be the clear Republican front-runner, with a committed base of at least one-quarter of the GOP electorate, his rivals are holding their fire against him.

Nikki Haley only mentioned his name once in her kickoff address. DeSantis has studiously avoided responding to his social media attacks.
Trump is also maintaining significant support even as his campaign events aren't drawing remotely the same wall-to-wall coverage as they did during his presidency (or during the 2016 campaign).
That's actually not an "even" so much as an "and," no? Presumably, Haley and DeSantis would be working hard to take down Trump if they thought they were serious contenders to unseat him for the nomination?
The bottom line: The beginning of the 2024 campaign is feeling similar to the 2016 race, when Trump's GOP rivals assumed he would automatically fade without them doing anything to stunt his momentum.
Actually, not quite.
Trump announced his 2016 run on June 16, 2015. It actually took him awhile to rise to the top of the pack, let alone become the prohibitive favorite. Here are the RealClearPolitics polling trendlines: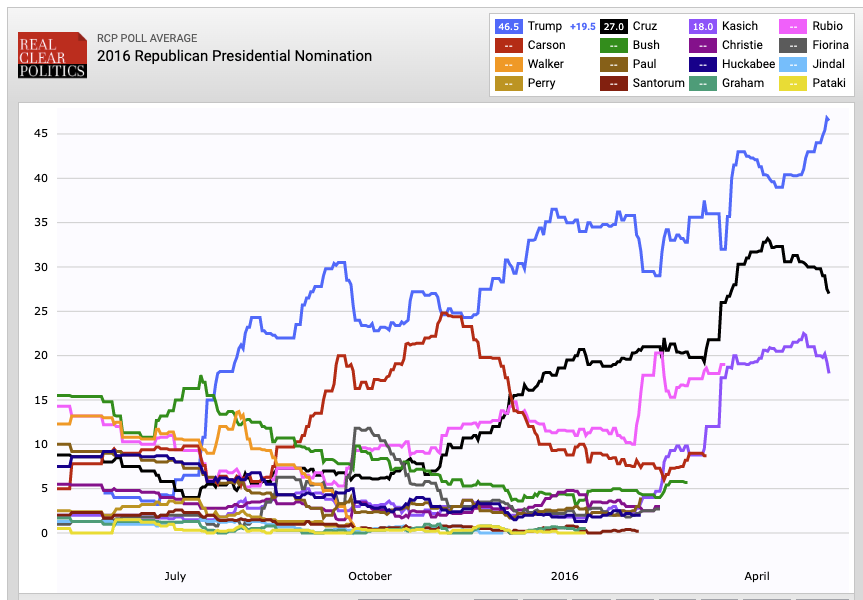 While none of them wound up being at all formidable, it seemed perfectly reasonable in the summer of 2015 to think that Jeb Bush, Marcio Rubio, or Ted Cruz could win the nomination. There are no comparable alternatives this cycle.
Looking inside the YahooNews/YouGov poll is even more depressing: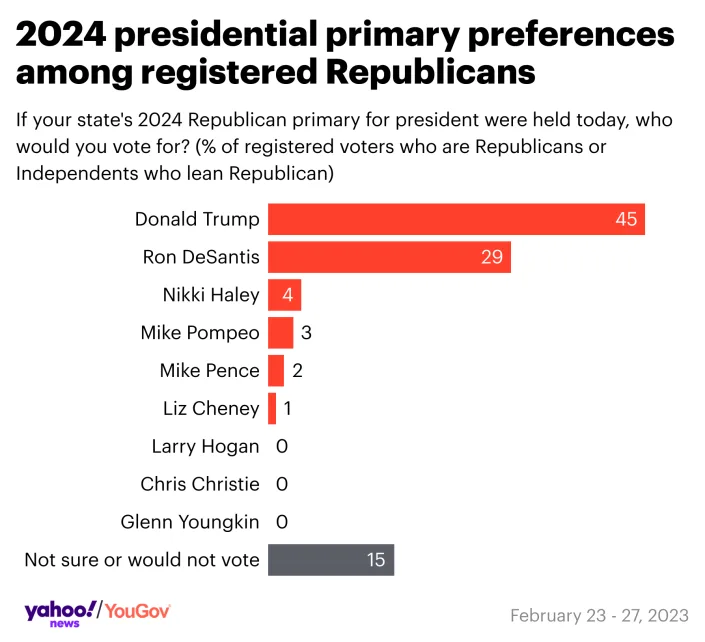 Granting that we're almost a year away from the first votes being cast, there are only two viable candidates right now. While I would very much prefer that the Republicans nominate a Larry Hogan or Liz Cheney, that's certainly not going to happen. But even a more MAGA-friendly "normal" Republican like Glenn Youngkin, who seemed like a plausible candidate when he won the Virginia governor's race in 2021, is currently a non-entity on the national scene.
Josh Marshall ("Ignore the Noise. It's Still Trump's Nomination to Lose") is similarly resigned:
It's true that this is very early in the primary process. The field is incomplete. But that matters much less than it normally would. Everybody knows who Trump is, what he represents and what kind of president he would be. Because of this, the question at the heart of the primary is clear and unlikely to change: Trump or not? The answer to that question could change. But the question is very unlikely to do so.

What could change the answer? The most obvious thing would be serious indictments which change perception of the man or, more concretely, raise the possibility that he'll be in prison by January 2025. For a conventional politician that would be the end. But given who Trump is and the dynamics of today's Republican Party, it seems at least as likely that indictments would make it even harder for any Republican to criticize him. His faux-martyrdom is likely to make him untouchable. Rivals intent on tearing him down would be forced in spite of themselves to defend him. If they're not defending him as such they'd be forced to attack his purported persecutors, which amounts to the same thing.

He is diminished, wounded, weaker, older. But he still dominates the GOP, not unlike the over-mighty warlord who deeply divided the GOP but could not be dislodged and won the party nomination on that basis in 2016. I know the contrary arguments and in themselves they make a certain sense. But nothing we're seeing suggests any dynamic that would change this equation.
I'm almost certainly voting for the Democratic nominee in 2024 even if a non-Trump somehow wins the Republican nomination. Presuming President Biden remains healthy, he'd presumably welcome a rematch against the guy he beat by 8 million votes. But, given that the combination of a binary choice and the Electoral College serving to skew the outcome in that direction, it would be awfully nice to have two sane, pro-America candidates heading up the national tickets.