Trump Is Worried About The Economy And 2020. He Should Be.
The Trump Administration and 2020 campaign are clearly worried about the state of the economy. They should be, because it could be the one thing that dooms his re-election chances.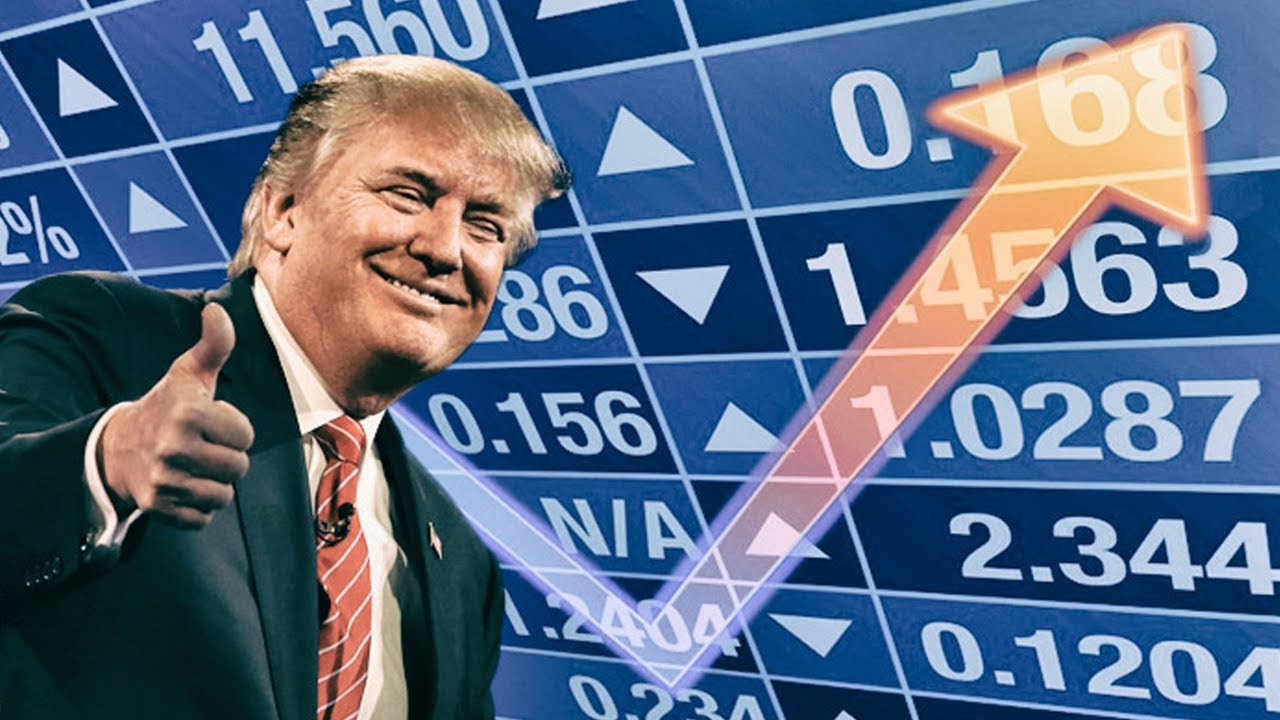 Harry Enten at CNN makes note of the biggest threat to Trump's re-election in 2020, the probability that there will be a recession in the coming 18-24 months and the danger that poses to his re-election prospects:
President Donald Trump's main hope for reelection has been the economy. As I noted earlier this week, Trump's approval on the economy has averaged 53% over CNN's last three polls. His overall job approval rating in those same polls among voters has been just 44%.

But what happens if the economy loses some steam? Some indicators, such as the yield curve, suggest this could occur.

Trump's already shaky reelection chances would likely drop significantly.

Right now, the main reason voters approve of Trump's job performance is the economy. A CNN poll from late May found that 26% of those who approve of Trump's job performance said it was mainly because of the economy. That was more than double the next most commonly given answer. Additionally, 8% said jobs/unemployment was the main reason for why they approved of Trump. Among those who disapproved, few said anything related to the economy was the main reason why they disapproved of Trump. For example, only 1% said the Trump tax cuts.

Now, many of those who approve of Trump currently would approve of him regardless of what he did. Still, he'd probably lose some of those who approve if the economy went south. He cannot afford for that to happen. At just 44% approval overall, Trump needs a few lucky breaks even if the economy stays steady. Further, a dip in the economy would probably lose Trump any shot he had at winning over that 9% of voters who approve of him on the economy but not overall.

Remember that when there were signs of an economic slowdown during the government shutdown earlier this year, Trump's approval rating dropped to about 40% with all voters.

Trump's reelection chances could hinge on the state of the economy. Take, for example, job growth.

Job growth is a simple measure and fairly predictive of an incumbent's reelection hopes. I took a weighted yearly average (i.e. from October to October) for each of the final two years before the election and compared this measure to the president's reelection margin in presidential elections dating back to the end of World War II. I say weighted because the growth the year before the election is weighted more heavily.

Applying this to Trump, we find that the average weighted yearly job growth over the last two years has been about 1.5%. This is the type of growth that is consistent with a close reelection margin. Two incumbents with similar job growth over their final two years (George W. Bush in 2004 at 1.1% and Barack Obama in 2012 at 1.6%) won by less than 4 points.

Of course, Trump's current level of job growth is far from a guarantee of winning reelection. Gerald Ford had a nearby 1.9% yearly weighted average growth over his final two years, and he lost by 2 points. It makes sense that job growth isn't a perfect predictor of reelection fortune. Beyond the basic fact that there are plenty of ways to measure the economy, there are issues voters consider besides the economy. For Ford, it was Watergate. For Trump, our May poll suggests it's likely the issues surrounding his character. The state of the economy suggests a range of possible outcomes from moderate sized loss to moderate sized win.

That range of possibilities for Trump becomes a lot more dire if the economy takes a turn for the south. Let's say yearly job growth gets cut in half. That would mean a weighted yearly job growth of less than 1.0%. The only two incumbents running for reelection to face that type of economy since the end of World War II were Jimmy Carter in 1980 and George H.W. Bush in 1992. Both lost by more than 5 points.

In other words, even if voters dismissed concerns about his character, Trump would be an underdog if the economy slides.

It's fairly clear that Trump and his closest advisers are worried about the state of the economy and its potential impact on the President's fortunes in 2020. This can be seen quite clearly in Trump's twitter feed, where he continually talks up the economy while simultaneously setting up the Federal Reserve Board, who he has accused of hurting the economy by raising interest rates and then taking too long to start lowering them again, as the fall guy if the economy turns south while dismissing any talk that his trade war is playing a role in the ongoing uncertainty in the economy and on Wall Street. It can also be seen in the comments by one of Trump's chief economic advisers, Larry Kudlow, who appeared on a number of the Sunday morning shows. Trump repeated that theme when he spoke to reporters after reporters on his way back to the White House yesterday afternoon.
This, of course, is the natural response you'd expect from any White House, and talking up the economy but it's probably even more of a concern for Trump. While the President's overall job approval numbers remain historical low, it's clear that he has benefited from the generally positive state of the economy when you consider the fact that his approval numbers on the economy alone are in very positive territory. It's worth noting, though, that the latest measure of those numbers, from NBC News and The Wall Street Journal, show his job approval on the economy dipping below 50% for the first time since earlier this year.
This all leads to a weekend report from Josh Boak and Jonathan Lemire at the Associated Press regarding the worries inside Trump World about the economy and 2020:
WASHINGTON (AP) — President Donald Trump is warning of an economic crash if he loses reelection, arguing that even voters who personally dislike him should base their ballots on the nation's strong growth and low unemployment rate.

But privately, Trump is growing increasingly worried the economy won't look so good come Election Day.

The financial markets signaled the possibility of a U.S. recession this week, sending a jolt of anxiety to investors, companies and consumers. That's on top of concerns over Trump's plans to impose punishing tariffs on goods from China and word from the United Kingdom and Germany that their economies are shrinking.

Though a pre-election recession here is far from certain, a downturn would be a devastating blow to the president, who has made a strong economy his central argument for a second term. Trump advisers fear a weakened economy would hurt him with moderate Republican and independent voters who have been willing to give him a pass on some his incendiary policies and rhetoric. And White House economic advisers see few options for reversing course should the economy start to slip.

Trump has taken to blaming others for the recession fears, mostly the Federal Reserve, which he is pushing for further interest rate cuts. Yet much of the uncertainty in the markets stems from his own escalation of a trade war with China, as well as weakened economies in key countries around the world.

Some of Trump's closest advisers have urged him to lower the temperature of the trade dispute, fearing that further tariffs would only hurt American consumers and rattle the markets further. The president blinked once this week, delaying a set of tariffs in an effort to save Christmas sales.

Aides acknowledge it is unclear what steps the White House could take to stop a downturn. Trump's 2017 tax cut proved so politically unpopular that many Republicans ran away from it during last year's midterms. And a new stimulus spending program could spark intraparty fighting over big deficits.

The hope among administration officials is that a mix of wage gains and consumer spending will power growth through 2020. Yet Trump knows his own survival hinges on voters believing that he alone can prolong the economy's decade-plus expansion.

"You have no choice but to vote for me because your 401(k), everything is going to be down the tubes," the president said at a Thursday rally in New Hampshire. "Whether you love me or hate me, you've got to vote for me."

Trump has spent much of the week at his New Jersey golf club, many of his mornings on the links, his afternoons watching cable television and his evenings calling confidants and business executives to get their take on the market's volatility.

Though he has expressed private worries about Wall Street, he is also skeptical about some of the weaker economic indicators, wondering if the media and establishment figures are manipulating the data to make him look bad, according to two Republicans close to the White House, not authorized to discuss private conversations.

His skepticism has been reinforced by White House officials who have long been inclined to only show Trump rosier economic assessments.
Aaron Blake repeats this theme in The Washington Post and also explains why Trump is specifically choosing to attack his own self-selected Federal Reserve Board Chairman:
With the stock market tanking following Trump's announcement of new China tariffs — amid other warning signs — the Trump administration on Tuesday gave itself a mulligan and delayed some of the more high-profile tariffs until late this year. That was the first sign there was real concern; Trump after all, had announced the tariffs less than two weeks earlier, and pulling back on them could easily be seen as a sign of weakness in his standoff with the Chinese.

That precipitated a rally in the stock market Tuesday. But then Wednesday, the inverted yield curve — which is generally acknowledged as one of the most prescient indicators of a recession — delivered more bad news. The markets fell again.

And Trump's reaction to it all should erase any doubt about how concerned he is. He has spent much of the past 24 hours bashing Powell for not cutting the Fed's interest rate fast enough — even as Powell has already given him some of the cutting he desires.

"Even now, you know, you see the interest rates," Trump said Tuesday afternoon in Pennsylvania. "I'm paying a normalized interest rate. We should be paying less, frankly. This guy has made a big mistake. He's made a big mistake — the head of the Fed. That was another beauty that I chose."

Trump then took Powell to task on Twitter on Wednesday, after the inverted yield curve news.

"The Great [Fox Business host] Charles Payne ... correctly stated that Fed Chair Jay Powell made TWO enormous mistakes," Trump began. "1. When he said 'mid cycle adjustment.' 2. We're data dependent. 'He did not do the right thing.' I agree (to put it mildly!)."

(…)

Trump's strategy in blaming Powell for whatever lies ahead would seem twofold: 1) He can lean on Powell to give him what he wants for fear of shouldering the blame for anything bad that happens (perhaps forestalling economic pain until after 2020). 2) If and when that bad stuff does happen, he can simply do what he always does and say, "It's not my fault; this guy wouldn't listen to me."

Layer on top of that the complex inner workings of the Fed and economics in general, and very few people will truly know whom to believe. Even if economists side with Powell and blame Trump's trade war (as they are now), it will be something of a self-fulfilling prophecy: the "deep state" working to take Trump down by kneecapping his great successes on the economy to unseat him, once and for all.

It may not be enough to save Trump's presidency if such a downturn were to come to pass, but he and some allies in conservative media are clearly already planning for that eventuality. That's both an indication of how concerned he is and how ugly this all could get.
As things stand, we are now in the 122nd month of the recovery that began in the summer of 2009, making this the longest period of economic expansion in American history. It's worth noting, though, that this has been a relatively weak recovery, with annual job growth at only 1.4% per year and annual economy growth at just 2.3% per year. This compares unfavorably with the second-longest expansion, which lasted for most of the 1990s into early 2001, during which we saw average job growth at 2.0% per year and economic growth averaging at 3.6% and the economic recovery under President Reagan and Bush 41 which saw average job growth of 2.8% and economic growth at 4.3% per year. Indeed, the current recovery is the second weakest in American history in terms of both jobs and economic growth, with only the recovery that took place from 1945-1948 in the wake of World War Two having been weaker. (The source for all the statistics in this paragraph can be found here.)
What these numbers suggest, of course, is that it would not take much for the economy to slip into recession, or at least to slow down to a point where it would be stagnant and the average American would begin to feel the impact of such a downturn. In all honesty, it is inevitable that this is going to happen at some point. Economic expansions don't last forever, and the longer we go without a downturn the more likely it is that there is one around the corner. The only question is when it's going to happen, and whether the timing comes at a time that undercuts what is effectively the President's only argument for re-election. If it does, then it may not matter who the Democratic nominee turns out to be. While even a bad economy most likely won't break the faith of the diehard Trump supporters, it's likely to have a real impact on many of the white working-class voters who supported Trump over Clinton in 2016 and had previously supported former President Obama. So keep an eye on the economy, because it could give us a big clue on which way the election will go.
Most economists believe the United States will tip into recession by 2021, a new survey shows, despite White House insistence the economy is sound.
Update: On a related note, The Washington Post reports that a majority of economists are predicting a recession in the next 12 to 24 months:
Most economists believe the United States will tip into recession by 2021, a new survey shows, despite White House insistence the economy is sound.

Nearly 3 out of 4 economists surveyed by the National Association for Business Economics expect a recession by 2021, according to results released Monday. The outlook reflects growing skepticism among economists and investors that the U.S. economy will be able to withstand a protracted trade war with China without serious harm amid the weakening global outlook.

Hedge fund manager Ray Dalio, the founder of Bridgewater Associates, told CNBC last week that he now believes there's a 40 percent chance of a recession before the 2020 election. In February, he had estimated that figure to be 35 percent.

Stock markets gyrated last week as investors grappled with continuing U.S.-China trade uncertainty and absorbed grim data showing Germany and eight other major economies are in a recession or on the verge of one. And Wednesday, the bond markets sounded their own warning when the yields on 10-year Treasury bonds briefly fell below those on two-year Treasury bonds. The scenario, known as an inverted yield curve, has preceded every recession since 1955 and offers a sign that investors are piling into safer assets.

(…)

Some businesses have scaled back their investments as they wait for a resolution to the trade war. The manufacturing industry is struggling as output declines and hiring contracts.

The Federal Reserve also is working to shield the U.S. economy, cutting interest rates last month for the first time since 2008. Fed Chair Jerome H. Powell called the move a "midcycle adjustment" and said that it was not necessarily the start of a long rate-cutting trend. However, expectations for further rate cuts are on the rise, with investors now pricing in another rate reduction during the Fed's September meeting.

The survey of 226 economists was conducted from July 14 to Aug. 1, before Trump announced the latest round of tariffs against China and before the last bout of market volatility. Still, the report found that economists were nearly as pessimistic about the United States this summer as they were earlier this year, showing that for many economists the question is not so much whether the U.S. economy will enter a recession but when.

Some economists delayed the timeline for when they expect a slowdown to start. The share of economists expecting a recession this year dropped to 2 percent from 10 percent in February. In addition, 34 percent now expect a recession in 2021, up from 25 percent in February. Still, about 4 out of 10 economists expect a slowdown in 2020, roughly unchanged from the previous report.
It's not a question of if there will be a recession, it's a question of when it will happen.