Trump Threatens To Close Southern Border If He Doesn't Get His Border Wall
President Trump is now threatening to close the border if he doesn't get funding for his border wall.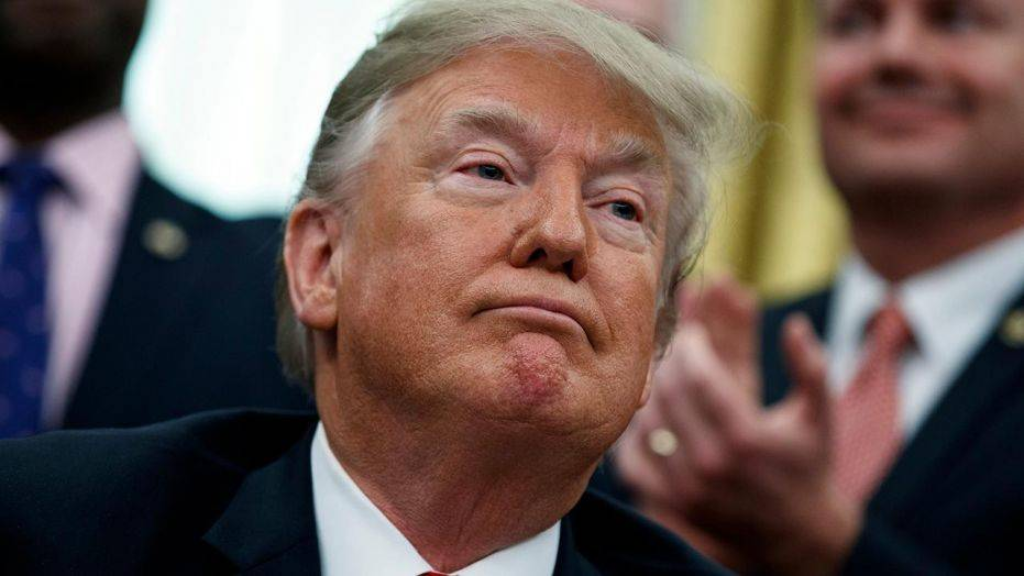 In a move that doesn't seem to recognize the reality of his weakening political position, the President came out of the blue yesterday to threaten to close the southern border if he doesn't get his border wall:
WASHINGTON — President Trump dug in on his demand for border wall funding as the partial government shutdown approached its first full week on Friday, threatening again to close the southern border and cut off aid to Central America if Congress continued to deny his administration the money.

"We will be forced to close the Southern Border entirely if the Obstructionist Democrats do not give us the money to finish the Wall & also change the ridiculous immigration laws that our Country is saddled with," Mr. Trump said on Twitter. "Hard to believe there was a Congress & President who would approve!"

With 800,000 federal employees left in limbo, Mr. Trump seemed to be embracing the stalled state of play. The White House sought to play up a divide between Democratic leaders, whose aides said it did not exist, and advisers said Mr. Trump was "surprisingly good" with missing a planned 16-day vacation at his Mar-a-Lago resort in Florida because of the shutdown.

Democrats sought to project that Mr. Trump had no clear route to funding the government without capitulating. "He has two options: caving right now or caving later," said Brian Fallon, a former spokesman for Senator Chuck Schumer, the minority leader. "They don't want to cave right now, but they don't have a path to get out of this bind if they hold on for two more weeks."

Mr. Trump's new chief of staff, Mick Mulvaney, tried to paint the incoming House speaker, Nancy Pelosi, as responsible for the impasse by implying that the Senate minority leader, Mr. Schumer, was willing to negotiate but she was not. "My gut was that he was really interested in doing a deal and coming to some sort of compromise," Mr. Mulvaney said Friday on "Fox & Friends," describing a meeting between Mr. Schumer and Vice President Mike Pence last weekend to discuss border security funding. "But the more we're hearing this week is that it's Nancy Pelosi who is preventing that from happening."

In their meeting, Mr. Mulvaney and Mr. Pence offered Democrats a deal that would have allocated $2.5 billion for border security, including new fencing, and $400 million for other immigration measures. But Mr. Schumer demurred, encouraging the vice president to accept the $1.3 billion that Republicans and Democrats in Congress had already agreed upon.

Senior aides to both Ms. Pelosi and Mr. Schumer dismissed Mr. Mulvaney's suggestion that they were in disagreement. "As our office stated immediately following the Saturday meeting, the two sides were 'still very far apart' — and still are today because of the president's insistence on keeping the government closed over his expensive and impractical wall," a spokesman for Mr. Schumer, Justin Goodman, said on Friday.

A spokesman for Ms. Pelosi, Drew Hammill, noted that the White House had made no formal outreach to Ms. Pelosi since Dec. 11, when she and Mr. Schumer met with the president.

(…)

Despite Mr. Trump's assertions to the contrary, most Democrats support increased funding for border security. Many Senate Democrats, for instance, voted to allocate tens of billions of dollars for security enhancements in 2013, including roughly doubling the size of the border patrol, creating new electronic monitoring systems and even some additional physical barriers at certain points along the border.

But that money was in the context of a comprehensive immigration overhaul that would have tried to address systemic problems. By contrast, they view Mr. Trump's border wall as a costly and ineffective proposal. What is more, they have pointed to government accounting documents that show the Trump administration has spent only a fraction of the money allocated by Congress last year for a physical barrier along the border.

With no endgame in mind, Mr. Trump appears to be boxed in between Democrats who will control the House and have key votes in the Senate and his supporters on the hard right, who have grown more vocal in criticizing him. After administration officials signaled this month that the president was willing to back off his demands for wall funding, the conservative personalities Ann Coulter and Rush Limbaugh accused the president of being "gutless" and surrendering to Democrats.
The Washington Post has more:
With the partial government shutdown headed toward its second week and no resolution in sight, President Trump on Friday issued a string of tweets in which he again vowed to close the entire U.S. border with Mexico and halt aid to several Latin American countries unless Democrats agree to his demand for billions of dollars in wall funding.

Trump also canceled plans to visit his Florida resort, Mar-a-Lago, and will remain in Washington over the New Year's holiday, Office of Management and budget director Mick Mulvaney said.

About 25 percent of the federal government has been shut down since Saturday, with roughly 800,000 workers affected, including an estimated 350,000 who are on furlough at home.

"We will be forced to close the Southern Border entirely if the Obstructionist Democrats do not give us the money to finish the Wall & also change the ridiculous immigration laws that our Country is saddled with," Trump said in a morning tweet.

In a reprise of his threat before the midterm elections to cut off aid to Honduras, Guatemala and El Salvador as a caravan of migrants was making its way toward the United States, Trump said that those three countries "are doing nothing for the United States but taking our money."

"Word is that a new Caravan is forming in Honduras and they are doing nothing about it," he said, without providing further details. "We will be cutting off all aid to these 3 countries — taking advantage of U.S. for years!"

Trump's tweets come as Congress has effectively given up on breaking the impasse over the president's demands for border-wall funding, all but ensuring that the partial government shutdown will stretch into at least the start of the new year.

The House and the Senate convened for just minutes Thursday before gaveling closed until next week. During the brief session in the House, Republicans shot down a Democratic attempt to vote on legislation to reopen the government.

Members of the congressional leadership were not in Washington, though aides insisted that lawmakers could return if there is a deal to end the shutdown. Senate Majority Leader Mitch McConnell (R-Ky.) was in his home state, according to his office, while Senate Minority Leader Charles E. Schumer (D-N.Y.) was with his family in New York.

Aides to House Speaker Paul D. Ryan (R-Wis.) and House Minority Leader Nancy Pelosi (D-Calif.) declined to say where they were.

"The House remains ready to act once there is a product that can pass the Senate and that the president says he will sign," said AshLee Strong, a spokeswoman for Ryan.
Not surprisingly, this all unfolded on the President's Twitter feed:
We will be forced to close the Southern Border entirely if the Obstructionist Democrats do not give us the money to finish the Wall & also change the ridiculous immigration laws that our Country is saddled with. Hard to believe there was a Congress & President who would approve!

— Donald J. Trump (@realDonaldTrump) December 28, 2018
….The United States looses soooo much money on Trade with Mexico under NAFTA, over 75 Billion Dollars a year (not including Drug Money which would be many times that amount), that I would consider closing the Southern Border a "profit making operation." We build a Wall or…..

— Donald J. Trump (@realDonaldTrump) December 28, 2018
…..close the Southern Border. Bring our car industry back into the United States where it belongs. Go back to pre-NAFTA, before so many of our companies and jobs were so foolishly sent to Mexico. Either we build (finish) the Wall or we close the Border……

— Donald J. Trump (@realDonaldTrump) December 28, 2018
The President probably doesn't realize or doesn't care that at least part of what he proposes here, namely cutting off aid to Central America, is something he cannot do without the authorization of Congress. That money, which accounts for a small percentage of the Federal budget as it is, is allocated by Congress and the President does not have the authority under existing law to stop that money from being spent. Furthermore, cutting off aid to Central America and abandoning efforts to helping those countries escape from the cycle of government corruption and gang violence that causes people to be willing to risk their lives to walk the several thousand miles north through Mexico that it would take to get to the border with the United States for the chance at a better life would simply make the situation worse. Indeed, if we really want to do something about the migrant crisis arising out of Central America we ought to be looking for ways to fix what's wrong there, to build up their economies, and to put them on a path toward finding a way out of the cycle of corruption and poverty that they've been locked in for so long. Foreign aid probably isn't the best answer to those problems, but it also isn't the only one. In any case, "punishing" the people of Central America for the fact that they quite naturally want to escape poverty, corruption, and violence is like punishing the Irish because they were starving due to the Potato Famine.
As for the rest of Trump's threat, it's obviously a bluff. For one thing, thanks to international agreements, including the President's own "U.S.-Mexico-Canada" Agreement that effectively amounts to an updated version of NAFTA, the United States simply cannot arbitrarily close its international borders with Canada and Mexico. Additionally, to the extent that these migrant "caravans" that the President complains about are people seeking asylum, it is a violation of both existing Federal law and international treaties to which we are a signatory for the United States to block asylum seekers from entering the country. This is why the President has continued to lose the legal battles over his efforts to change asylum policy. In any case, it seems rather obvious that these are empty threats on the part of the President. The question is whether he knows that or not.