Trump To Name Heather Nauert Ambassador To The United Nations
President Trump is expected to name a former Fox News host as Ambassador to the United Nations.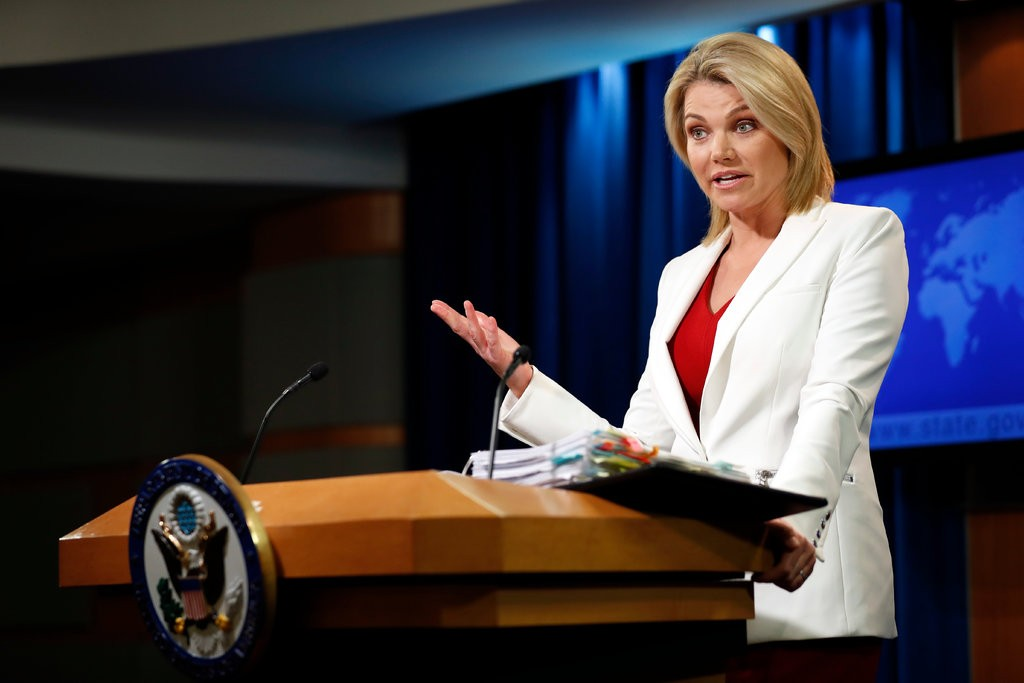 Later today, President Trump is expected to name Heather Nauert, who currently serves as Chief Spokesperson for the State Department, as the new U.S. Ambassador to the United Nations, replacing Nikki Haley, who had announced earlier this year that she was stepping down at the end of 2018:
WASHINGTON — President Trump plans to nominate Heather Nauert, the chief State Department spokeswoman, to become his next ambassador to the United Nations as he moves to reshape his team for the final two years of his term, two people familiar with the choice said on Thursday.

Ms. Nauert, a former Fox News anchor who has served as the public face of the State Department since last year, would replace Nikki R. Haley, who is stepping down as ambassador at the end of the year. If confirmed, Ms. Nauert would be one of the most prominent promoters of Mr. Trump's "America First" foreign policy.

Ms. Nauert had been the favorite after Ms. Haley announced that she would leave the job, but after The Wall Street Journal reported that she was expected to be given the role, Mr. Trump grew muted about the choice, and administration officials said that she had become less interested in the post.

The president floated other names to associates as possible nominees, including Kelly Craft, the ambassador to Canada; Richard Grenell, the ambassador to Germany; and John James, a Republican who lost a Senate race last month in Michigan. At one point, Mr. Trump even signaled to Mr. James that the job was likely to go to him, according to one person familiar with the situation.

But Mr. Trump is famous for misdirection when it comes to his appointees or testing out names of alternatives before finally circling back to earlier choices. In this case, he returned to Ms. Nauert, who will now face a Senate confirmation process. Her selection was earlier reported by Bloomberg as well as other news outlets on Thursday night.

Ms. Nauert brings relatively little experience in foreign policy to the post, having been a television personality until her appointment at the State Department last year. Past ambassadors to the United Nations have either been diplomats and international scholars or prominent politicians such as senators, House members, a Supreme Court justice or, in Ms. Haley's case, a governor.

But Mr. Trump values television skills and Ms. Nauert has impressed him with her communication ability. Her selection suggests he wants someone at the United Nations who will not necessarily play a major role in setting policy but will instead take on a high-profile role in selling it to the world.

Ms. Nauert is the latest Fox News personality to be recruited or elevated by Mr. Trump, who watches the network several hours a day. He named John R. Bolton, a former United Nations ambassador who was a Fox contributor, as his national security adviser and Bill Shine, a former Fox co-president, as his deputy White House chief of staff in charge of communications. Mercedes Schlapp, a former Fox contributor, serves as White House director of strategic communications.

The pipeline works the other way, too. Hope Hicks, who served as White House communications director until early this year, has been tapped to become chief communications officer for Fox. And other networks have been talent sources, as well. Larry Kudlow moved from CNBC to become the president's national economic adviser.
Prior to coming to the State Department last year, where serves as both Chief Spokesperson and Under Secretary of State for Public Diplomacy and Public Affairs, the fourth-ranking position in the State Department, Nauert's career has mostly been as a media personality, working for both ABC News and Fox News Channel, where she served as a "news presenter" on Fox & Friends, which is, of course, the President's favorite morning news program.  Nauert isn't the first Fox News Channel person to end up in the Administration, of course. Bill Shine, who has previously served as an executive at Fox News Channel, is nowTrump's Deputy Chief of Staff in charge of communications. Additionally, frequent Fox News contributors such as John Bolton, currently the President's National Security Adviser, and Mercedes Schlapp, who is currently the White House's Director of Strategic Communications, have gone on to serve in the Administration, and the President himself was a frequent guest on FNC programs even before becoming a candidate. Given the fact that Fox News Channel is effectively little more than a propaganda network for the Administration, this is hardly surprising.
Missing entirely from Nauert's resume, of course, is any experience in diplomacy or foreign affairs but as Daniel Larison notes, that has been the case for much of Trump's foreign policy team:
Nauert's nomination was in doubt as recently as last week, and there were reports that Trump had been considering other candidates, including Michigan Senate candidate John James. It now appears that Trump's original preference for the unqualified Nauert has won out. Outgoing U.N. ambassador Nikki Haley had insisted that her position remain a Cabinet-level one, but it is likely that it will be downgraded again according to Pompeo's preferences. Nauert isn't qualified to be U.N. ambassador, but then neither was Haley, and Pompeo wasn't and isn't qualified to be Secretary of State. Everyone responsible for guiding U.S. diplomacy under Trump has been and will continue to be unsuited to the jobs to which they have been appointed. The appointment of Nauert just underscores that Trump has no interest in diplomacy or expertise, and he just wants people willing to recite nonsensical talking points.
Given Trump's obvious disdain for expertise in other areas, it's not entirely shocking that he would extend that disdain to what is the arguably the most important policy area under the President's near-sole control. At the same time, though, one has to wonder what all this will mean when we actually face a foreign policy crisis at some point down the road.