Trump Torn on COVID-19 Measures
The President tweeted, "We cannot let the cure be worse than the problem itself."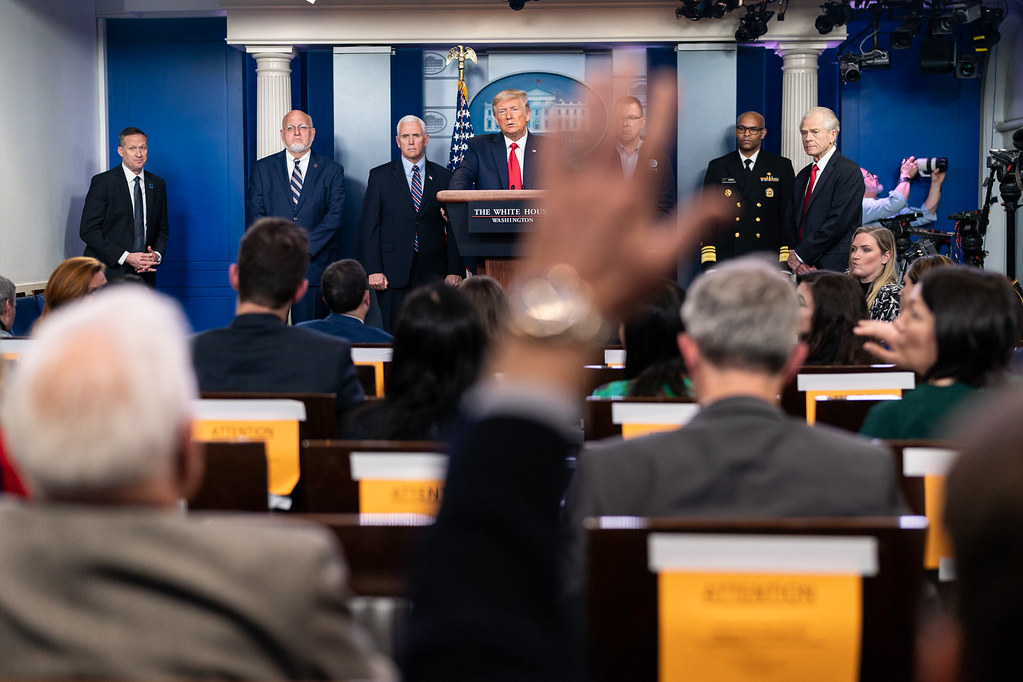 Having spent weeks saying the threat from the novel coronavirus was a "Democratic hoax" being hyped by the liberal media to damage his re-election, the President finally turned the corner last week. Now, he's having second thoughts.
Philip Rucker, Jeff Stein, Josh Dawsey and Ashley Parker reporting for WaPo ("Trump says he may soon push businesses to reopen, defying the advice of coronavirus experts"):
President Trump, under growing pressure to rescue an economy in free fall, said Monday that he may soon loosen federal guidelines for social distancing and encourage shuttered businesses to reopen — defying public health experts, who have warned that doing so risks accelerating the spread of the novel coronavirus or even allowing it to rebound.

"America will again and soon be open for business — very soon," Trump said at the daily White House news conference. "We cannot let the cure be worse than the problem itself."

As he watches stock prices plummet and braces for an expected surge in unemployment, Trump has received urgent pleas from rattled business leaders, Republican lawmakers and conservative economists imploring him to remove some of the stringent social distancing guidelines that he put in place for a 15-day period ending March 30, according to several people with knowledge of the internal deliberations.

The various arguments, which are gaining traction across the political right, can be boiled down to this: No matter how many people may lose their lives to the coronavirus, many millions more stand to lose their jobs and face ruin if the economy does not reopen.

The consensus among experts — including infectious disease expert Anthony S. Fauci and other senior officials on Trump's coronavirus task force — is that restaurants, bars, schools, offices and other gathering places should remain closed for many more weeks to mitigate the outbreak, the worst effects of which are yet to be felt in the United States.

But Trump has been chafing against that notion and impatient to get American life back to normal.

"If it were up to the doctors, they'd say let's keep it shut down, let's shut down the entire world . . . and let's keep it shut for a couple of years," Trump said Monday. "We can't do that."
Governors in many states, including my home state of Virginia, have already ordered non-essential businesses to close for the foreseeable future and it's not clear that Trump has any authority to undo that even if he decided to do so.
Still, I'm sympathetic to the fear that the economic devastation of these measures is permanent. And agree with Trump's implicit argument that this is ultimately a political decision that involves balancing the risks associated with two really awful eventualities and not one where we can simply defer to "the experts." Fauci and others must absolutely be heard, but so must those with expertise in the economic and social fallout.
Alas, his risk assessments look like something from the Facebook walls of lots of friends and acquaintances.
Trump drew parallels to the flu season, which he said was on pace to be responsible for the deaths of some 50,000 Americans, as well as to car crashes — comparisons that Fauci and other experts have dismissed as examples of false equivalency.

"You look at automobile accidents, which are far greater than any numbers we're talking about," Trump said. "That doesn't mean we're going to tell everybody no more driving of cars."
And it doesn't help that he has conflicts of interest.
David A. Fahrenthold, Joshua Partlow and Jonathan O'Connell, also of WaPo, note "Before Trump called for reevaluating lockdowns, they shuttered six of his top-earning clubs and resorts."
President Trump's private business has shut down six of its top seven revenue-producing clubs and hotels because of restrictions meant to slow the spread of the novel coronavirus, potentially depriving Trump's company of millions of dollars in revenue.

Those closures come as Trump is considering easing restrictions on movement sooner than federal public health experts recommend, in the name of reducing the virus's economic damage.

In a tweet late Sunday, Trump said the measures could be lifted as soon as March 30. "WE CANNOT LET THE CURE BE WORSE THAN THE PROBLEM ITSELF," he wrote on Twitter.

In his unprecedented dual role as president and owner of a sprawling business, Trump is facing dual crises caused by the coronavirus. As he is trying to manage the pandemic from the White House, limiting its casualties as well as the economic fallout, his company is also navigating a major threat to the hospitality industry.
Aside from the personal stake, probably the more salient point is that he simply identifies as a businessman first and foremost and therefore weighs the economic risk more highly than a typical President.
Still, as devastating as the economic fallout of long-term closures are likely to be—and I continue to believe that it'll be more devastating than the Great Recession and 9/11 combined—there's no real choice.
Dan Drezner observes "All policy choices have trade-offs. The one the president is considering is insane."
By just about every available metric, the coronavirus pandemic in the United States has been getting worse. This is true if one uses rough counts of those infected or looks at how well the United States is doing compared with other countries at similar stages in the outbreak. Although an awful lot of U.S. civil society has responded with alacrity to the emergency, there is currently little evidence that the United States has "flattened the curve."

[…]

If this sounds insane given what prompted the national emergency in the first place, it's worth noting that an awful lot of policymaking is doing cost-benefit analyses, and most cost-benefit analyses have to assign a dollar amount to the life of a human being. It is a crass, dehumanizing thing to do, and yet it must be done all the time. Very few public policies are rooted in some Kantian categorical imperative. Most are grounded in a utilitarian trade-off.

[…]

The economic costs to the current state of emergency are severe and could be catastrophic. So it is entirely appropriate that a president calculate the costs and benefits of continuing to pursue extreme measures as sheltering in place.

The problem, however, is that this president is incapable of such calculation. Among the president's bigger toddler traits are his short attention span and poor impulse control. Both are compromising his ability to make reasoned decisions.

[…]

Beyond this president's inability to do cost-benefit analysis, there is the small matter that any reasonable analysis strongly stacks the deck in favor of extreme measures in the short term rather than a premature return to ordinary activity. See labor economist Betsey Stevenson's back-of-the-envelope calculations, for example, or simply the realization that any attempt to prematurely return to normal business activity will inevitably fall prey to a renewed bout of the coronavirus. Even jurisdictions that have responded well to the virus have had to cope with renewed flare-ups.

The obsessive short-term thinking of Trump (and White House adviser Jared Kushner) threatens to overwhelm that logic, however. In the end, the crassest argument will be necessary to persuade Trump not to do what he is thinking of doing. Lifting emergency procedures will hurt Trump's voters more than anyone else, because they are more likely to listen to him and follow his lead. This means they are more likely to get infected and die before they can cast their ballots in November.

That is a coldhearted thing to say. It also might be the only thing that stops Trump from killing more than half a million Americans.
Finally, as Adam Cancryn and Nancy Cook note at POLITICO, "Health officials want Trump to 'double down, not lighten up' restrictions."
Rattled health officials are trying to fight off ascendant voices around Donald Trump pressing the president to restart the economy as soon as Monday to stem severe business and job losses.

The prospect of resuming typical business so soon has horrified these public health leaders, who see the debate as premature amid a crisis that the administration is just beginning to wrangle, according to eight people with knowledge of the administration's discussions about its coronavirus guidelines.

Health experts are contending the fallout will be worse if the White House declares victory now, only to have the virus resurface weeks or months from now. The government, they argue, has yet to definitively answer key questions that would dictate how to reactivate the economy: Do those who recover from coronavirus become immune? How do underlying health conditions affect the severity of the virus? And, most important, how widely has it spread?
There's no telling what the President will do. It would not be an easy choice for any President. It's a decision with domestic ramifications exponentially greater than anything since at least the twin disasters of the Great Depression and World War II.
But, as awful as the shutdown of the "non-essential" parts of the economy will be, the death toll of not doing it will almost certainly be far worse.