Trump Trashes NATO, Demands Increases In Defense Spending
The NATO Summit is going about as well as can be expected.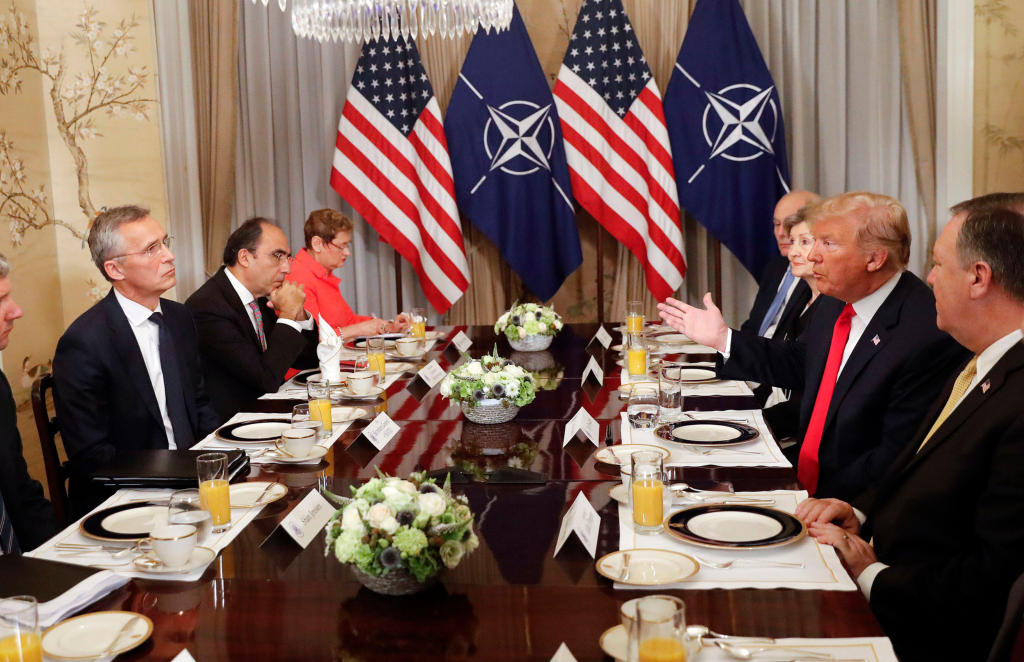 The NATO Summit in Brussels started out with the President of the United States trashing the NATO alliance in general and our close ally Germany in particular:
BRUSSELS — President Trump on Wednesday issued an ambitious call for vastly more defense spending at NATO, pushing for a doubling of their defense spending commitments hours after he delivered a blistering tirade against Germany and other allies.

The demand during a closed-door meeting of NATO leaders would radically increase the amount of money channeled toward military purposes in the Western alliance — and even the United States is currently falling well short of Trump's new goal.

Although Trump joined fellow NATO leaders in approving a sweeping set of plans to bolster defenses against Russia and terrorism, the U.S. president has complained that Europe has been taking advantage of U.S. military support for the continent. He urged his counterparts to substantially raise targets that they are already missing.

The move would raise billions more for defense. But not even the United States — which spends more money on defense than any other nation in the world — meets Trump's new goal of annual spending of 4 percent of nations' gross domestic product. Washington spent 3.6 percent last year.

"During the president's remarks today at the NATO summit he suggested that countries not only meet their commitment of 2 percent of their GDP on defense spending, but that they increase it to 4 percent. The president raised this same issue when he was at NATO last year," White House spokeswoman Sarah Huckabee Sanders said in a statement.

"President Trump wants to see our allies share more of the burden and at a very minimum meet their already stated obligations," she said.

Asked at a news conference about Trump's demands on defense spending, NATO Secretary General Jens Stoltenberg  suggested that the focus should be on getting every member country to reach the current goal of 2 percent. Only eight of 29 NATO countries are on track to meet the 2 percent goal this year.

(…)

As the day began, Trump wasted no time going on the offensive as he began a week of high-stakes diplomacy on both sides of the former Cold War divide.

The series of meetings — beginning with NATO and capped by a summit with Putin — has been largely framed around Trump's claims that Washington bears an unfair burden to help protect its allies.

"Germany, as far as I'm concerned, is captive to Russia because it's getting so much of its energy from Russia," Trump told NATO Secretary General Jens Stoltenberg in a fiery on-camera exchange that was among the harshest in the history of the post-World War II alliance.

"We have to talk about the billions and billions of dollars that's being paid to the country we're supposed to be protecting you against," Trump said, referring to European purchases of Russian natural gas.

Trump has complained bitterly about Europe's lagging defense spending, saying that NATO nations were taking advantage of U.S. military largesse at the same time they were offering unfair trade terms to U.S. businesses.

A favorite target of his ire has been Germany, which has not met its NATO spending commitments and is beginning construction on a second natural gas pipeline to Russia. Germany and other European NATO partners argue, however, that they have boosted contributions to the military alliance and plan to kick in even more in coming years. Germany's leadership has said the pipeline is a private business decision and they have been reluctant to interfere.

The accusation of Russian influence may have been particularly biting to German Chancellor Angela Merkel, who grew up in Communist-controlled East Germany.

"I myself experienced that a part of Germany that was controlled by the Soviet Union, and I am very happy today that we are united in freedom as the Federal Republic of Germany," Merkel told reporters as she entered NATO. "We decide our own policies and make our own decisions."

In remarks inside the closed-door meeting, she went even further in her tough pushback against Trump, according to two officials who were present and spoke on condition of anonymity to discuss the private remarks. In firm, unemotional language, Merkel told the other 28 leaders how Putin once served as a KGB officer and spy in her own country, making clear that she had little tolerance for being told her nation was controlled by the Kremlin.

(…)

"We're supposed to protect Germany but they're getting their energy from Russia," Trump told Stoltenberg, as aides on both the U.S. and NATO side of a long table shifted in their seats and sat stonefaced. Chief of Staff John F. Kelly jerked his head away as U.S. Ambassador to NATO Kay Bailey Hutchison looked up at the ceiling. "So explain that," Trump said. "And it can't be explained, and you know that."

Trump's criticism set off immediate anxiety in Germany. Munich's Süddeutsche Zeitung headlined its story: "It is not only bad, it is catastrophic."
More from The New York Times:
BRUSSELS — President Trump wasted no time. NATO's secretary general, Jens Stoltenberg, could barely finish the protocol greetings at Wednesday's breakfast when Mr. Trump launched into a clearly preplanned attack on Germany, its level of military spending and dependence on Russia for natural gas.

In a harsh rebuke at the opening of the NATO summit meeting, Mr. Trump called Germany "totally controlled" and "captive to Russia" because of energy dependency and for a new pipeline, Nordstream II, that would double the amount of gas Russia can send directly to Germany while bypassing Ukraine and Poland.

"Germany, as far as I'm concerned, is captive to Russia because it's getting so much of its energy from Russia," Mr. Trump told the startled Mr. Stoltenberg. "We have to talk about the billions and billions of dollars that's being paid to the country we're supposed to be protecting you against."

"I think it's something that NATO has to look at," Mr. Trump said.

Chancellor Angela Merkel of Germany, politically weakened at home, reacted mildly but pointedly to Mr. Trump's remarks, having grown up in Soviet-occupied East Germany. "I myself experienced a part of Germany that was controlled by the Soviet Union, and I am very happy today that we are united in freedom as the Federal Republic of Germany," she said as she entered the NATO building. "We decide our own policies and make our own decisions, and that's very good."

Germany's foreign minister, Heiko Maas, gave a much sharper response, writing on Twitter that saying, "We are no captives — neither of Russia nor of the United States."

In the private meeting that followed, participants said, Mr. Trump repeated his demand that the NATO allies rapidly increase their military expenditures to the NATO guideline of 2 percent of gross domestic product. Under the current plan, they have until 2024 to reach that level.

He also surprised the participants by suggesting that the alliance should commit to lifting future spending to 4 percent of G.D.P., the Lithuanian president, Dalia Grybauskaite, said in a brief interview. She said the tone of the meeting was calm and conciliatory.

The United States currently spends only 3.5 percent of G.D.P. on its military.

By charging that Germany is in thrall to Moscow, Mr. Trump appeared to be attempting to deflect criticism that he is too accommodating toward President Vladimir V. Putin of Russia, who he meets on Monday in Helsinki, Finland, suggested Derek Chollet, a former assistant secretary of defense who is now with the German Marshall Fund in Washington.

"This is like throwing a match on kindling, since Germany was anticipating something like this after the Group of 7" meeting in Canada, where Mr. Trump was similarly mocking, but in private, Mr. Chollet said. "Trump went out of his way in his first meeting to send this unprovoked attack."
In his comments this morning, Trump voiced in public concerns that, admittedly, previous Administrations had raised privately with Germany and other European nations regarding their dependence on Russia for energy. This was an issue that became more apparent in the wake of the 2014 annexation of Ukraine and the sanctions that followed from both the United States and its allies in Europe and around the world. At the time, there was some concern that Russia would attempt to retaliate but cutting off gas and oil exports to Germany and other European nations, something that would have had a rather obvious negative economic impact in Europe and around the world. As many analysts noted at the time, though, the likelihood of this actually happening was fairly low given the fact that these energy deals are far more beneficial to Russia than they are to Eastern and Western Europe and that, in the event of such a cutoff of Russian energy deliveries, Germany and its neighbors would be able find other sources such that any disruption to their economies would be temporary at best. In any case, while the Bush 43 and Obama Administration's have pushed the Germans and other Europeans to reduce their dependence on Russian energy sources, they have not done so publicly and they've certainly never claimed, falsely, that Germany was effectively under the control of Russia, which is a particularly stupid things to say when the nation is led by a Chancellor who grew up in East Germany and has spoken quite often about life under a regime under the control of Moscow.
In his remarks this morning, Trump claimed that Germany gets "60 to 70% of its energy" from Russia. As the BBC noted in a fact check this morning, though, that claim is utterly false:
The claim: Germany imports 60% to 70% of its energy from Russia.

Reality Check verdict: Germany relies on Russia for most of its imports of natural gas. But gas makes up less than 20% of Germany's energy mix for power production.

At a Nato summit, US President Donald Trump criticised Germany for importing so much of its gas from Russia while expecting the US to pay to protect it from Russia.

"Germany is totally controlled by Russia because they will be getting from 60% to 70% of their energy from Russia and a new pipeline," he said.

German Chancellor Angela Merkel has responded by saying that having had experience of a time when part of Germany was controlled by the Soviet Union, she is now confident that the whole country is independent.

Mr Trump is right that Germany relies on Russia for most of its gas imports. Eurostat estimates that Russia is responsible for between 50% and 75% of Germany's gas imports.

The commodities brokerage Marex Spectron told Reality Check that about 60% of Germany's gas was imported from Russia, with most of the rest coming from Norway.

But that does not mean that 60% of Germany's energy comes from Russia – Germany's energy mix for power production is about 40% coal, more than 30% renewables, less than 20% gas and 10% nuclear, according to Marex Spectron.
In other words, Russian natural gas accounts for 20% of Germany's current energy mix, although that percentage is likely to increase at least somewhat as the nation continues to phase out its reliance on nuclear energy while working toward increasing the use of renewable energy sources in the years to come. Additionally, as the German government noted in its response to the President's remarks this morning, the gas pipeline that Trump refers to is a completely private venture and the German government has generally be reluctant to interfere in such ventures in the past. Finally, as I noted above, regardless of the percentage of Germany's energy that Russia provides, it is clear from the numbers that Russia is far more reliant on Germany as a customer for its energy products than Germany is reliant on Russia as an energy source.
As for the President's comments about the failure of most NATO members to meet the 2% defense spending goal and his apparent demand that the goal be increased to 4%, a measure that even the United States would not meet at this point, there really isn't much more to add to what I've already said:
In any case, at the 2014 NATO Summit in Wales, it was agreed among the members that each member would seek to spend at least 2% of their respective Gross Domestic Product on defense, at least some part of which would be intended to be utilized as part of the alliance in the event that it was necessary. It's important to recognize that this agreement was reached only four years ago and that it was understood at the time that it would take many members some time to reach the 2% goal due to domestic political and other considerations. Additionally, it was recognized that some NATO members, such as Iceland, would find it hard to meet this goal given the fact that they have no military, and thus no defense budget to speak of. In those cases, it was understood that these smaller member nations would contribute to the alliance in other ways. In Iceland's case, for example, the island nation serves as an important mid-Atlantic location for alliance air assets and as a port for American and other naval forces. The President, however, continues to either not understand what the NATO alliance is all about and what was agreed to at the aforementioned 2014 summit meeting. Contrary to the manner in which the President continues to frame the issue, the 2% spending goal is not part of the NATO Treaty nor is it some kind of "dues" that each member owes to either the alliance or to the United States.
Furthermore, it was agreed at that 2014 summit that the membership of NATO would have until 2024 to reach the 2% goal. So far, most nations have made at least some progress in this regard, but it's important to note that, unlike the manner in which the President has characterized it, it simply is not the case that this is a goal for nations to reach, not a requirement for membership. It's not a requirement of the NATO Treaty itself and there is no provision in the agreement that was signed in 2014 for any kind of "punishment" for nations that are unable to reach the 2% goal by the deadline. Given that, bringing the issue up now is premature and demanding that the goal be doubled to 4% even before we've reached the end of the proposed compliance period serves no purpose other than to further poison our relationship with our NATO allies. Of course, that's probably exactly what the President intended.
As I've noted before, rhetoric like what we've seen from the President today is yet another demonstration that he has no understanding whatsoever of why the NATO alliance exists, the reasons why it was created, or the value it has provided to the United States since its creation seven decades ago. The primary benefit, of course, is the fact that it has kept the peace in Europe for seventy years, something that is rather significant given the fact that the continent was the site of two of history's bloodiest wars in the course of just thirty-one years from 1914 to 1945 as well as numerous significant conflicts in the centuries before that inevitably brought other major powers in on one side or the other. During the Cold War, of course, it served as a bulwark against the Soviet Union and Warsaw Pact and, since the collapse of the Soviet Union it has helped to end, although admittedly not avoid, bloody conflicts in the former Yugoslavia. Additionally, the alliance has benefited the United States by providing us with access to air, land, and sea bases that have proven useful in helping to move men and material to various parts of the world in times of crisis such as during the Persian Gulf War, the Iraq War, and, of course, the War in Afghanistan. Finally, as has been pointed out numerous times, the NATO Treaty's collective defense provisions have been invoked only once, and that was done by the United States in the wake of the September 11th attacks. In response, our NATO allies responded as they committed themselves to do, with many nations provided personnel, material, and financial support to the fight against al Qaeda and other terrorist organizations and their soldiers have fought alongside American troops in Afghanistan and elsewhere for the past seventeen years. Instead of acknowledging all of that, this President wants to toss it all aside while embracing dictators in Russia, China, Turkey, Egypt, The Philippines, and, of course, North Korea. That sound you hear is every President from Truman to Reagan and every Secretary of State from George Marshall forward spinning in their graves while the rest of us just watch in horror as an American President dismantles seventy years of successful foreign policy. Whoever succeeds this man is going to have quite a job cut out for them.