Trump Tweets 'White Power' Video
Of course he did.
NPR ("Trump Retweets Video Of Apparent Supporter Saying 'White Power'"):
A video shared by President Trump on Twitter Sunday includes a man who appears to be a Trump supporter saying "white power" in response to protesters.

In the video, apparently taken at The Villages, a retirement community in Florida, people with Trump shirts and signs on their golf carts drive by protesters yelling insults at them and about the president.

In one exchange, a white man holding a sign that says "Make America Sane Again," a reference to Trump's campaign slogan, yells: "Where's your white hood?" In response, a white man driving a golf cart with signs reading "Trump 2020" and "America First" yells back "white power."

Trump retweeted the video, which was shared by an unknown Twitter user, and said, "Thank you to the great people of The Villages. The Radical Left Do Nothing Democrats will Fall in the Fall. Corrupt Joe [Biden] is shot. See you soon!!!"

"White power" is a white supremacist slogan, according to the Anti-Defamation League.

The White House has not responded to a request for comment about the president's tweet. He retweeted the video before 8 a.m. ET Sunday, and it was still up as of 10 a.m.
It has subsequently been deleted. Here's a screen capture: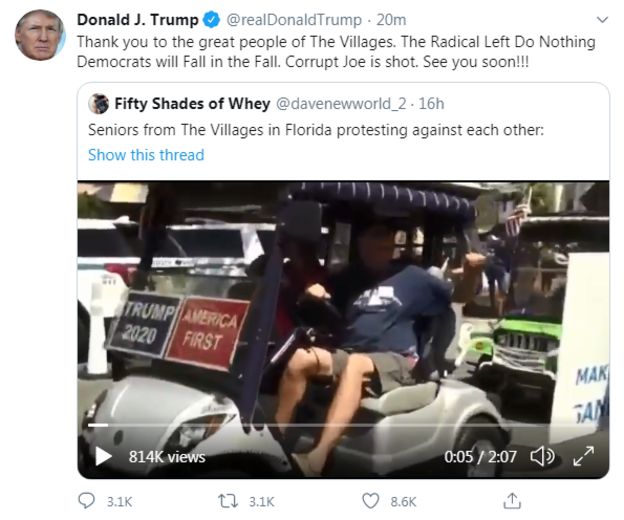 According to any reasonable reading of the Presidential Records Act and court rulings pursuant to it, that's illegal destruction of government records. But, as a practical matter, he's not going to be impeached or otherwise suffer any consequence for the crime.
Regardless, the President of the United States (a phrase that I've needed to italicize for emphasis in two posts this morning) just tweeted out a white supremacist slogan. I'm sure it was a joke. Or a jest. Or something.
South Carolina's Tim Scott, the only Black Republican senator, called the retweet "indefensible."

"He should not have retweeted and he should just take it down," Scott said on CNN.
RINO.
The tweet is raising eyebrows even across the Pond.
The Guardian ("Outrage over Trump's retweet of supporter shouting 'white power'"):
Donald Trump has deleted a tweet in which he approvingly shared a video showing one of his supporters yelling "White power!" at a group of anti-Trump demonstrators.

The US president, or someone with access to his Twitter account, deleted the controversial tweet at 11am Eastern time, more than three hours after it was posted at 7.39am.

"This is really not about the president taking it down," the famed civil rights attorney and academic Sherrilyn Ifill said on CBS's Face the Nation. "This is really about his judgment in putting it up in the first place."
His judgment, indeed. Or, you know, his white supremacy.
The President of the United States, ladies and gentlemen.