Trump, Ukraine, and Biden
What we know for sure.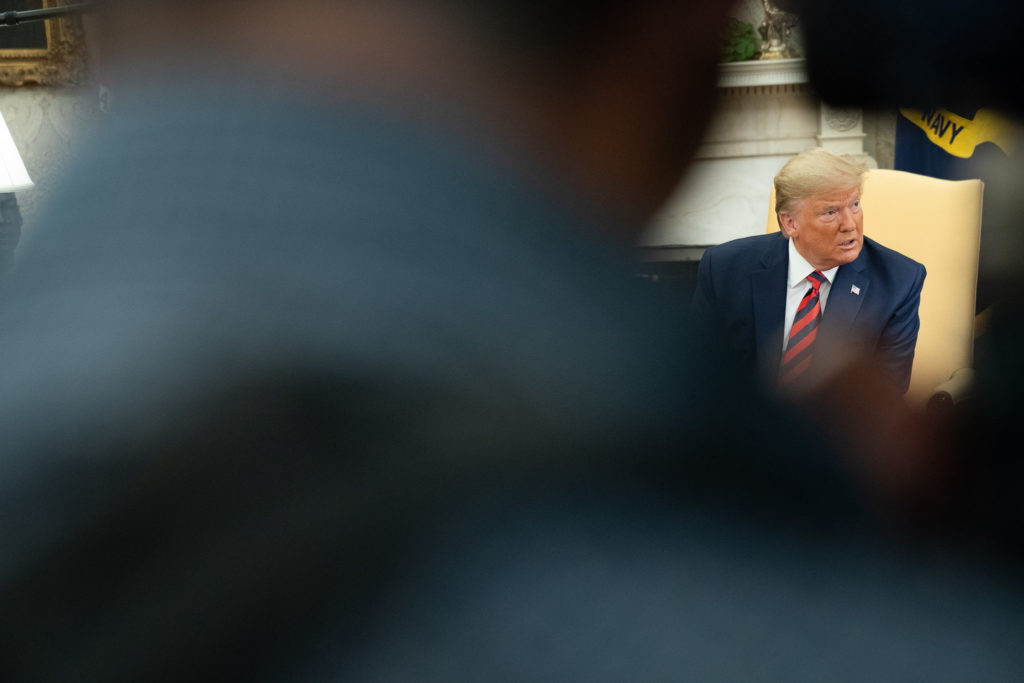 At the moment there are three categories about the Trump/Biden/Ukraine story. One category is what the whistle-blower reported. We do not know what that report contains. A second category is what has been reported, to include a WSJ report that Trump brought up the topic of Biden roughly eight times to President Zelensky of Ukraine. Other reports have also stated that the topic came up in the call. The third are things that we know for sure via Trump himself and his surrogate, Rudy Giuliani.
Let's look at what we can say we know for sure.
We know that the Trump campaign has been interested in a Biden-Ukraine connection for some time now. The Guaridan (which has a timeline of th issue) noted that it was brought up in April during a Giulani interview on a Fox News program and the NYT reported Giuliani mentioning the issue in early May:
"I can assure you this all started with an allegation about possible Ukrainian involvement in the investigation of Russian meddling, and not Biden," Mr. Giuliani said. "The Biden piece is collateral to the bigger story, but must still be investigated, but without the prejudgments that infected the collusion story."

Via the NYT: Biden Faces Conflict of Interest Questions That Are Being Promoted by Trump and Allies
Then, also in May, Giuliani, Trump's personal lawyer, was set to fly to Kiev in regards to issues for the Trump re-election campaign:
Mr. Giuliani said he plans to travel to Kiev, the Ukrainian capital, in the coming days and wants to meet with the nation's president-elect to urge him to pursue inquiries that allies of the White House contend could yield new information about two matters of intense interest to Mr. Trump.

One is the origin of the special counsel's investigation into Russia's interference in the 2016 election. The other is the involvement of former Vice President Joseph R. Biden Jr.'s son in a gas company owned by a Ukrainian oligarch.

Via the NYT: Rudy Giuliani Plans Ukraine Trip to Push for Inquiries That Could Help Trump.
The president-elect in question was Zelensky.
Giuliani described his planned trip thusly:
"I'm asking them to do an investigation that they're doing already and that other people are telling them to stop. And I'm going to give them reasons why they shouldn't stop it because that information will be very, very helpful to my client, and may turn out to be helpful to my government."

Source: ibid.
Again, "my client" is the President of the United States. And it is pretty clear that he wanted Ukraine to be "helpful" as it pertains to politics, either discrediting the Mueller report and as it pertained to Paul Manafort and his dealings with Ukraine, and/or the Hunter Biden issue. Indeed, Giuliani specifically stated "this isn't foreign policy"–meaning he was going to represent Trump, not to represent the United States.
The entire linked NYT piece is worth a read.
Giuliani would eventually cancel that trip.
So, we have known for months that Trump has had interest in Ukraine in terms of its potential for political help in the 2020 campaign. This was disturbing when Giuliani's trip was announced, especially given the foreign interference in the 2016 election. But at a minimum, it clearly establishes, without leaks or speculation, that Trump had interest in Ukraine vis-a-vis Biden.
We also have Giulani, this past week, in the following interchange on CNN:
"Did you ask the Ukraine to investigate Joe Biden?" Cuomo asked Giuliani.

"No, actually I didn't. I asked the Ukraine to investigate the allegations that there was interference in the election of 2016 by the Ukrainians for the benefit of Hillary Clinton, for which there is already a court finding," Giuliani responded.

"You never asked anything about Hunter Biden? You never asked anything about Joe Biden and his role with the prosecutor?" Cuomo asked.

"The only thing I asked about Joe Biden is to get to the bottom of how it was that Lutsenko, who was appointed, dismissed the case," Giuliani said.

"So you did ask Ukraine to look into Joe Biden?" Cuomo pressed.

"Of course I did," Giuliani said.

When asked about his contradicting answer, Giuliani said he "didn't ask" for Biden to be investigated specifically, but asked Ukraine "to look into the allegations that related to my client, which tangentially involved Joe Biden in a massive bribery scheme."
(emphasis mine)
So, from Giuliani's own mouth, in several instances over a span of months, we know that the Trump campaign thinks that there is political hay to be made from Ukraine as it pertains to Joe Biden.
Giuliani would go on to tweet the following:
In this tweet he a) admits that Trump brought up the topic, and b) doubles-down on the notion that the Bidens have engaged in corruption in Ukraine (which underscores that the Trump campaign really thinks they have something here). He can't even manage to pretend like the conversation was about generic corruption in 240 characters. No, he explicitly named Biden.
All of this, I hasten to remind us all, is trying to use a foreign government to dig up dirt on a political rival.
And, we have Trump stating the following:
"The conversation I had was largely congratulatory, was largely corruption, all of the corruption taking place. It was largely the fact that we don't want our people, like Vice President Biden and his son creating to the corruption already in the Ukraine," Trump said.

Via VOA News: Trump Says He Did Nothing Wrong in Call with Ukrainian Leader
Setting aside Trump's weird syntax leading to the slip that "The conversation I had was largely congratulatory, was largely corruption, all of the corruption taking place" we have here an admission that the basic topic of investigations relevant to Biden was discussed.
All of this confirms, without the whistle-blower's report nor with corroboration of press reports, that Trump and his surrogates have been trying to get Ukraine to investigate Biden (or, if we are going to excruciatingly fair, to investigate corruption, with Biden being a guiding example).
So, really, the only pending issue is exactly in what form was the topic raised and whether they was an explicit quid pro quo. I am of the opinion that there is a standing implicit quid pro quo in any conversation between POTUS and a less powerful state which is seeking aid from the US. Such is the nature of international relations between grossly incongruent powers.
So, we know for sure that a) the campaign sees the Biden issue in Ukraine as one worth pursing, as has for months, b) that it is willing to reach out to a foreign government for help on the matter, and that c) Trump himself raised the issue on the phone with Ukrainian president.
This is dangerous stuff and is clearly the President of the United States abusing the power of his office in an attempt to acquire aid from a foreign government to help him in his re-election bid.
By the way, here is how the Ukrainian government described the conversation in July right after they happened:
Donald Trump is convinced that the new Ukrainian government will be able to quickly improve image of Ukraine, complete investigation of corruption cases, which inhibited the interaction between Ukraine and the USA.

Source: official web site of the President of Ukraine
This confirms, at a minimum, that corruption was discussed. Given the fact that the we know that going back to May that the Trump POV was that "corruption in Ukraine" was linked to Manafort and to Biden, it seems quite plausible that Trump mentioned Biden in that call.
As such, I think that Tom Nichols is correct in his piece in the Atlantic: If This Isn't Impeachable, Nothing Is.
Let us try, as we always find ourselves doing in the age of Trump, to think about how Americans might react if this happened in any other administration. Imagine, for example, if Bill Clinton had called his friend, Russian President Boris Yeltsin, in 1996, and asked him to investigate Bob Dole. Or if George W. Bush had called, say, President Vicente Fox of Mexico in 2004 and asked him—indeed, asked him eight times, according to The Wall Street Journal—to open a case against John Kerry. Clinton, of course, was eventually impeached for far less than that. Is there any doubt that either man would have been put on trial in the Senate, and likely chased from office?
Indeed.
But setting aside those counterfactuals, we already know enough to get us into a serious impeachment conversation. And, without a doubt, the contents of the phone must be made known to Congress.
And, at some point, Republican officer-holders and Trump supporters in the general populace are going to have to decide whether or not actively soliciting the help of a foreign government for electoral gain is worthy of their allegiance. Judges and tax cuts can only go so far, right?