Trump Won't Rebuild Military Bases if He Has to Rebuild Puerto Rico, Too
A months-long standoff is stopping hurricane relief.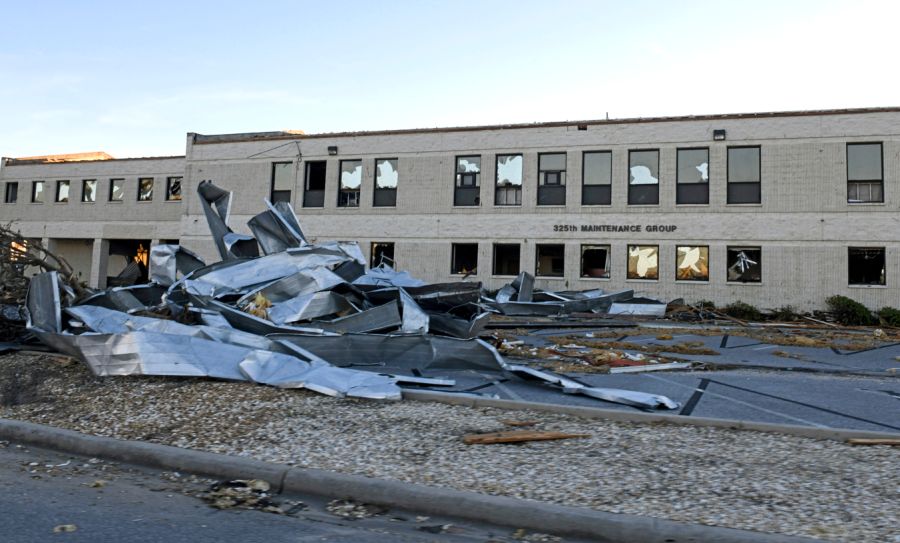 The Defense News headline "The Air Force is spinning toward a $4 billion financial disaster" correctly highlights a problem of concern for its readership. But buried in the report is an even bigger story.
The setup matches the headline:
Hurricane relief efforts at Tyndall Air Force Base will begin lapsing Wednesday due to a lack of funds, preventing the start of all new work and deferring more than 120 projects planned to begin after May 1.


But that's just the start of the Air Force's money problems, which have resulted in a shortfall of more than $4 billion in fiscal 2019.

If the Air Force doesn't get that funding, it will be forced to ground combat aircraft, defer at least 61 facility repair projects at various bases and halt certain aircraft maintenance actions. Key weapons programs — like hypersonic weapons development — would be slowed down and become more costly, and non-deploying squadrons may have their flying hours stripped away, warned Air Force Secretary Heather Wilson in a March 6 memo obtained by Defense News.
That's a big story that should concern all Americans. Further, there's a similar issue for the Marine Corps. But the Why is even more interesting than the What.
Lawmakers in both the House and Senate have proposed legislation that would boost funding for hurricane and flood recovery efforts, but those bills have stagnated over how much disaster aid to provide Puerto Rico.

The powerful chairman of the Senate Appropriations Committee, Sen. Richard Shelby, R-Ala., pledged to rebuild Tyndall once the impasse is resolved, but it was unclear when that might be. "I'm hopeful, but I was hopeful it would happen two, three weeks ago and it didn't. It will happen in some form, the sooner the better," he said.


Meanwhile, Democrats and Republicans are pointing fingers at each other, with the politics surrounding President Donald Trump's policies at the U.S.-Mexico border entangling the Air Force's financial reprieve.

Rhode Island Sen. Jack Reed, a senior member of the Senate Appropriations Committee and top Democrat on the Senate Armed Services Committee, said the need at Tyndall and Offutt — as well as the Marine Corps' requirement for hurricane relief at Camp Lejeune in North Carolina — "underscores the wrong priorities of the administration" after it reprogrammed roughly $1 billion in excess Army funds toward barriers on the U.S.-Mexico border.


"They could have easily moved some of that to Tyndall and Camp Lejeune and kept some of the construction projects going," Reed said. "Why are we taking $1 billion out of reprogramming and putting it at a project where the NORTHCOM commander said there's no military threat at the border? Yet we're ignoring serious storm damage at Tyndall, Offutt and Lejeune."
Republican Members accuse Democrats of "playing politics" by refusing to separate these issues. But the Democrats have the better case here. Not only is the President illegally diverting a billion dollars appropriated for other measures for his border wall and spending an untold additional amount of money appropriated for other things to send troops to help the Border Patrol but he's refusing to spend already-appropriated funds to help American citizens in Puerto Rico.
On a political front, that's simply outrageous. Regardless of your position on border security or Puerto Rico, the fact of the matter is that Congress appropriates money. The President's role is to propose a budget and then argue (through proxies) for it on the Hill. Congress then passes a budget and the President either signs or vetoes it. The President does not have the legal right to circumvent this process by simply spending the money allocated for various uses for other uses of his choosing. That stands our system on its head.
No, it's Trump and his Republican enablers in Congress who are playing politics here. He's spending monies allocated for our national security on a stupid stunt to demonstrate to his base his commitment to stopping illegal immigration. And doing as little as possible to help the American citizens of Puerto Rico.
I was originally going to title this post "Do Republicans hate brown people more than they love the military?" That's too harsh. Then again, I'm not sure the President wouldn't take it as a compliment.