Trump's Approval Ratings and the Mueller Report
The President has tied his all-time low in one prominent poll.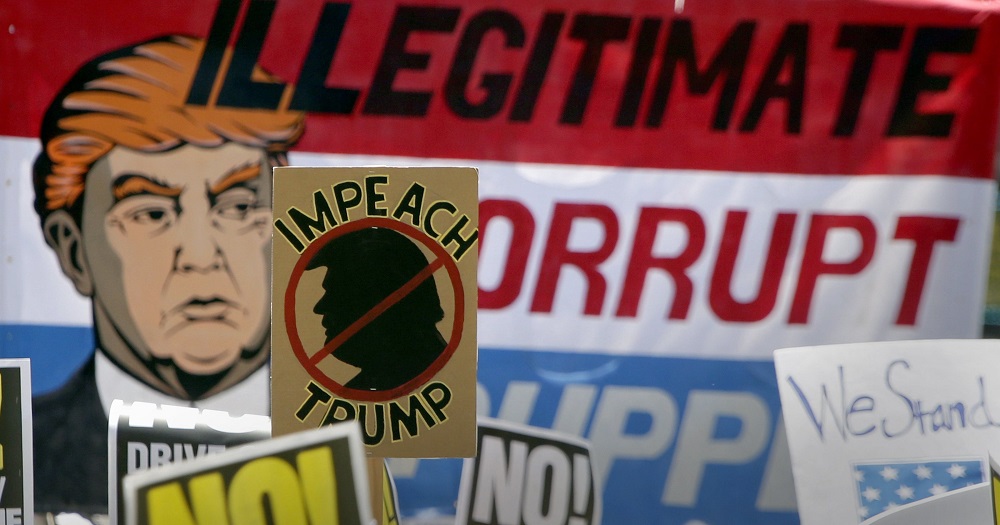 President Donald Trump is at a whopping minus 18 net approval rating in the new POLITICO/Morning Consult poll, conducted after the release of the redacted version of the Mueller report.
President Donald Trump's approval rating has dropped 5 points, equaling his presidency's low-water mark, since last week's release of the special counsel report into the 2016 election, according to a new POLITICO/Morning Consult poll.


Despite his sinking poll numbers, however, there is little support for removing Trump through the impeachment process, the poll shows.

Only 39 percent of voters surveyed in the new poll, which was conducted Friday through Sunday, approve of the job Trump is doing as president. That is down from 44 percent last week and ties Trump's lowest-ever approval rating in POLITICO/Morning Consult polling — a 39 percent rating in mid-August 2017, in the wake of violence in Charlottesville, Va.


Nearly 6 in 10 voters, 57 percent, disapprove of the job Trump is doing.


But while views of Trump have tumbled since the publication of Robert Muller's redacted report, so has support for impeaching him. Only 34 percent of voters believe Congress should begin impeachment proceedings to remove the president from office, down from 39 percent in January. Nearly half, 48 percent, say Congress should not begin impeachment proceedings.

[…]

"President Trump's approval rating has dipped to its lowest point of his term in the immediate aftermath of the redacted Mueller report release," said Tyler Sinclair, Morning Consult's vice president. "This week, 57 percent of voters disapprove, and 39 percent approve of the president's performance — a net approval rating of -18 percentage points, compared with 55 percent who disapproved and 42 percent who approved — a net approval rating of -13 percentage points — one month ago in the aftermath of Attorney General [William] Barr's summary of the Mueller report to Congress."


While the report is damaging to Trump in the short term — other post-report polls also show decreases in Trump's approval rating — it could also paint Democrats into a corner on impeachment. Mueller seemingly kicks the obstruction of justice case on Trump to Congress, and the Democratic-led House is squeezed between a majority of Democratic voters who want impeachment, 59 percent, and slightly more than a third of the electorate that agrees.

— POLITICO, "Poll: Trump approval sinks 5 points after Mueller report, tying all-time low"
It wouldn't at all surprise me if there were a small drop in Trump's approval ratings in the aftermath of the report. But we really don't have much evidence to go on. Five points in one poll (albeit a large sample, with a margin of error of only 2%) isn't a trend. And we don't have many post-report polls.
Here's a snapshot of the latest polls factored into the RealClearPolitics average: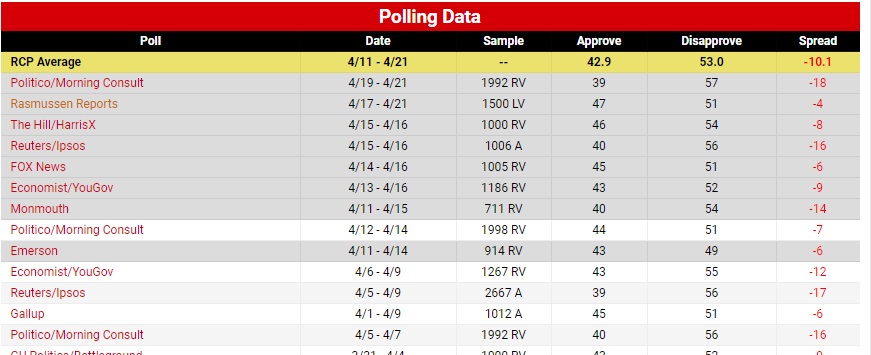 For one thing, we see that the poll in question, POLITICO/Morning Consult, has fluctuated considerably over the last three weeks, showing unfavorables of 56 (4/5-4/7), 51 (4/12-4/14), and 57 (4/17-4/21). That Trump is back essentially where he was two weeks ago isn't exactly strong evidence that the Mueller report has been devastating.
The report was released on the 18th. That means Rasmussen is the only other poll in the RCP average taken in its aftermath. Granting Rasmussen's historical Republican lean, we see this trend from their daily sampling: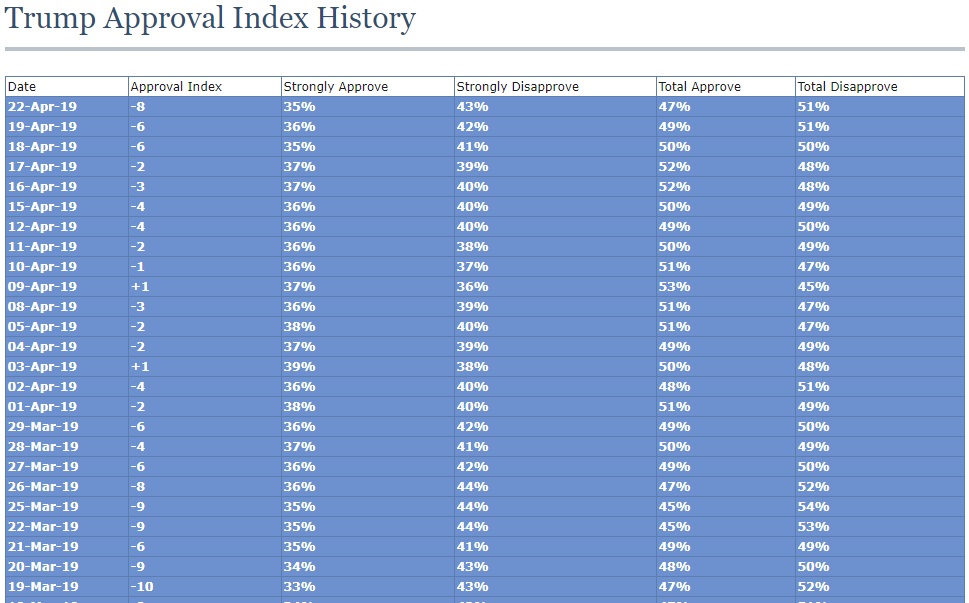 There's definitely been a blip in the negative direction in the three samples post-Mueller. But look how wildly the index fluctuates. The net minus 8 is back to where we were a month ago and not as bad as the net minus 10 from March 19.
Looking at the RealClearPolitics data over a longer term we see the same trends: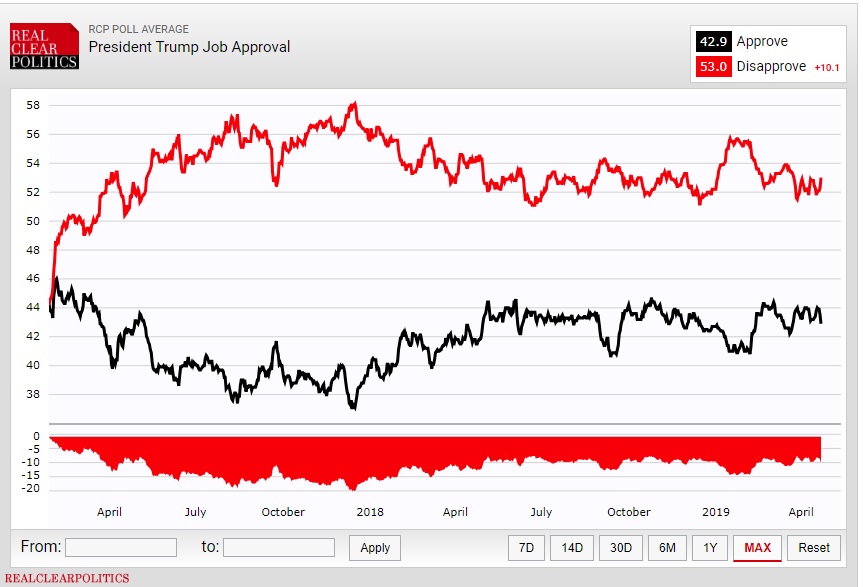 The bottom line is that Trump is quite unpopular and has been for his whole Presidency. While people were apparently giving him the benefit of the doubt at inauguration, he was already at substantial net negatives two years ago. And he's less unpopular—both in terms of the disapproval number itself and the net—now than he was around the time of the 2018 midterm elections.
At the risk of committing the pundit's fallacy here, I'm skeptical that news like the Mueller report has much lasting impact because Trump's awfulness is simply baked in at this point. The fears of "normalizing" his bad behavior have borne out: it's just hard for him to shock people at this juncture.
In the run-up to the 2016 Iowa Caucuses, then-candidate Trump proclaimed, "I could stand in the middle of Fifth Avenue and shoot somebody, and I wouldn't lose any voters, OK?" I'm not even sure that's hyperbole at this point. The good news at that he seems to have a ceiling around 40 percent.