Trump's Final Meltdown
The President of the United States is an existential threat to the Republic.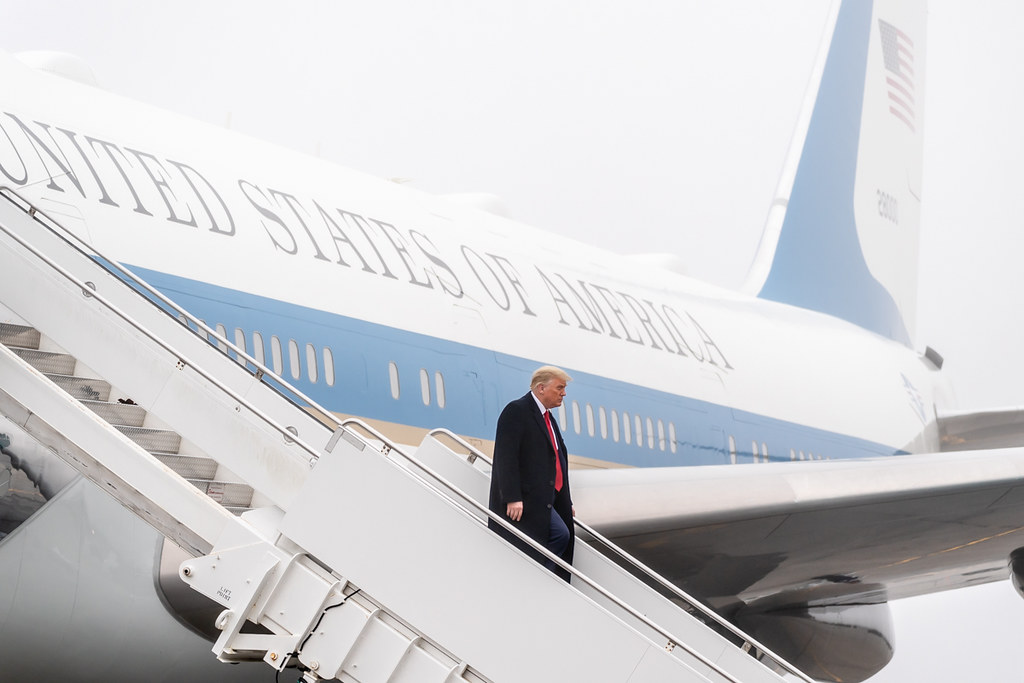 President Donald J. Trump's mental health has been suspect since before he took office but he appears to be in full meltdown mode since losing his re-election bid. And there appears to be nothing we can do but wait it out.
Jonathan Swan for Axios ("Trump turns on everyone"):
President Trump, in his final days, is turning bitterly on virtually every person around him, griping about anyone who refuses to indulge conspiracy theories or hopeless bids to overturn the election, several top officials tell Axios.

The latest: Targets of his outrage include Vice President Pence, chief of staff Mark Meadows, White House counsel Pat Cipollone, Secretary of State Pompeo and Senate Majority Leader Mitch McConnell.

Why it matters: Trump thinks everyone around him is weak, stupid or disloyal — and increasingly seeks comfort only in people who egg him on to overturn the election results. We cannot stress enough how unnerved Trump officials are by the conversations unfolding inside the White House.

Top officials are trying to stay away from the West Wing right now.

Trump is lashing out, and everyone is in the blast zone: At this point, if you're not in the "use the Department of Homeland Security or the military to impound voting machines" camp, the president considers you weak and beneath contempt.

Trump is fed up with Cipollone, his counsel. Some supporters of Cipollone are worried that Trump is on the brink of removing him and replacing him with a fringe loyalist.

A source who spoke to Trump said the president was complaining about Pence and brought up a Lincoln Project ad that claims that Pence is "backing away" from Trump. This ad has clearly got inside Trump's head, the source said.

Trump views Pence as not fighting hard enough for him — the same complaint he uses against virtually everybody who works for him and has been loyal to him.

Pence's role on Jan. 6 has begun to loom large in Trump's mind, according to people who've discussed the matter with him. Trump would view Pence performing his constitutional duty — and validating the election result — as the ultimate betrayal.

A new fixation: Trump has even been asking advisers whether they can get state legislatures to rescind their electoral votes. When he's told no, he lashes out even more, said a source who discussed the matter with the president.
CNN's Barbara Starr ("Pentagon anxiety rises as officers wait for Trump's next unpredictable move"):
It's like a low murmur just below the surface. "We don't know what he might do," says one officer in the Pentagon. "We are in strange times," says another officer. Some senior military officers are trying to steer clear of the White House for the next month, rather than be in the President Donald Trump's orbit.

With just some 30 days to go before the US military watches its current commander in chief leave office, there is growing anxiety in the ranks about what Trump might do in these remaining days. Will the President order some unexpected military action, such as a strike on Iran, or will he somehow draw the military into his efforts to overthrow the election results?

It's a troubling enough scenario that military leaders have taken the unusual step of publicly stating that they will not play a role in deciding an American election.

[…]

One officer said people are making "lists" of everything they can think of that the President might do. Several worry there could be a round of firings or forced resignations of more Pentagon officials, including top military officers.

Until a few days ago, these conversations might have been avoided. But last Friday night, by all accounts, the idea of using the military to change the election outcome reached directly into the Oval Office. Trump hosted a raucous meeting that included lawyer Sidney Powell, who has pushed conspiracy theories about the election, and her client, former national security adviser Michael Flynn, where the idea of declaring martial law to overturn the election came up.

Powell advocates the federal government seizing and inspecting voting machines. In a Newsmax video posted on social media a few days before the White House meeting, Flynn, once head of the Defense Intelligence Agency, with access to the greatest military secrets, raised the prospect of martial law, though he carefully said he doesn't advocate it. But he also suggested the President could take "military capabilities" and "rerun" the election in swing states.
Former Republican speechwriter Peter Wehner bluntly declares that "Trump Is Losing His Mind."
None of this should come as a surprise. Some of us said, even before he became president, that Donald Trump's Rosetta Stone, the key to deciphering him, was his psychology—his disordered personality, his emotional and mental instability, and his sociopathic tendencies. It was the main reason, though hardly the only reason, I refused to vote for him in 2016 or in 2020, despite having worked in the three previous Republican administrations. Nothing that Trump has done over the past four years has caused me to rethink my assessment, and a great deal has happened to confirm it.

Given Trump's psychological profile, it was inevitable that when he felt the walls of reality close in on him—in 2020, it was the pandemic, the cratering economy, and his election defeat—he would detach himself even further from reality. It was predictable that the president would assert even more bizarre conspiracy theories. That he would become more enraged and embittered, more desperate and despondent, more consumed by his grievances. That he would go against past supplicants, like Attorney General Bill Barr and Georgia Governor Brian Kemp, and become more aggressive toward his perceived enemies. That his wits would begin to turn, in the words of King Lear. That he would begin to lose his mind.

So he has. And, as a result, President Trump has become even more destabilizing and dangerous.
Of course, while the severity has increased, these tendencies were already dangerous.
COVID-19 is now killing Americans at the rate of about one per minute, but the president is "just done with COVID," a source identified as one of Trump's closest advisers told The Washington Post. "I think he put it on a timetable and he's done with COVID … It just exceeded the amount of time he gave it."

This is where Trump's crippling psychological condition—his complete inability to face unpleasant facts, his toxic narcissism, and his utter lack of empathy—became lethal. Trump's negligence turned what would have been a difficult winter into a dark one. If any of his predecessors—Barack Obama, George W. Bush, Bill Clinton, George H. W. Bush, and Ronald Reagan, to go back just 40 years—had been president during this pandemic, tens of thousands of American lives would almost surely have been saved.

"My concern was, in the worst part of the battle, the general was missing in action," said Maryland Governor Larry Hogan, one of the very few Republicans to speak truth in the Trump era.
That Trump is a narcissist with the temperament of a toddler is hardly news at this point. But the situation has long since reached crisis stage. That he came reasonably close to being re-elected despite this flaws, a global pandemic, and an economic collapse is scary. That other leaders in his party not only didn't work harder to stop him but actually enabled his lunacy is shameful.
Wehner again:
[T]he Trump presidency will leave gaping wounds nearly everywhere, and ruination in some places. Truth as a concept has been battered from the highest office in the land on an almost hourly basis. The Republican Party has been radicalized, with countless Republican lawmakers and other prominent figures within the party having revealed themselves to be moral cowards, even, and in some ways especially, after Trump was defeated. During the Trump presidency, they were so afraid of getting crosswise with him and his supporters that they failed the Solzhenitsyn test: "The simple act of an ordinary brave man is not to participate in lies, not to support false actions! His rule: Let that come into the world, let it even reign supreme—only not through me."

During the past four years, the right-wing ecosystem became more and more rabid. Many prominent evangelical supporters of the president are either obsequious, like Franklin Graham, or delusional, like Eric Metaxas, and they now peddle their delusions as being written by God. QAnon and the Proud Boys, Newsmax and One America News, Alex Jones and Tucker Carlson—all have been emboldened.

These worrisome trends began before Trump ran for office, and they won't disappear after he leaves the presidency. Those who hope for a quick snapback will be disappointed.
Congressional Democrats have all but given calling out Trump's actions, seeing it as a pointless exercise. Which means we have another 27 days of a madman in charge of not just the pardon power but the ability to order military action up to and including nuclear war.
We'll survive it, I think. Even the sycophants seem to be signaling that there's only so much they'll put up with. Everyone from Pence to McConnell to Pat Robertson are telling Trump the jig is up. But that's just making him angrier.
Regardless, one hopes four years of the President of the United States being an existential threat to our Republic serves as a wake-up call. No one person should have that much unchecked power. A bipartisan effort to restore checks and balances is imperative. Sadly, I have little hope it will materialize.