Trump's Job Approval Hits Record Low In New Poll
As he nears the one-year anniversary of his Inauguration, President Trump is getting increasingly bad reviews from the public.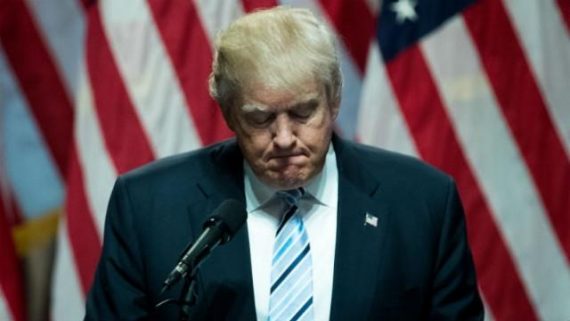 A new poll from Monmouth shows President Trump's job approval hitting yet another low as his Administration deals with blowback from the Senate race in Alabama, the Russia investigation, and a renewed focus on the women who have accused President Trump of sexual harassment in the past:
President Trump's job approval rating has sunk to a record-low 32 percent in the latest Monmouth University poll released Wednesday.

It's the lowest approval rating for Trump in the Monmouth poll since he took office in January.

Thirty-two percent of respondents approve of the job Trump is doing as president, and 56 percent disapprove.

Over the past year, his approval rating in the Monmouth poll has ranged from 39-43 percent. The biggest drop came among women. Twenty-four percent of women said they approved of Trump's job performance, compared to 36 percent who approved in September.

Patrick Murray, director of the Monmouth University Polling Institute, said the president's low approval rating coupled with Republican Senate candidate Roy Moore's loss in Alabama could be a problem for the GOP in the midterm elections. Trump backed Moore in the Senate race.

"This result is not good for the president, especially coming off the loss of his endorsed candidate in the Alabama Senate race," Murray said in a release. "Republicans have to be worried about being dragged down by the weight of Trump's negatives in 2018 if this trend continues."The Monmouth approval rating is one of the lowest Trump has seen in office. A recent Harvard CAPS-Harris Poll found that, after three months of decline, 41 percent approved of the job Trump is doing.
This latest poll comes in the wake of a number of other polls that show Trump's approval numbers at or near their lowest points since he entered office in January, data that is also reflected in the poll averages. Over at RealClearPolitics, for example, Trump stands at an average of 37.3% approve and 57.9% disapprove, making for a -20.6 spread, which is among the highest points that number has been at over the past year. Even on the economy, where Trump's numbers had been moderately positive for much of the year, the numbers are taking a downturn with 44.4% approving of the job he's doing in that area and 47.3% disapproving. The numbers are worse when it comes to foreign policy, with 38.3% approving of his job performance in this area and 56.3% disapproving.  At Pollster, meanwhile, the President stands at 37.4% approve and 56.8% disapprove. Looking deeper into those numbers, we find that Democrats remain overwhelmingly negative on the President's job performance, while Republicans are overwhelmingly positive. Among Independents, Trump's numbers remain slightly worse than they are among the general population as a whole, with just 34.5% approving of the job the President is doing while 56.6% disapprove. Finally, at FiveThirtyEight, where the job approval polls are weighted based on a number of factors including poll reliability, Trump stands at 36.7% approval and 56.8% disapproval. As the chart from RealClearPolitics shows, Trump's numbers of late have been trending downward, and seem likely to continue doing so: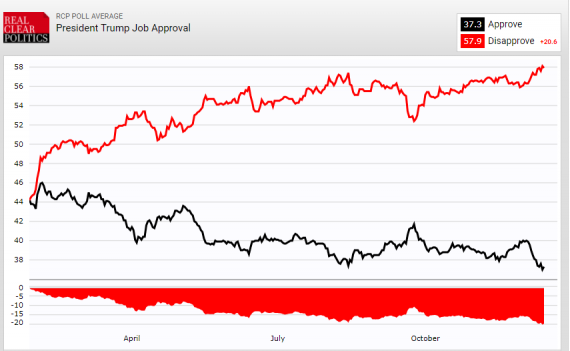 As the chart above shows, Trump's job approval now stands at its lowest level of his Presidency to date and his disapproval stands at its highest level during that period. This is on top of the fact that he continues to have the lowest job approval level of any President since World War Two, and there doesn't appear to be any sign of that trend reversing anytime soon. In fact, Trump's job approval stands at lows that most Presidents never saw during the entire course of their Presidencies. The only comparable situation appears to be President Bill Clinton, whose numbers were negative during the first year of his Presidency, but Clinton's numbers were never nearly as bad as Trump's are today and no President has reached levels like this until very late in their Presidency, such as what happened with President Nixon in the months before his resignation and President George W. Bush during his final year in office. Every other President, even during the worst periods of their Presidency, was in a far better position than Trump is in today. If history is any guide, it's likely that things will only tend to get worse for this President as time goes on. Generally speaking, the first year of a President's first term is usually a time when he's viewed positively by the public, meaning that he's able to get much of his agenda adopted and to lead the nation in the areas that don't require Congressional action. Trump can't point to any of that, and with things such as the Russia investigation likely to continue for some time to come it's likely that things will only get worse. Given that, it's likely that we'll see Trump's numbers go down even further and that we'll get yet another test of just where Trump's floor of support lies right now. If it starts to dip below thirty percent, which seems to be the next major floor they're headed to, then the Trump Administration will be in a position unseen by any incoming Administration since the end of the Second World War.