Trump's Military Parade Could Cost Up To $30,000,000
President Trump's military parade would come with a not insignificant cost.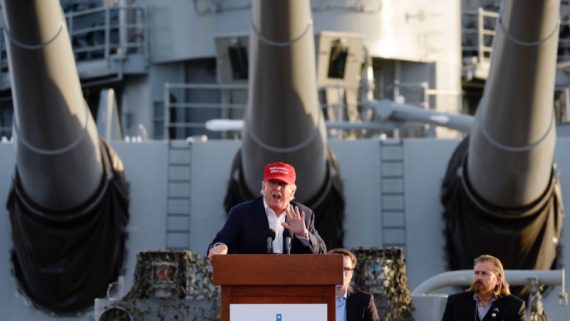 Donald Trump's military parade could end up costing up to $30 million:
WASHINGTON — President Trump's military parade will not come cheap.

Mick Mulvaney, the White House budget director, estimated on Wednesday that the public display of America's military might that Mr. Trump has called for could cost between $10 million and $30 million, and said the government would have to come up with a way to cover the cost.

Funding for the parade was not included in the White House's 2019 budget request, which was released on Monday, because it was a relatively new idea, Mr. Mulvaney said at a House Budget Committee hearing on Wednesday. He explained that the final cost would be determined by the size, scope and length of the parade.

"We will continue to work with you folks if we decide to continue forward with this initiative," Mr. Mulvaney said. "Of course, you'd have to appropriate funds for it or we would have to find funds that we've already appropriated."

Stan Collender, a former staff member on the House and Senate budget committees, said that the funding for the parade could be found without a formal budget request by using existing money already in the Department of Defense budget or possibly from the Department of Homeland Security or the National Park Service.

The president has said that he wants to celebrate the armed forces with a spectacle akin to the Bastille Day parade in France.

The last such celebration in Washington occurred in the summer 1991 when the end of the relatively brief Persian Gulf War was celebrated with a $12 million dollar victory parade.

Defense Secretary Jim Mattis said earlier this month that he is working to develop plans to fulfill the president's request.

"We're all aware in this country of the president's affection and respect for the military," Mr. Mattis said. "We have been putting together some options, we will send them up to the White House for decision."

Some Republicans have been reluctant to endorse a military parade. Last week, Senator John Kennedy of Louisiana said "confidence is silent and insecurity is loud" and that the United States did not need to show off its power.

Representative Barbara Lee, a Democrat of California, pressed Mr. Mulvaney at the hearing on Wednesday about paying for a parade and suggested that holding one is reminiscent of displays of grandeur often seen in authoritarian countries.

But the parade's potential price tag could be its biggest obstacle. Republicans are already facing criticism from conservative economists and others for adding to the federal deficit at a moment when the United States is already borrowing heavily and when the nation's debt has already topped $20 trillion. The White House budget released on Monday projects deficits will grow $7 trillion over the next decade, in part because of the $1.5 trillion tax cut that Republicans passed last year.
The Trump administration has proposed cutting $3 trillion in nondefense discretionary spending, including by reducing funds for social welfare programs. This week, the Trump budget proposed cutting funding for the low-income food program known as the Supplemental Nutrition Assistance Program, or SNAP, to pay for large increases in spending on the military. According to the left-leaning Center for Budget and Policy Priorities, the $30 million that would be spent on the parade would provide annual food stamp benefits for about 20,000 people.
As I discussed when I first posted about Trump's desire to hold a Bastille Day style military parade, apparently through the streets of Washington, D.C., the primary purpose of an event such as this seems rather obvious. Rather than being aimed at "supporting" or "honoring" "the troops," the entire event is and would be aimed at stroking the ego of the President of the United States. From his comments and his actions, it's obvious that Trump is utterly fascinated by displays of military might at what sometimes seems like a child-like level. He also clearly enjoys the kind of adulation typically given to authoritarian rulers such as Vladimir Putin and the leaders of Egypt, Saudi Arabia, and The Philippines. Indeed, given the manner in which he lashes out at anyone who dares to criticize him, it seems clear that he has a preference for militaristic authoritarianism that should raise concerns in a representative democracy such as ours. It isn't a healthy attitude for any politician to have and certainly not one that a President should have. Of course, the Administration will sell this idea as being a tribute to "the troops," which then gives the President and his supporters the ability to label anyone who opposes the idea as "un-American" or, as he once called the free press, an "enemy of the state." For that reason alone, his desire to have such a parade should be rejected out of hand.
Leaving aside those issues, though, the idea of spending $30,000,000 to satisfy the President's overinflated ego is absurd. Yes, it's a small amount of money relatively speaking, but it's also not an insignificant amount of money. As someone pointed out in a Twitter conversation I had about this the other day, that amount of money would be sufficient to cover SNAP (Food Stamp) benefits for about 30,000 people for a year. This is a somewhat relevant fact since there are many military families who rely on those benefits to be able to feed their families. If you want to honor and help "the troops" it would strike me that spending the money that it would cost for Trump's military parade on something like that. Additionally, it's likely that the $30,000,000 price tag only covers the costs that would be incurred by the Federal Government and doesn't cover the costs that would be incurred by the District of Columbia for such a parade. This would be especially true if, as Trump apparently wants, this parade includes heavily armored vehicles that would end up damaging the roads in the District as happened during the parade that was held there in 1991 to mark the end of the Persian Gulf War. Taking that into account, the $30,000,000 price tag is likely just the beginning.
Since Donald Trump is the President, of course, it seems likely that a parade like this will happen at some point in the future unless he can be persuaded to abandon the idea. As I noted in my original post, the most likely day for such an event at this point would probably be Veterans Day in November, which would also mark the centennial of the end of World War One. Given the fact that we have yet to have really memorialized the men who fought in that war, perhaps that would be appropiate. The better alternative, though, would be to save the time and money and not have a parade at all.