Trump's Steel And Aluminum Tariffs Are A Failure
It's been just about fifteen months since President Trump imposed tariffs on imported steel and aluminum. Not surprisingly, those tariffs have not had the effect the President claimed they would.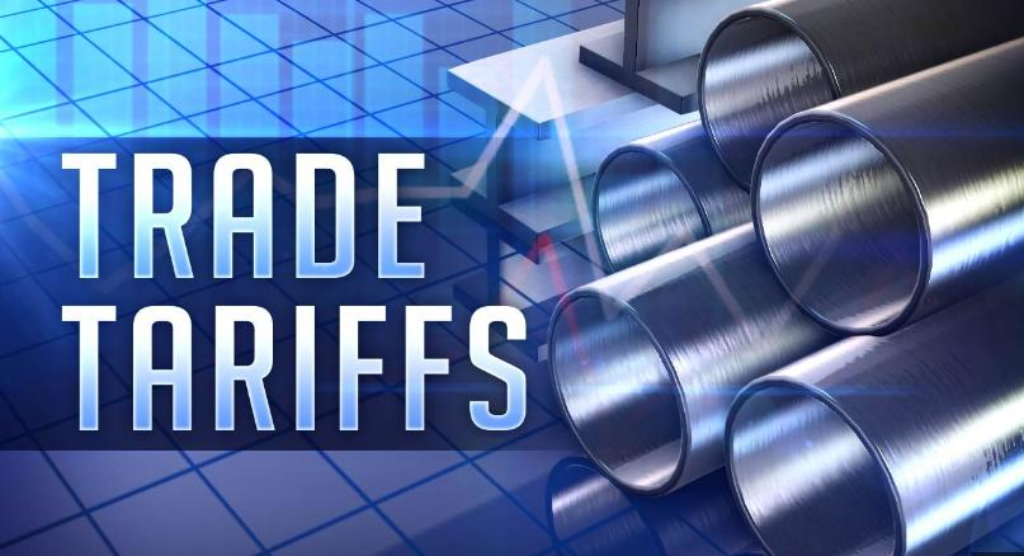 Fifteen months ago, President Trump launched his trade war by imposing tariffs on steel and aluminum from China and a number of other countries. Those tariffs were later expanded when the President, in a move that many described as bizarre at the time, lifted the exemption that had applied to steel and aluminum from allies such as Canada, Mexico, and Europe, absurdly citing 'national security' as the justification for his move. At the time, the President claimed that the tariffs were necessary to protect America's metals industries from unfair foreign competition. While the President did eventually lift the tariffs on steel and aluminum from Canada and Mexico as part of the agreement that led to the U.S-Mexico-Canada Agreement (USMCA), those imposed on China, Europe, and the rest of the world remain in place. Not surprisingly, The New York Times finds that the policy has largely backfired and that its the American consumer that has ended up paying the price for the President's decision:
President Trump's tariffs on imported steel and aluminum were supposed to revitalize American producers and handicap foreign competitors. What happened shows the perils of using trade policy to revive struggling industries.


The tariffs, which took full effect a year ago, have spurred a handful of domestic investments and the reopening of a few idled plants. And the metals industry has added a few thousand additional jobs.


But the tariffs have also forced Americans to pay more for steel and aluminum than other consumers around the world. American- and foreign-owned companies operating in the United States have had to scramble to navigate a complex government process to source materials they need to manufacture their products.

Mr. Trump abruptly removed the tariffs on imports from Canada and Mexico, narrowing the amount of imported metals subject to the 25 percent tax on steel and 10 percent on aluminum.

The metals tariffs, however, remain in place on imports from geopolitical rivals like China and Russia, as well as on allies like Europe and Japan. But analysts suggest their power to rebalance global production, in order to favor American workers, has effectively peaked.


Mr. Trump does not see it that way. He has repeatedly hailed the tariffs as reviving iconic blue-collar industries. "To protect our national security, we also imposed a 10 percent tariff on foreign aluminum and a 25 percent tariff on foreign steel," he told a crowd in Pennsylvania recently, "and what that's done for your aluminum and steel in this country is incredible."

Industry statistics and stock prices suggest a more complicated story. Shares of America's largest aluminum and steel makers have plunged over the last year. There are fewer aluminum production jobs in the United States than a year ago, while steel mills have added only a few thousand jobs. In April of this year there were 381,000 Americans working in the primary metals industry, which includes steel and aluminum. That's up from 376,400 a year ago — a 1.2 percent gain — and down from 398,000 in April 2015.

Steel production barely increased over the past year. Aluminum production has risen more, but it remains more than 40 percent down from where it was in 2015. The United States produced 890,000 metric tons of aluminum in 2018 — barely more than Iceland, well below Norway and less than 3 percent of the output of China.


Executives at foreign-owned metals producers, which were supposed to bear the brunt of America's tariffs, say Mr. Trump's levies have largely been an annoyance and, ironically, a hindrance to their operations in the United States. They say tariffs have not changed the competitive landscape in the global aluminum or steel business.

(…)

Since Mr. Trump imposed metal tariffs on trading partners last spring, aluminum prices worldwide have fallen nearly 20 percent. That is attributable in large part to China's government-supported smelters, which poured additional supply into the global market, as well as falling demand for aluminum in Europe and other large economies. Production costs also declined worldwide.


Aluminum prices in the United States have fallen substantially less, by about 9 percent, according to data compiled by Harbor Aluminum, an industry analysis firm. The premium that American consumers pay for aluminum, compared to what others pay on the global market, has doubled since the administration began the government investigation in 2017 that ultimately authorized the metal tariffs. Today, American manufacturers that use aluminum in their products pay 22 percent more for the metal than their international competitors, including countries like Norway and Canada.

(…)

No companies have announced plans to build new primary aluminum smelters in the United States, and analysts don't expect them to, even if the tariffs remain indefinitely, because high American electricity costs make such investments unattractive. Century's revenues climbed last year but its earnings declined, and it has lost more than 50 percent of its stock price since June 2018. A rival, Alcoa, has posted only slightly better results.
The actual impact of Trump's metals tariffs have been known for some time, of course. Within just a few months after the announcement of the tariffs in March of last year, and their expansion to cover foreign sources such as Europe and Japan in May, it was apparent that the tariffs were not having the impact that the President asserted they would when he imposed them. For example, just months after the tariffs were announced, the price for those products, including from domestic sources unaffected by the tariffs, increased. This had the impact of raising the cost of doing business for industries that rely on these materials, such as carmaker and appliance manufacturers many of whom have in turn found it necessary to pass those cost increases on to consumers, to cut back on hiring or planned business expansion, or both. In subsequent months we've learned that the tariffs have led to increased prices for goods in which steel and aluminum are significant products including cars and appliances such as washers and dryers.
In addition to the alleged positive impact of increased tariffs on the economy, which as we have seen is basically non-existent, the President also likes to brag that his policies have resulted in saving American jobs and in bringing manufacturing jobs back to the United States. All of the available evidence indicates that this too is largely untrue. So far at least, there is no evidence of any major American steel producer having announced that they would be bringing jobs back to the United States, or that they would be increasing hiring the wake of the President's tariffs. Indeed, as The Washington Post reported in early May, the tariffs that have been imposed have cost Americans nearly a million dollars for each job allegedly saved or saved:
President Trump has shown little interest in removing the steel and aluminum tariffs he imposed more than a year ago despite growing evidence Americans are paying a hefty price for these tariffs and increasing pressure from Republicans in Congress to remove them.

U.S. consumers and businesses are paying more than $900,000 a year for every job saved or created by Trump steel tariffs, according to calculations by experts at the Peterson Institute for International Economics. The cost is more than 13 times the typical salary of a steelworker, according to Labor Department data, and it is similar to other economists' estimates that Trump's tariffs on washing machines are costing consumers $815,000 per job created.

"It's very high. It's arresting," said Gary Hufbauer, a senior fellow at the Peterson Institute who did the steel tariff cost calculation. "The reason it's so high is that steel is a very capital-intensive industry. There are not many workers."

Trump has said repeatedly that the metals tariffs are necessary for national security, for well-paying jobs and for leverage in trade negotiations. There was hope among Republicans and business leaders that Trump would remove the tariffs — at least on Canada and Mexico — once the negotiations over the U.S.-Mexico-Canada trade agreement, known as USMCA, were done. But the tariffs remain, a warning sign for Chinese leaders who want Trump to remove his tariffs on their country's products as part of the deal the two sides are negotiating.


Supporters of Trump's tariffs, such as the Alliance for American Manufacturing, counter that more than 12,700 well-paying jobs have been created or saved at steel and aluminum factories since the president put this policy in place in March of 2018. They also point to substantial amounts of investment in U.S. metal mills that should benefit the nation for years to come, including $1 billion that was just announced at a U.S. Steel plant outside Pittsburgh

"Congrats to @U_S_Steel for investing $1+ BILLION in America's most INNOVATIVE steel mill. 232 Tariffs make Pennsylvania and USA more prosperous/secure by bringing Steel and Aluminum industries BACK. Tariffs are working. Pittsburgh is again The Steel City. USA economy is BOOMING!" Trump tweeted last week.

Many economists and business leaders point out that jobs in steel-using industries outnumber those in steel production by about 80 to 1, according to experts at Harvard University and the University of California at Davis.


Trump has claimed that other countries are paying the tariff bill, but evidence shows the tariffs are taxes paid by Americans. U.S. companies that buy metals are either absorbing higher costs or passing them along to consumers. General Motors and Ford said Trump's tariffs have cost them $1 billion each.

"The consumer pays for this in the end. They just don't always recognize it," said James Knott Jr., chief executive of Riverdale Mills in Northbridge, Mass., which makes wire mesh products for everything from fences to commercial fishing nets. "These 232 tariffs protect my foreign competition rather than protecting me."

(…)

[E]Vidence is growing that the metals tariffs are starting to bite. Last year U.S. manufacturing companies went on a hiring spree, adding the most new employees in more than two decades as the strong economy caused demand to rise. But since the start of the year, manufacturing job growth has cooled. From February to April, U.S. manufacturers added 12,000 net new manufacturing jobs, the weakest gains in the sector since before Trump took office.

Hufbauer and Euijin Jung of the Peterson Institute calculated that every steel job saved is costing U.S. consumers over $900,000 because U.S. companies have been paying about 10 percent more for steel since Trump's tariffs went into effect. The total additional cost to the economy is about $11.5 billion a year.
The New York Times article quoted at the top of this post goes on to note that the tariffs have apparently had very little impact on foreign steel and aluminum manufacturers. An executive at one of Norway's largest manufacturers, for example, stated that his company has barely been impacted by the American tariffs, that it has not lost a significant number of customers due to those tariffs, and that these tariffs are far down the list of things that he is concerned about when it comes to a list of things impacting his business. This puts the lie to the claim that foreign producers would bear the burden of the tariffs.
Meanwhile, as noted, the impact back home here in the United States has been largely negative. While there were a handful of jobs added in the domestic metals industry, the numbers are minimal at best and are far outweighed by the costs that have been imposed on the economy, most of which are being borne by American consumers and American businesses. Finally, the imposition of the tariffs have not led to any announcements or plans on the part of American metals manufacturers to vastly expand their domestic business. As noted, this is in no small part due to the fact that, even after taking the tariffs into account, importing steel and aluminum into the United States is still more profitable than trying to revive a metals industry that is far off its peaks in employment and factories from where it was decades ago, and that's not going to change because of Trump's misguided trade policies.
The fact that Trump's metals tariffs are not achieving their alleged goal is, of course, not surprising. Anyone who has taken even just an introductory College or High School course in basic economics could have predicted how all of this would turn out. Going all the way back to the days of the father of modern economics, Adam Smith, it has long been recognized that trade wars, tariffs, and protectionist trade policies are bad for the economy and do not deliver either the economic benefits or the job and industry protection that they offer.
As Smith and those who followed in his footsteps argued, and as subsequent history has clearly demonstrated, tariffs and protectionist trade policies actually have the effect of increasing prices for consumers, making it harder for domestic businesses to compete in international trade due to the inevitable retaliatory tariffs imposed by targeted countries, and benefiting certain domestic industries while harming those that would benefit from the lower costs and higher supply that would result from lower tariffs and more open trade.
There is also plenty of evidence to show that tariff increases have other impacts such as slowing economic growth and increasing international tensions. This last point is emphasized perhaps most emphatically by the use of the term "trade war" because that is effectively what is happening when two nations start imposing retaliatory tariffs on each other. Such policies in the past have also increased tensions in other respects and arguably played a role in the tensions that preceded the many wars that once ravaged continental Europe, including World War One.
I'm not suggesting, of course, that this idiotic trade war that the President has launched will lead to war, but it certainly isn't going to lead to a more benign and peaceful world either. With respect to America's relationship with China, for example, it has the potential to lead to increased tension between the two nations on issues that have nothing to do with trade as well as a breakdown in efforts to gain Chinese cooperation on issues such as the situation on the Korean peninsula. Similarly, the tariffs on Europe and Japan are likely to further strain relationships with our most loyal and important allies, something that this President has specialized into the detriment of America's vital national interests as I have noted here, here, and here.
Donald Trump is famous for saying that "trade wars are good and easy to win," The truth is that they are bad, and everyone loses.