Trump's Terrible, Horrible, No Good, Very Bad Day
Makin' his way the only way he knows how, that's just a little bit more than the law will allow.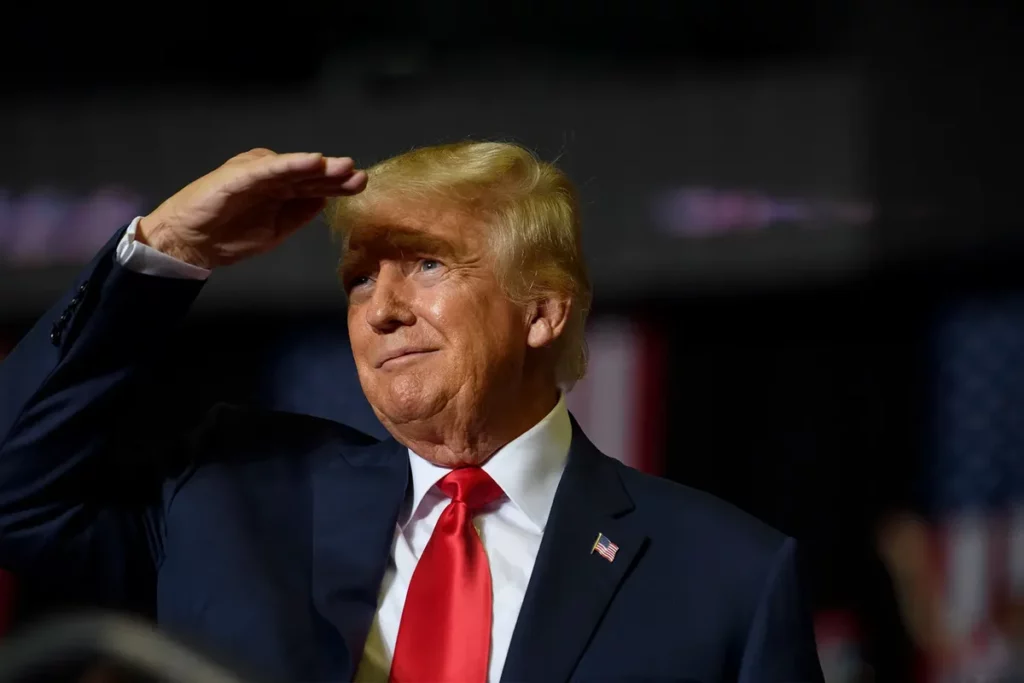 Yesterday was not a good day for former President Trump. After years of investigation, New York's attorney general has filed a civil suit against him and family members over various irregularities in the business. And the 11th Circuit has overturned a lower court judge's stay on the US Justice Department access to documents seized at Mar-a-Lago in an ongoing criminal probe.
Writing at Just Security, E. Danya Perry, Joshua Stanton and Norman L. Eisen wonder, "Has a Trump Tipping Point Been Reached? Analyzing The NY Attorney General's Case Against Trump." After a very long breakdown of the history, process, and evidence, they conclude,
Although Trump, his company, and most of those in his orbit have so far avoided the full force of the law, that run of good fortune may soon be over. The Trump Organization faces financial penalties in the DANY criminal trial scheduled for October. The Department of Justice investigation of Trump concerning his improper storage of sensitive government materials continues, with the appointed special master seeming ready to hurry the case along (and dubious about Trump's arguments). Separate federal grand juries reportedly are investigating Trump's alleged obstruction of Congress in and around January 6, his involvement in an alleged scheme to obtain fraudulent electoral slates, and looking at Super PAC, Save America, for fraud. Some 40 subpoenas recently were issued in the investigation reportedly focused on false slates. The House January 6 Committee is continuing its work, with hearings set to resume shortly. And a local grand jury in Fulton County, Georgia is accelerating its investigation into Trump's efforts to overturn Georgia's 2020 election results, with charges potentially coming as soon as the end of the year.

Nor does it stop there. Along with today's announcement of the filing of the civil action, the New York Attorney General also stated that she had referred her office's findings for criminal prosecution by federal authorities: to the Southern District of New York for possible charges of bank fraud and insurance fraud, and to the IRS for possible charges of tax fraud. Based on the allegations contained in today's complaint, Trump and his children face a very real risk of indictment, criminal conviction, and imprisonment.

With sustained prosecutorial focus on a single individual from so many fronts, any additional straw may break the camel's back. Because of the significant pressures on Trump already, we think this OAG civil case against his business and him could be that straw. He requires a substantial financial foundation to help sustain his many legal battles. Moreover, any sanctions in the civil case that result in the loss of prominent properties, where so much of Trump's identity is tied up, would be a significant blow. The appointment of a monitor to replace him would be a devastating blow to his ego. Additionally, it has been our experience that, when family members are included in proceedings, it can take a devastating emotional toll. Here, as we have noted, the OAG has sued three of Donald Trump's children who were involved in alleged wrongdoing at the Trump Organization.

At some point, the aggregate effect of all these investigations will reach a tipping point. We've often seen this in our collective over half-century of experience in white-collar criminal cases. The cumulative weight bearing down upon a possible defendant—whether corporate, individual, or both—at some point becomes unsustainable. To take another example of why that is the case, civil and criminal events can sometimes trigger default provisions in loan documents or other commercial contracts. While we're not privy to all of the documentation here, that is a risk that we will look for (and, indeed, avoiding that outcome may be one of the reasons that the New York AG has expressed reservations about seeking the corporate death penalty). A criminal conviction in the October trial could also impact whether lenders or others choose to act based on any such provisions. Indeed, it has been reported that previous lenders have already cut ties with Trump, and that few firms remain are willing to do business with him. Trump faces a risk that the number of such willing business partners may dry up entirely.

Of course, this all is an assessment of future events based solely on currently available data. So far, Donald Trump has withstood years of legal pressures that would have felled a less shameless person. He has a genius for impunity the likes of which we have never seen. Still, we have never seen him, or any individual, come under this many fronts of sustained legal pressure. Today's announcement may well serve as a tipping point signaling the beginning of the end.
We have seen tipping points predicted many times over the years and they've never quite manifested. But I agree that this confluence of trials and investigations—New York State, New York City, the US Justice Department, the January 6 Committee, and others—have Trump and company tied up in knots and provide powerful incentive for associates to testify in exchange for deals. Just the legal bills alone are going to be crippling and we're well past the point where any decent lawyer is going to work for Trump without cash up front.
At NYT, Blake Hounshell examines "The Political Backdrop of Letitia James's Lawsuit Against Trump."
Democrats have spent six years waiting for someone to hold former President Donald J. Trump accountable for what they see as a lifetime of evading consequences for his actions.

On Wednesday, Letitia James, the New York attorney general, filed a lawsuit accusing the former president, his family business and three of his children of inflating the value of his assets by billions of dollars, as Jonah E. Bromwich, William K. Rashbaum and Ben Protess report.

Announcing the lawsuit at a news conference in downtown Manhattan, Ms. James tried to minimize the politics at play.

She rattled off statistics to highlight the breadth of the three-year investigation: interviews with over 65 witnesses; millions of documents; a complaint more than 200 pages long, with examples from more than 23 assets. Her office found over 200 false valuations, she said, calling it evidence of a scheme that she characterized as "astounding."

But Ms. James, a Democrat, also trotted out a catchphrase that had the whiff of the kind of branding that has made Mr. Trump a survivor over his four decades in business and politics.

Claiming money that you do not have, Ms. James said, is not "the art of the deal" but rather "the art of the steal" — a reference to Mr. Trump's 1987 memoir that established him in the public imagination as an icon of Manhattan's high-flying real estate sector.

A new batch of Mr. Trump's legal woes in the headlines is certain to be unwelcome news for the Republican Party, which has steadily distanced itself from the former president's tangles with the Justice Department over the classified documents he kept at Mar-a-Lago after his presidency ended.

And those headlines are something of a political gift to Democrats, who have been desperate to tie Republican candidates up and down the ballot to a former president who remains deeply unpopular among the public at large.

But Mr. Trump and his allies are clearly hoping they can deflect whatever political fallout Ms. James's lawsuit inspires by drawing on past legal battles — all of which, so far, the longtime real estate baron has survived with the agility of an alley cat.

Ms. James's political ambition has long been a focus of Republicans seeking to depict her investigation into Mr. Trump as tainted. Ms. James, who was elected to the office in 2018 and is running for re-election in November, contemplated a run for governor this year. She pulled back after it became clear that Gov. Kathy Hochul of New York was in a strong position heading into her Democratic primary — which she went on to win by nearly 50 percentage points.

As state attorney general, she lacks the authority to criminally charge Mr. Trump in this case (though she referred the findings to prosecutors). But in 2018, during her campaign for her office, Ms. James said she believed that Mr. Trump, who was then the president, "can be indicted for criminal offenses."

Legal experts criticized those remarks at the time as a breach of law-enforcement protocol.

And Mr. Trump called Ms. James, who is Black, a "racist" — and dismissed her entire investigation using a stock phrase he employed throughout the Russia investigation and two congressional impeachment inquiries: "witch hunt."
While the fact that we elect prosecutors on partisan tickets is strange thing, indeed, and the fact that offices like District Attorney and Attorney General are stepping stones for higher office even more so, the notion that this case is "politically motivated" seems absurd on its face. But, as David Siders and Meridith McGraw write for POLITICO, "Trump's legal troubles are mounting. And his support is consolidating."
The lawsuit filed Wednesday in New York accusing Donald Trump and three of his adult children of fraudulent financial practices was met with fresh outrage on the left.

Jaime Harrison, the Democratic National Committee chair, suggested with a GIF that New York had produced the receipts on the former president. Michael Beschloss, the presidential historian, wrote he'd "never seen anything remotely like this in history of American Presidency."

But to Republicans, after Trump's presidency and its aftermath, the bombshell was simply more of the same. Just as they rallied around Trump when the FBI searched his estate at Mar-a-Lago, they saw little reason to conclude the New York lawsuit would do anything politically but help Trump with his base.

"I don't see this working in terms of impacting the perceptions of the president," said Dave Carney, a national Republican strategist based in New Hampshire. "He is under attack by the left, they're using all the tools of government, they're politicizing the legal system – this is just the cherry on top."

Ever since his 2016 presidential campaign, and continuing through his post-presidency, Trump has maintained his status in the GOP not in spite of scandals piling up around him, but in part because of his ability to capitalize on them, his brand of grievance politics animating the Republican base. The New York lawsuit was the product of a state attorney general's investigation. But it was also coming from a Democrat, in a state epitomizing for Republicans the coastal elite.

"The more Trump is attacked, the higher he climbs among Republicans," said Frank Luntz, the veteran Republican consultant and pollster. "He knows how to play the victim card perfectly."

If the New York attorney general "is trying to ensure his renomination, which I wouldn't rule out, this is a good way to do it," another prominent Republican strategist said.
We live in topsy-turvy times.