Trying to Sort out the "Fast and Furious" Situation
Fast and furious, or a lot of sound and fury signifying not too much?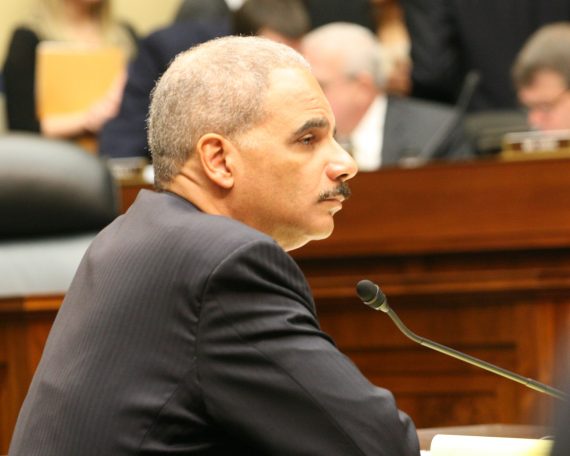 While I have been aware of the discussion over the policy known as Fast and Furious for some time, I have not spent a great deal of time contemplating it.  I have to admit, the whole thing has mostly struck me as more about partisan point-scoring/conservative media machine feeding than anything else.
However, having said that, as a philosophical proposition I find that Congress ought to be allowed to oversee the actions of the executive.  Indeed, I think that Congress is, on balance, far too timid on this count (over time and regardless of the partisan mix in question).  Further, I am dubious of claims of executive privilege as a general proposition and at the moment am unclear as to the concrete basis of the administration's claim in in this case.
As such, while I think that Congressman Issa is motivated by partisan political goals (certainly he came into his current position making a host of claims of that nature—for example see here and here), that does not diminish that fact that a) we do have a dubious and failed policy being examined here, and b) executive departments are answerable to the Congress (even if they don't like that fact).
Okay, so what was "Fast and Furious"?  The NYT describes it thusly:
From late 2009 to early 2011, A.T.F. agents allowed guns to "walk" — choosing not to interdict them swiftly in an effort to build a bigger case. But they lost track of about 2,000 guns that probably reached a Mexican drug cartel. Two of the weapons were found near a December 2010 shootout at which a Border Patrol agent, Brian Terry, was killed.
And WaPo as follows:
Operation Fast and Furious was run out of the Phoenix division of the Bureau of Alcohol, Tobacco, Firearms and Explosives between 2009 and 2011, with the backing of the U.S. attorney in Phoenix. Federal agents targeting the Sinaloa Mexican drug cartel did not interdict more than 2,000 guns they suspected of being bought illegally, in the hope of later tracking them to the cartel. The ATF lost track of most of the firearms, some of which have been found at crime scenes in Mexico and the United States.

Two of the guns connected to the botched operation were found at the Arizona site where U.S. Customs and Border Protection agent Brian Terry was killed in December 2010.
Was this a new and unique program?  Apparently not (back to the NYT):
It has since come to light that the bureau had used similar tactics three times during the Bush administration, although it lost track of fewer weapons.
Some info on past programs here.  As best I can tell, Fast and Furious was a larger and more ambitious program than was the case with the earlier gun walking programs.
A good overview of F&F can be found in a 2001 CSM piece: How Mexican killers got US guns from 'Fast and Furious' operation and here via ABC:  AG Under Fire Over 'Fast and Furious': When Did He Know About Program?
As best I can tell, the main point of contention here is that two of guns in question were used in a crime that included the death of US Border Patrol agent (and that one of those guns was the murder weapon).  Without diminishing the death, I can't help but wonder the following:
1.  If the specific gun in question had not been allowed to walk, would the agent in question be alive today?  This strikes me as unlikely, as it isn't as if Mexican cartels are known for having a hard time acquiring guns.
2.  What if the dead person was a Mexican law enforcement officer or an innocent citizen?  Does that diminish the significance of a Fast and Furious weapon being involved?  In fact, if 2,000 guns went missing, there can be little doubt that such things happened.  Indeed, other F&F weapons have been found at other crime scenes.
The bottom line to me is that if guns were going to be allowed to walk then it was highly likely that a) some of the guns would be lost, and/or b) some of the guns would be used in a crime, meaning that they would almost certainly be used to shoot and kill someone.  I say "and/or" because if the guns were not in the BATF's possession, even if they knew where they were (in theory), the guns were still in the possession of cartel members.  We all know how and for what drug cartel members use guns.  As such, this seems like a bad idea from the get-go.
Therefore, regardless of the partisan political angle, the entire gun walking bit strikes me an ill-conceived policy and one for which responsibility needs to be assigned and taken, even if that is going to create embarrassment.  I will further note that if the Obama administration didn't want this to be an election year problem, they should have dealt with it more quickly than they have.  Of course instead of being fast and furious, all this may end up being a lot of sound and fury signifying nothing (or, at least not much), as it will feed the noise machine leading up to November, but the likelihood that any of it will be settled legally or policy-wise by then is unlikely.
I suppose I should conclude by noting that this is just another footnote to failure in the ongoing mess that is the US drug war.