TSA Agent Killed in LAX Shooting, First in Agency's History
I'm happy that these incidents are so rare. But I can't explain why it's so.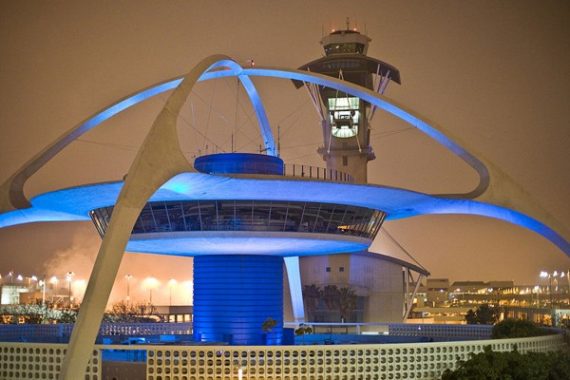 As Doug chronicled yesterday, a gunman opened fire at Los Angeles International Airport yesterday morning, killing a TSA officer and wounding six bystanders. More details have now been released. CBS Los Angeles reports:
A TSA agent was killed and six people were injured Friday in a shooting at Los Angeles International Airport, police said.

The gunman entered Terminal 3 at 9:20 a.m. and opened fire, officials said. Law enforcement authorities identified him as Paul Anthony Ciancia, 23, who has lived in the Los Angeles area for 1 1/2 years but is originally from Pennsville, N.J.

Preliminary information suggests he was targeting TSA employees. CBS2-s Randy Paige said Ciancia shot two people; both were TSA officers, and one of them died.  Friday night, the TSA identified the slain officer as Gerardo I. Hernandez, 39; he is the first TSA officer killed in the line of duty in the agency's 12-year history.

According to Chief Patrick Gannon of Los Angeles World Airports, the suspect pulled an assault rifle — possibly an AR-15 — out of his bag, started shooting and proceeded to the TSA screening area, where he was able to gain access to the airport itself.

Security officers followed the man, engaged in gunfire with him, and were subsequently able to take him into custody, Gannon said. Ciancia was wounded, Paige reports, but authorities have released no details on his condition or his motive.

Sources tell CBS News, however, that Ciancia had anti-government views. The Associated Press said the alleged gunman had a hand-written note with him that said he "wanted to kill TSA and pigs."

CBS2-s David Goldstein reports that Ciancia sent a text message to a family member in New Jersey early Friday in which  he threatened to kill himself. His father called local police in New Jersey, who called Los Angeles police. According to the local police chief, the LAPD sent a car to his apartment. His two roommates said they hadn't seen him since Thursday and that he was fine.

Rachel Kim, reporting for CBS2, said Ciancia has no criminal background.
The death of Officer Hernandez is, of course, tragic and the incident will no doubt reignite the perennial debate about America's gun laws. The fact that the shooter had no previous criminal record is noteworthy, in that there would have been no reason to deny him the right to own an assault rifle in a world where it's legal for any ordinary citizen to do so.
From a purely analytical standpoint, though, the more interesting data point here is the fact that Hernandez is the first TSA officer killed in the line of duty in the dozen years since the agency's creation. It has long been obvious to me that the measures taken in response to the 9-11 attacks—most notably enhanced screening to make it harder to get weapons on board a commercial airliner, the hardening of cockpit doors, airline procedural changes in dealing with hijackers, and the fact that passengers are now much likelier to attack a hijacker—have made the airport security queue a much more attractive terrorist target than the airplane itself.
I'm happy that these incidents are so rare. But I can't explain why it's so.