TSA's Security Through Bureaucracy
Security theater and the bureaucratic mentality.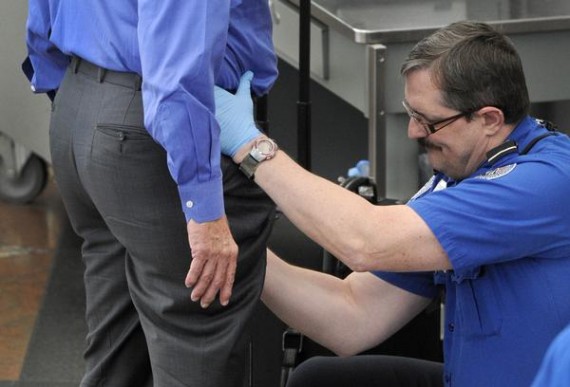 Jacob Sullum at Reason's Hit and Run blog takes note of the TSA's inability to articulate a good reason for requiring laptops to be screened separately, regardless of their size, while allowing similarly-sized behemoth tablets to sail through inside luggage:
As usual, the most plausible explanation for the TSA's policy comes from people outside the TSA. "Is it thicker than an inch, wider than a piece of paper, bluer than the sky?" says security expert Bruce Scheier. "Who cares? It's all nonsense." Robert Mann, an airline industry analyst, tells Richtel, "It's a difference without a distinction, at least from a security standpoint." An unnamed security expert says (in Richtel's paraphrase) "the laptop rule is about appearances, giving people a sense that something is being done to protect them." He calls it "security theater" (a term coined by Schneier).
While certainly security theater is a large aspect of the operation, the underlying impulse is almost certainly bureaucratic. Max Weber argued that one of the key characteristics of bureaucracies is their use of intentional, abstract, stable, exhaustive, and learnable rules, rather than case-by-case decision-making. Rules like "all laptops must be screened" or "everyone must remove their shoes" are easier to train people to apply and are more likely to be applied consistently and fairly than more complex rules that require either time-consuming measurements or the application of discretion. Presumably there is a minimum effective size for an explosive in a laptop that means that you probably couldn't pack one in a netbook's chassis, but a more complex and nuanced rule that is better adapted to that reality might reasonably lead to more delays (as passengers spend time arguing about the size of their laptops with TSA screeners) than a blanket rule, even if not sensible in its application to all situations.
Another similar example is the "liquid rule." One suspects that if TSA had its druthers, no liquids at all would be allowed beyond the checkpoints, but there was sufficient lobbying from the airline industry and business travelers who don't check bags to block a blanket ban, so we ended up with a compromise rule that makes little logical sense on the surface but again is easy to strictly apply; all the TSA screener really has to know is (a) the bottles can't be very big, and you can usually read the numbers on them to figure out if they're too big, and (b) they must all fit in a baggie no larger than "yay big."
Similarly, exempting people from aspects of screening based on factors other than a detailed background check, such as having security screeners apply the judgments based on personal appearances and the like, might seem to be desirable but would potentially lead to abuses such as racial and ethnic profiling. The experience of limiting voter registration based on literacy and understanding tests in the South, for example, demonstrated that what on the surface what might appear to be a sensible rule that allows for discretion in its application could easily lead to widespread abuse to favor some individuals while discriminating against others.
All of this is not to say that TSA's procedures are sensible or justified; they are, by and large, a product of the "security theater" instinct identified by Schneier. But given the risk aversion of the elected and appointed officials responsible for these policies in the first place (largely the result of a political calculus divorced from reasonable economic and social cost-benefit analysis), the proliferation of silly, inflexible rules is not only to be expected, but is in fact inevitable.