Turley on Impeachment
His column for The Hill feels more like concern trolling than anything else.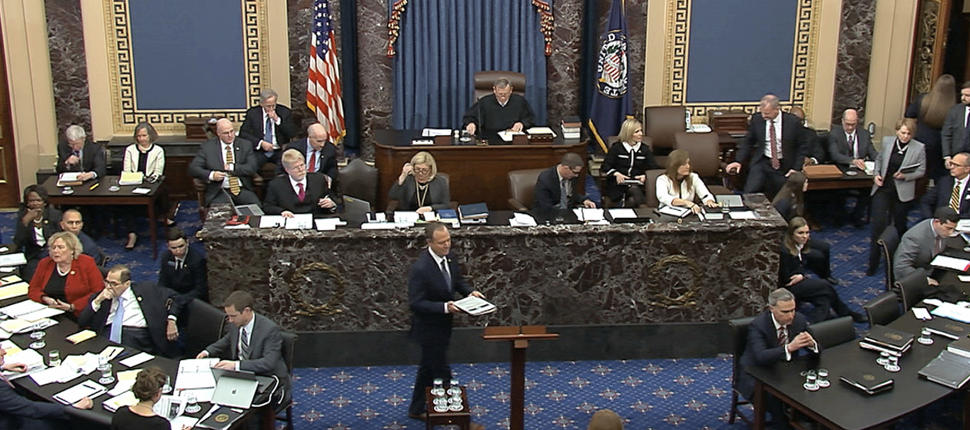 Law professor Jonathan Turley, who has had in my view, a Susan Collins-level of being very, very concerned about how Donald Trump has been treated in the past has taken to The Hill to again express opposition to impeachment. The piece, which he posted to his personal web site, concludes as follows:
The damage caused by this week's rioting was enormous — but it will pale in comparison to the damage from a new precedent of a "snap impeachment" for speech protected under the First Amendment. It is the very danger that the Framers sought to avoid in crafting the impeachment standard. In a process meant to require deliberative, not impulsive, judgments, the very reference to a "snap impeachment" is a contradiction in constitutional terms. In this new system, guilt is not to be doubted and innocence is not to be deliberated. It would do to the Constitution what the rioters did to the Capitol: Leave it in tatters.
This is, in a word, nonsense.
Acting quickly in the context of a political crisis is often necessary and I can think of no particular reason to wait to act.
The part that I find especially galling is the notion that trying to initiate some level of accountability is in any way analogous to the attack on the Capitol. Indeed, the comparison is pretty grotesque.
The piece itself utterly and totally applies the wrong standard to Trump's behavior and to the mechanism of impeachment. He seeks to apply criminal prosecution standards as well as misapplying the First Amendment.
As is stated almost without fail every time someone talks about the impeachment process: it is a political and administrative process, not a legal one. While the US Constitution uses legal terminology ("high crimes and misdemeanors") it is not describing a trial in a court of law. It is describing a process in a legislative body, ruled by the votes of elected representatives. Further, the penalties of being impeached are tantamount to being fired with the possibility of losing some retirement benefits. No one is going to jail and no one is paying any fine as a result of being impeached.
The fundamental reality is that an "impeachable offense" is defined as whatever a majority of the members of the House deems it to be. That they should show judgment and have cause is certainly true, but any assertion that it means anything other than what the House says it means is constitutionally incorrect.
Turley states "Congress historically has looked to the criminal code to weigh impeachment offenses." Assuming that is true, I would note that the entire universe of impeachments in US history is twenty. This is not a large universe from which to make grand generalizations.
But, more importantly, if we must get historical for the moment, is the fact when the House impeached Andrew Johnson they impeached him first then wrote up the articles of impeachment after they voted. This does not strike me as looking "to the criminal code to weigh impeachment offense."
Again, the House can consult the criminal code, or it can choose not to. Like the proverbial dude with a hammer who thinks every problem looks like a nail, Turley suffers from a lawyer's myopia here that everything has to look like a criminal trial.
He couches his position in being a free speech advocate and talks about legal standards for incitement and sedition. All well and good, but we are not here talking about a criminal indictment and trial. We are talking about the political consequences of his political actions.
Let me get all Uncle Ben from Spider-Man and point out that with great power comes great responsibility. While a cliché is it is true and impeaching Trump is a mechanism for punishing him for his irresponsibility.
If Turley thinks that Trump didn't use the right words needed for a conviction for incitement, I would likely agree. He used words like "peacefully" (for example) enough times to give him plausible deniability in a court of law.
But that does not absolved him, as President of the United States for things that he did say on January 6th, and leading up to that date. I detailed plenty of that in my post from Saturday, Trump Deserves to be Impeached, Plain and Simple.
His ability to speak like a mafia Don who knows how to communicate what he wants without directly implicating himself does not, nor should it, absolve him from what he did nor should it forestall impeachment.
Let me remind us all: the US Capitol was occupied by his supporters and he waited two hours to address the public, and even then he only did it via Twitter video. In that video he did not condemn the actions, but instead expressed love and sympathy for the rioters.
The Congress of the United States along with the Vice President were literally under attack and Trump said nothing for two hours.
His acts were clearly political and, therefore, there is nothing at all problematic about pursuing a political sanction, which is what impeachment is.
Further, since the main penalty at hand here is the denial of a chance to hold office again (as well as a loss of post-presidential perks) is a fitting punishment for his abuse of office. The notion that the actions have to rise to the level of criminal prosecution is absurd.
(For the record, I am not stating that he hasn't done anything worthy of criminal prosecution. I just think that it is incorrect to try and tie criminal standards to impeachment in the way Turley is doing in his column).