TV Shows Republicans (But Not Democrats) Watch
A new survey shows that political ideology leads to different television viewing habits. This shouldn't be surprising.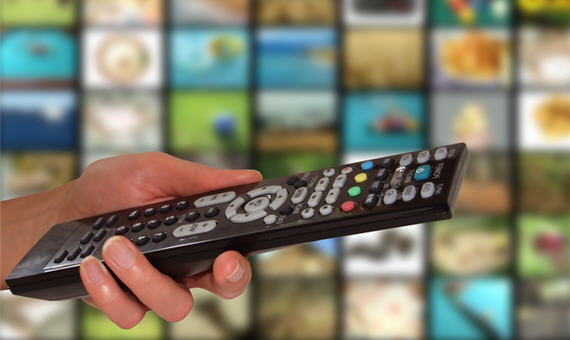 The Hollywood Reporter takes note of a study that shows Republicans and Democrats have very different viewing habits:
According to months of data from leading media-research company Experian Simmons, viewers who vote Republican and identify themselves as conservative are more likely than Democrats to love the biggest hits on TV. Of the top 10 broadcast shows on TV in the spring, nine were ranked more favorably by viewers who identify themselves as Republican.

Liberals appreciate many of the same shows, mind you. But their devotion typically is not quite as strong as right-wingers, and Dems are more likely to prefer modestly rated titles.

Like Mad Men.

The Emmy favorite has struggled to get a broad audience on AMC. It scores through the roof with Democrats (does anyone in Santa Monica or on Manhattan's Upper West Side not watch it?), but it has one of the weakest scores among Republicans. The same is true for FX's Damages, Showtime's Dexter, HBO's Entourage and AMC's Breaking Bad.

And it's not like Republicans have something against cable shows: The GOP has plenty of love for White Collar, Pawn Stars and American Chopper.

"The big shows with mass appeal tend to have above-average scores from Democrats and Republicans but with higher concentrations of Republicans," says John Fetto, senior marketing manager at Experian Simmons. "Looking at the Democrats side, I don't mean to make light of it, but they seem to like shows about damaged people. Those are the kind of shows Republicans just stay away from."

That also goes for the soft-rated, critically beloved 30 Rock. Its score is highly polarized in favor of Democrats. The only show on NBC's Thursday night comedy block that Republicans rate highly (slightly better than Democrats, even) is The Office … which happens to be the one bona fide hit in the bunch.
When you take a look at the lists themselves, you notice few similarities: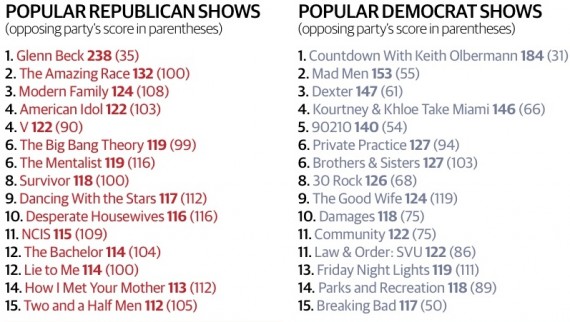 The top scoring shows on each list are no surprise, of course. That Glenn Beck is hugely popular among Republicans and Keith Olberman is similarly popular among Democrats but not vice versa. What's more surprising, really, is that there's no correlation at all among the Top 15 shows in either list. It's as stark a difference as you see in reports about viewing habits among African-Americans versus those for the population as a whole, although that particular disparity has become less apparent since the advent of shows like American Idol, which have broad cross- racial appeal.
I'll leave to the comment thread to discuss why, say, The Big Bang Theory is a popular show among Republicans while Private Practice is a popular show among Democrats.
What explains the apparent disparity in viewing habits based on (self-reported) political ideology then?
One theory is that the disparity is a reflection of demographic differences. People who self-identify as Democrats tend to skew younger, urban, and college educated. The types of television shows that they'd be attracted to would reflect that demography. Combine that with the fact that cable television gives people so many more choices than those that existed even thirty years ago, and the difference seems easy to explain:
What has changed is the explosion on cable that has allowed networks to appeal to more specific viewpoints, from Comedy Central's The Daily Show With Jon Stewart to Fox News' Glenn Beck. Moreover, if you're a liberal viewer in a major city (which typically correlates with higher education) and you have such titles as Mad Men and Dexter to watch each week, are you going to also be interested in seeing a paint-by-numbers crime procedural on broadcast or a laugh-track-boosted sitcom? On the scripted side, at least, the explosion of complex dramas on cable may have ceded some of the broadcast ground to what one might label Republican tastes.
In other words, this phenomenon is just a reflection of the fragmentation of broadcast media, as is the fact that the only telecasts that make the list of the most watched television broadcasts anymore are Super Bowl broadcasts. There are more choices out there and they're expanding every day. People are going to watch what appeals to them whether that's on the basis of demography, education, ethnicity, or political ideology.