Two Agencies Investigating Wisconsin Supreme Court Allegations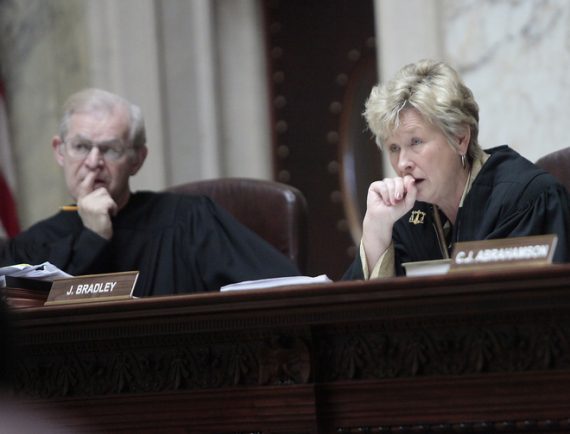 The bizarre allegations surrounding two members of the Wisconsin Supreme Court are now in the hands of law enforcement:
Two agencies are investigating a claim by Supreme Court Justice Ann Walsh Bradley that Justice David Prosser put her in a chokehold earlier this month – an allegation Gov. Scott Walker on Monday called extremely serious.

Asked if the reports about Prosser's behavior, if true, merited his resignation, Walker said: "I don't even want to go down that path . . . other than to say that just based on the allegations that were made, I can't overemphasize how serious I think the situation is there. Until we know what happened, I don't think it's best for anybody for me to comment on what the next step is."

The separate investigations are being run by the Dane County Sheriff's Office and the Wisconsin Judicial Commission, which oversees the state's judicial ethics code. The sheriff's investigation was launched Monday; the commission's was authorized Friday and publicly acknowledged Monday.

"After consulting with members of the Wisconsin Supreme Court, I have turned over the investigation into an alleged incident in the court's offices on June 13, 2011, to Dane County Sheriff Dave Mahoney," Capitol Police Chief Charles Tubbs said in a statement.

The sheriff's office in a statement acknowledged it was taking over the case, but declined further comment.

It was not clear why Tubbs would consult with members of the court on who should investigate the matter.

"The sheriff and Judicial Commission can expect the full cooperation of Justice Prosser, who believes a thorough and impartial review will be the proper channel for the facts surrounding this incident to be reported to the general public," Prosser spokesman Brian Nemoir said in a statement.

Prosser himself declined to comment. Chief Justice Shirley Abrahamson, reached by telephone Monday night, was asked about the incident.

"It's under investigation," she said, declining to comment further. Other justices either declined to comment or did not return calls Monday. The justices spent much of Monday working together behind closed doors on cases as they finalize decisions before the end of the court's term Thursday.
Right now, we don't know what really happened between Prosser and Bradley. Allegations have been made, and other sources have said that the incident was far less than what the worst reports have indicated. In either case, it seems pretty clear that both of these people were acting in a manner unbecoming of members of the judiciary. If the worst allegations are true, then an assault may have been committed, which is why investigation is, I think, warranted. Of course, given the political powderkeg that Wisconsin is these days one wonders how unbiased that investigation will be. At Wisconsin Reporter Kevin Binversie sums up what I'm betting a lot of Wisconsin residents are thinking right about now:
There are a lot of factors here, all of which are along the lines of stupid and petty. So stupid and petty, you'd think we were dealing with toddlers and not some of the most respected legal minds in the state of Wisconsin.

Yes, Prosser has a temper and a short fuse. This is a well-known and documented fact since his Assembly days. However, what's lost in a lot of the coverage is the apparent sycophantic defense Walsh Bradley has for Chief Justice Abrahamson if the "she charged him version" of the events is true.

The battle of factions within the Wisconsin Supreme Court is well-known in both the state's legal and political circles; but now it's to a point that public back-stabbing and reports of physical altercations only help feed growing concern the court is teetering into professional dysfunction. Somewhere, someone has to be the adult in the room; but from the look of things, we're a long way from that with the justices of the Wisconsin Supreme Court.
So it would seem.
Photo via Milwaukee Journal-Sentinel