Two-Thirds Of Americans Can't Name A Single Member Of The Supreme Court
If you can name at least one of these people, you know more than two-thirds of your fellow citizens.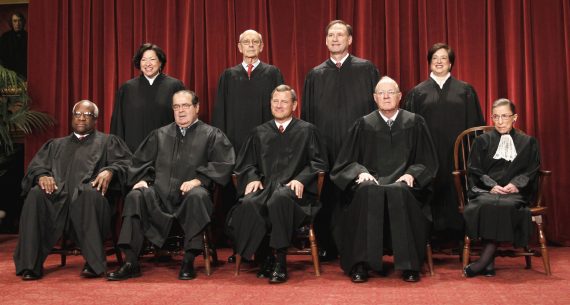 According to a new survey from FindLaw, the majority of Americans cannot name a single Supreme Court Justice: 
Despite all the recent controversy surrounding U.S. Supreme Court decisions on health care, immigration and other issues, nearly two-thirds of Americans can't name even a single member of the Supreme Court. That's according to a new national survey by FindLaw.com (www.findlaw.com), the most popular legal information Web site. The survey found that only 34 percent of Americans can name any member of the nation's highest court.

Chief Justice John Roberts is the most well known of the justices, but could be named by only one in five Americans. Only one percent of Americans can correctly name all nine sitting Justices.

According to the FindLaw survey, the percentage of Americans who can name any U.S. Supreme Court justice are:

John Roberts - 20%
Antonin Scalia - 16%
Clarence Thomas - 16%
Ruth Bader Ginsburg - 13%
Sonia Sotomayor - 13%
Anthony Kennedy - 10%
Samuel Alito - 5%
Elena Kagan - 4%
Stephen Breyer - 3%
Law Professor, and former Federal Court law clerk, Josh Blackman is happy to be in that rarified 1% of people who can name every member of the Court, as can I, while Jonathan Turley laments the news:
Of course, roughly half of people polled last year could not name a single GOP candidate for president. Forty one percent cannot name the current vice president of the United States.

We do even worse on international questions or trying to define the bill of rights.

There is a serious problem in this country, as I have previously discussed, with the lack of civics training in schools. It is a dangerous thing for citizens to be not just ignorant but detached from their political system. All governments love the uninformed and passive citizen but it makes for a dangerous void in accountability in this country.

Unfortunately, we are proving de Tocqueville correct in saying that "in a democracy, the people get the government they deserve.
There was an identical FindLaw poll conducted two years ago on the eve of Elana Kagan's elevation to the High Court, and the results were almost completely identical. As in this new poll, two-thirds of respondents could not name a single member of the Supreme Court, and only 1% could name all nine members of the Court.  The responses for individual Justices were slightly different in that Clarence Thomas, John Roberts, and Sonia Sotomayor, who had been confirmed just a year previously, were in the top three while Antonin Scalia was all the way down at fifth place. Once again, though, poor Stephen Breyer was dead last with only 3% of respondents being about to identify him. The results, then were largely the same with the exception that Roberts and Scalia are apparently slightly better known to the public than they were two years ago. Given their roles in the high profile cases that were handed down in June, along with Justice Scalia's media appearances in connection with the publication of his latest book, that's somewhat understandable. People can identify them more because they've been mentioned in the press frequently in recent months.
The other point that likely explains what Turley seems to denounce as appallingly bad public knowledge is the simple fact that the Court issues its rules as a collective group so it's rare that an individual Justice becomes the focus of public attention is rather rare.Chief Justice Roberts became the subject of discussion in June because of what many considered his surprising decision to vote to up hold the Affordable Care Act, but for the most part how a particular Justice has voted in a particular case is something that fades quickly from the public mind. The only people who really pay attention to that are the lawyers who have made arguing before the Supreme Court a career. Combine that with the fact that the lack of cameras during Court proceedings creates an air of detachment between the public and the Court that doesn't exist for other Government positions (although I'd hazard a guess that very few people could name every member of the Senate or House of Representatives either).
This is similar to other polls we've seen on the judiciary in recent years. Around the same time as that original FindLaw poll, another poll found that Americans didn't really have a good idea of what it was the Supreme Court does, believing it handled far more abortion and free speech cases than it actually does for example. More broadly, it's clear that even people in the know tend to view the Court through a partisan lens that doesn't really provide an accurate view of how things work on the Court.
Is this a problem? I'm not entirely sure that it is, at least not to the extent that Turley seems to think that it is. On some level, people know what they need to know about the Supreme Court. Yea, it would be nice if more people could name at least one Supreme Court Justice, but the fact that they cannot isn't necessary a sign of the end of the Republic.