Two Words Missing From The Republican Convention: Tea Party
Over two days of speakers, not a single Republican has mentioned the Tea Party.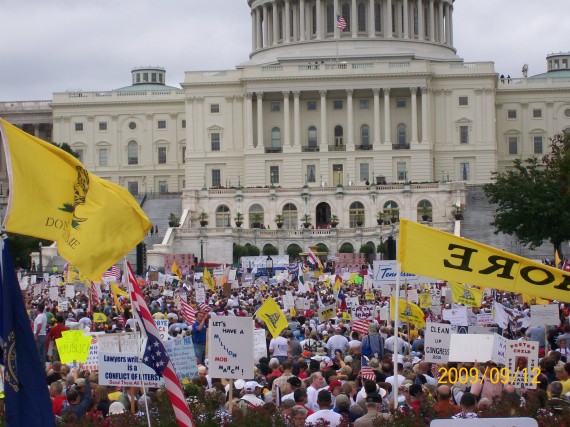 Rosie Gray at Buzzfeed makes note of the fact that the speakers at the Republican National Convention has so far neglected mentioning by name the movement that, by most accounts, helped reinvigorate the party after the 2008 election and helped it gain control of the House in 2010:
TAMPA, Fla. — The "Tea Party" band — which energized and even seemed to overtake the Republican Party in 2010 — has been virtually invisible at this Republican National Convention.

Not a single one of the 38 speakers during the convention's key prime time hours has even mentioned the phrase, according to an examination of their transcripts — a sign both of Romney's own distance from the movement and that polls have suggested that voters view the movement negatively.

Senator Rand Paul, another Tea Party favorite, didn't mention it at all.
David Weigel takes note of the fact that even one of the movement's most recent success stories, Texas Republican Senate candidate Ted Cruz, has avoided saying the magic words:
Since 2010, something extraordinary has been happening, something that has dumbfounded the chattering class.

"It began here in Florida in 2010. In Utah, Kentucky, Pennsylvania. "Was repeated this summer in Indiana. Nebraska. Wisconsin. "And this past month, in the Lone Star State, Texas.

"What is happening all across America is a Great Awakening.

"A response to career politicians in both parties who've gotten us into this mess.

"This national movement is fueled by what unites us: a love of liberty, a belief in the unlimited potential of free men and women."
It is, I guess, kind of odd that Cruz would essentially describe the Tea Party Movement precisely and yet fail to actually mention it. It's also kind of odd that Rand Paul didn't mention the Tea Party considering that he opened the speech he gave the night he won the Republican Primary for Kentucky's Senate seat like this:
"I have a message. A message from the tea party. A message that is loud and clear and does not mince words. We've come to take our government back," Rand Paul told a group of supporters after he was declared winner of the Republican Senate primary in Kentucky. Rand Paul's message: "Washington is horribly broken." "We are encountering a day of reckoning and this movement, this tea party movement is a message to Washington that we're unhappy and we want things done differently," Paul said. "The mandate of our victory tonight is huge," he declared.
I would suggest that the main reason that you're not hearing the phrase "Tea Party" from the podium this week is because of the fact that, over the years, the reputation of the movement among members of the general public has declined significantly. In an April 2012 CNN/ORC poll [PDF], the Tea Party movement's favorable/unfavorable numbers were at 34%/43%, and other recent polls have shown similar results. Interestingly enough, the Tea Party's numbers in that April poll were very close to those of the Republican Party, which was at 41%/51% (the Democratic Party was at 46%/46%.  Based on this, there's likely a conscious decision from party organizers to avoid explicit references to the Tea Party at the convention in order not to be associated with those negative numbers.
In reality, of course, the Republican Party of 2012 is pretty much the Tea Party at this point. One need only look at the Party Platform and listen to what the speakers are actually saying to recognize that fact. That they don't use the words "Tea Party" in their speeches doesn't really mean much of anything if  the policies that they are advocating are, essentially, Tea Party candidates. Indeed, one could say that the movement has been just as influential in 2012 as it was in 2010. They managed to score significant wins in primaries in Indiana, where they unseated Richard Lugar, Texas, where they gave the nomination to Cruz instead of Rick Perry's hand-picked candidate, and Florida, where they unseated an incumbent Congressman in a primary. One might also say that Mitt Romney's selection of Paul Ryan as his running mate was a Tea Party victory because, while Ryan's record prior to 2009 is anything but Tea Party friendly, he has since become a hero of the movement thanks largely to his advocacy of a far-reaching plan to cut spending and entitlement growth. Whether or not it's being mentioned by name, then, the Tea Party is still alive and well inside the Republican Party and likely to see its influence increase after the November elections regardless of what happens to the Romney/Ryan ticket.