Tyranny Yields to Lowly Judge
Americans on both sides of the aisle throw around words like "tyranny" and "fascism" about our system. But there are constant small reminders we are under the rule of law.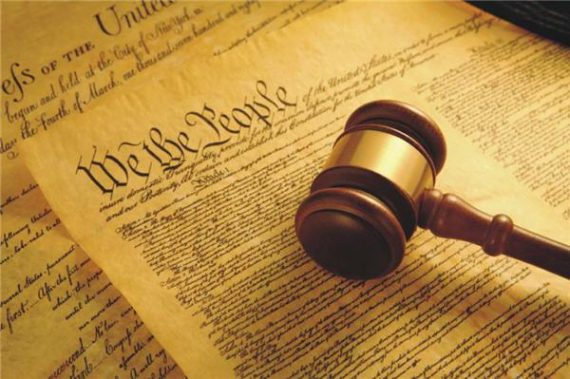 Americans on both sides of the aisle throw around words like "tyranny" and "fascism" to describe high-handed actions they don't like perpetrated by officials of our government.   No doubt, presidents in particular push the envelope, often acting well outside what a plain reading of the Constitution would suggest is the legitimate use of their power.
But it's worth remembering that we are still, fundamentally, a society of laws.
In the latest mundane example of something that's really quite remarkable, U.S. District Judge Martin Feldman, a man of whom most Americans have almost certainly never heard, overturned President Obama's moratorium on drilling in the Gulf. And there's simply no question whatsoever but that the Leader of the Free World will either comply or appeal to another judge for reconsideration.  None.
President Richard Nixon, who broke all manner of laws and otherwise flouted the Constitution left and right, resigned his office when ordered by the Supreme Court to turn over the Watergate tapes.  Some advisors told him he should simply burn the tapes.   But it simply wouldn't have been tolerated.
President Bill Clinton was ordered 9-0 by a (mostly) different Supreme Court to submit to humiliating questioning from Paula Jones' lawyers for a sexual harassment suit over alleged actions that predated his presidency.  He did.   He then lied under oath and was impeached by the House of Representatives.  Had the Senate gotten a few more votes, he'd have doubtless left office without a struggle, much less gunplay.
Clinton's Vice President, Al Gore, won a plurality of the popular vote in the 2000 presidential elections and likely thinks to this very day that he won in Florida.  In an incredibly controversial 5-4 ruling, the Supreme Court (essentially) ordered an end to the circus of a recount in Florida, effectively making George W. Bush president.   No serious thought was given to holding on to the office by force.
George W. Bush made all manner of highly controversial decisions in the wake of the 9/11 attacks, likely breaking some laws and doubtless stretching others beyond recognition.  The matters were all adjudicated in court and the administration complied with the decisions of the courts.
Our system is frustrating and doesn't always run strictly according to Hoyle.  And I'll frequently point it out when that's the case.   But it's important to remind ourselves occasionally that we're pretty far from tyranny.