U.S. Carbon Emissions Down Thanks Largely To Natural Gas
Carbon emissions in the U.S. have declined just as use of natural gas in electricity production has increased. That's no coincidence.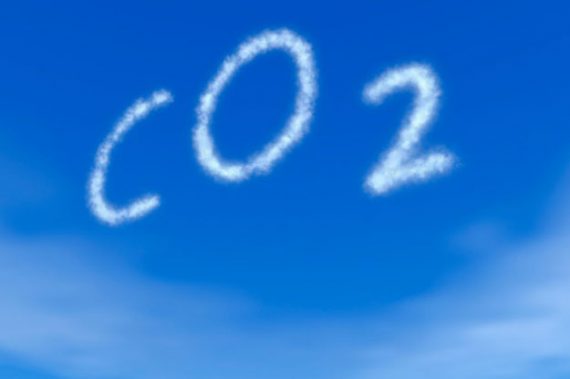 While the debate over the causes of climate change has, rather bizarrely in my opinion, become a political dispute rather than a scientific one, there's been some quiet news in the field that should be of interests to people on both sides of the political aisle. Essentially, what's been happening over the past several years is that carbon emission levels in the United States have fallen to levels not seen since the 1990s thanks largely to a major shift to the use of natural gas in energy production:
The most underreported recent environmental story has been the dramatic decline in energy-related carbon emissions — nearly back to mid-1990s levels, and falling.

Maybe it's because that story just doesn't fit the left's mantra that traditional energy sources are destroying the environment.

The U.S. Energy Information Administration's (EIA) June energy report says that energy-related carbon dioxide fell to 5,473 million metric tons (MMT) in 2011.

That's down from a high of 6,020 MMT in 2007, and only a little above 1995's level of 5,314 MMT.

Better yet, emissions in the first quarter of 2012 fell at an even faster rate — down 7.5% from the first quarter of 2011 and 8.5% from the same time in 2010. If the rest of 2012 follows its first-quarter trend, we may see total energy-related carbon dioxide emissions drop to early-1990s levels.

(…)

So why the decline? It would be hard to credit either political party. As EIA figures show, energy-related carbon dioxide emissions had been rising steadily for decades — through both Republican and Democratic administrations and Congresses. They were rising in the 1990s when Bill Clinton was president, and continued to rise when George W. Bush was in office.

However, emissions began to fall after 2007, when Barack Obama was only a second-year senator — so he doesn't get the credit.

The most likely explanation for the decline is the shale gas revolution, made possible by hydraulic fracturing, or fracking.

Increasingly, power plants are turning to natural gas because it has become abundant, and therefore cheap. And though technology is improving our ability to reduce emissions from coal usage, natural gas is still a much cleaner source.

Indeed, natural gas has just passed an important milestone. As noted by John Hanger, energy expert and former secretary of the Pennsylvania Department of Environmental Protection: "As of April, gas tied coal at 32% of the electric power generation market, nearly ending coal's 100-year reign on top of electricity markets."
The Institute For Energy Research also makes note of the drop in carbon emissions from their peak at the middle of the last decade:
In 2011, total carbon dioxide emissions from fossil fuels were 5,472 million metric tons, of which 34 percent was from coal, 24 percent from natural gas, and 42 percent from petroleum. Carbon dioxide emissions from petroleum declined by 2.1 percent in 2011 as a poor economy, high oil prices, and increased use of biofuels resulted in a drop in petroleum consumption of 1.8 percent.

Carbon dioxide emissions from coal also declined, but at a higher rate than petroleum—5.8 percent— as low natural gas prices and EPA regulations have both electric generators and industrial producers switching to natural gas as their fuel of choice. Lower natural gas prices are a result of hydraulic fracturing technology that allows shale gas to be produced very economically in abundant quantities. As a result, carbon dioxide emissions from natural gas increased by 2.4 percent. Since 2006, carbon dioxide emissions from natural gas have increased by almost 12 percent.

But, because the carbon dioxide content of natural gas is about half that of coal, fuel switching from coal to natural gas for electric generation has resulted in lower carbon dioxide emissions from that sector.  So, even though the demand for electricity was up in 2011 by 1.2 percent, carbon dioxide emissions from the electric generation sector were down by 4.6 percent. That trend in continuing into 2012 as coal's share of generation continues to decline.
And, the forecast for the future seems promising as well:
Some expect that carbon dioxide emissions will fall back to 1990 levels in 2012. According to the Energy Information Administration, energy-related carbon emissions fell by 7.8 percent during the first quarter of 2012; they are 8.5 percent lower than they were in the first quarter of 2010.
As always, of course, a picture is worth a thousand words: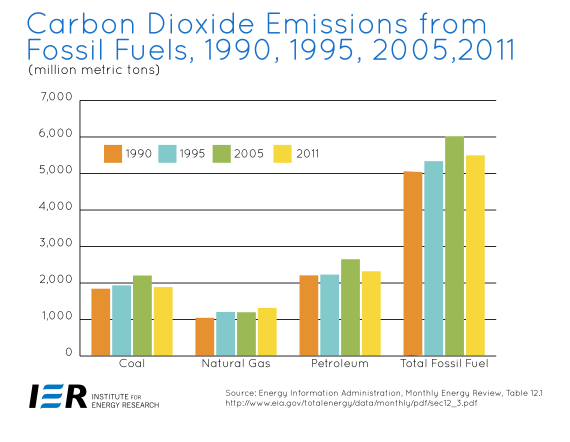 The decline in total emissions, as well as emissions from coal and fossil fuels is rather obvious. Of course, it's worth noting that at least some of this decline in emissions could be due to the impact of the economic downturn. In reality, it's likely the economic crisis that has helped contribute to this process, though. With the economy in a period of tediously low growth, demand for energy is low meaning that energy producers began looking for ways to cut costs since increasing rates would have been problematic in such an environment. With oil prices remaining at relatively high rates and new EPA regulations making coal-fired plants more expensive to run, the switch to cheap, plentiful and cleaner-burning natural gas was really rather inevitable. If this trend continues, then America's love affair with coal will begin to come to an end as technologies such as fracking make it easier to tap into the vast supplies of natural gas in the United States. By some estimates, there may be a century's worth of energy underneath the United States alone, with vast unknown quantities in other parts of the world. With nation's like China and India still pouring tons of carbon into the air as they try to grow their economies, the possibility of a relatively clean alternative energy source should be something that everyone has interest in exploiting.
Bruce McQuain comments:
That's how it works in markets, or is supposed too.  The fact that emissions are down is an actual side benefit of the process.  And it is a process that has managed to work despite government and environmental groups like the Sierra Club's interference or attempted interference in the process (the Sierra Club has declared war on natural gas and fracking after accepting millions in previous years from the natural gas industry).

It is a part of the creative destruction of the capitalist process.  Coal will still have its uses, but just as it was replaced as a primary fuel for heating homes last century, it is now being replaced as a primary fuel for generating electricity for the same reason – there is a cheaper and more efficient fuel (which also happens to have fewer emissions) that is easier to produce and deliver than coal.

At some point coal producers will either have to reinvent themselves or find something else to do.  And on the other side, opportunities will expand within the natural gas industry as more and more demand builds.
It's worth noting the economic impact of the natural gas revolution as well. Just as states like Iowa and Canadian Provinces such as Alberta are benefiting greatly from the energy resources now being extracted from their vast shale deposits, communities in Pennsylvania, New York, and other parts of the United States have seen their economies rejuvenated through fracking technology that makes it possible to extract gas deposits previously thought unreachable. In the process, we're tapping into an energy resource that is not only less-expensive, but it's also cleaner burning and it's entirely domestic. The benefits from all of that should be rather obvious.
Natural gas isn't the sole answer to the carbon emissions problem, but it's going a long way toward cleaning things up, at least in the United States, and that's a good thing.