U.S. Grounds Every F-35 After Fire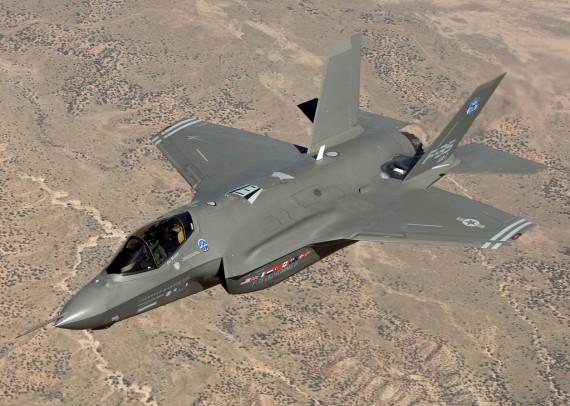 The United States has grounded all of its F-35 aircraft after one was destroyed in a fire:
WASHINGTON — The Defense Department has grounded its fleet of F-35 fighter jets after an incident in which one of them caught fire as it was preparing to take off at Eglin Air Force Base in Florida, the Pentagon said.

The grounding is the latest in a long string of delays that has plagued the Air Force's newest, and most advanced, fighter aircraft, and comes just days before the plane was to make its international debut at an air show in Britain.

The root cause of the problem at Eglin two weeks ago remains under investigation, the Pentagon's press secretary, Rear Adm. John F. Kirby, said in a statement on Thursday night. "Additional inspections of F-35 engines have been ordered, and return to flight will be determined based on inspection results and analysis of engineering data," he said.

The Pentagon was seeking to determine if the Eglin fire was an isolated incident or whether it signaled a wider problem in the F-35 fleet, which is spread across the Air Force, Navy and Marine Corps.

Admiral Kirby said preparations were continuing for the fighter jet to take part in international air shows. A final decision on the British exhibition will be made in a few days, he said.

No one was injured in the fire at Eglin, but the Air Force and Navy temporarily suspended flights. The F-35, which is manufactured by Lockheed Martin, will bring stealth capability to the country's fighter fleet; its backers say that it will also bring a new versatility that will enable it to operate in virtually any battle situation.
This is only the latest setback for a blame that has been beset by woes for years now, and has been criticized for being far too expensive. At this point, though, the U.S. military has committed to the plane for the foreseeable future, and there are several air forces in allied nations that are set to purchase a version of the plane for themselves. So, the only solution will be to find out what the cause of this latest problem is and fix it, as soon as possible.