U.S. Kills Ayman al-Zawahiri, al Qaeda Founder and Leader
A precision drone strike on a balcony in Kabul took out a longtime nemesis.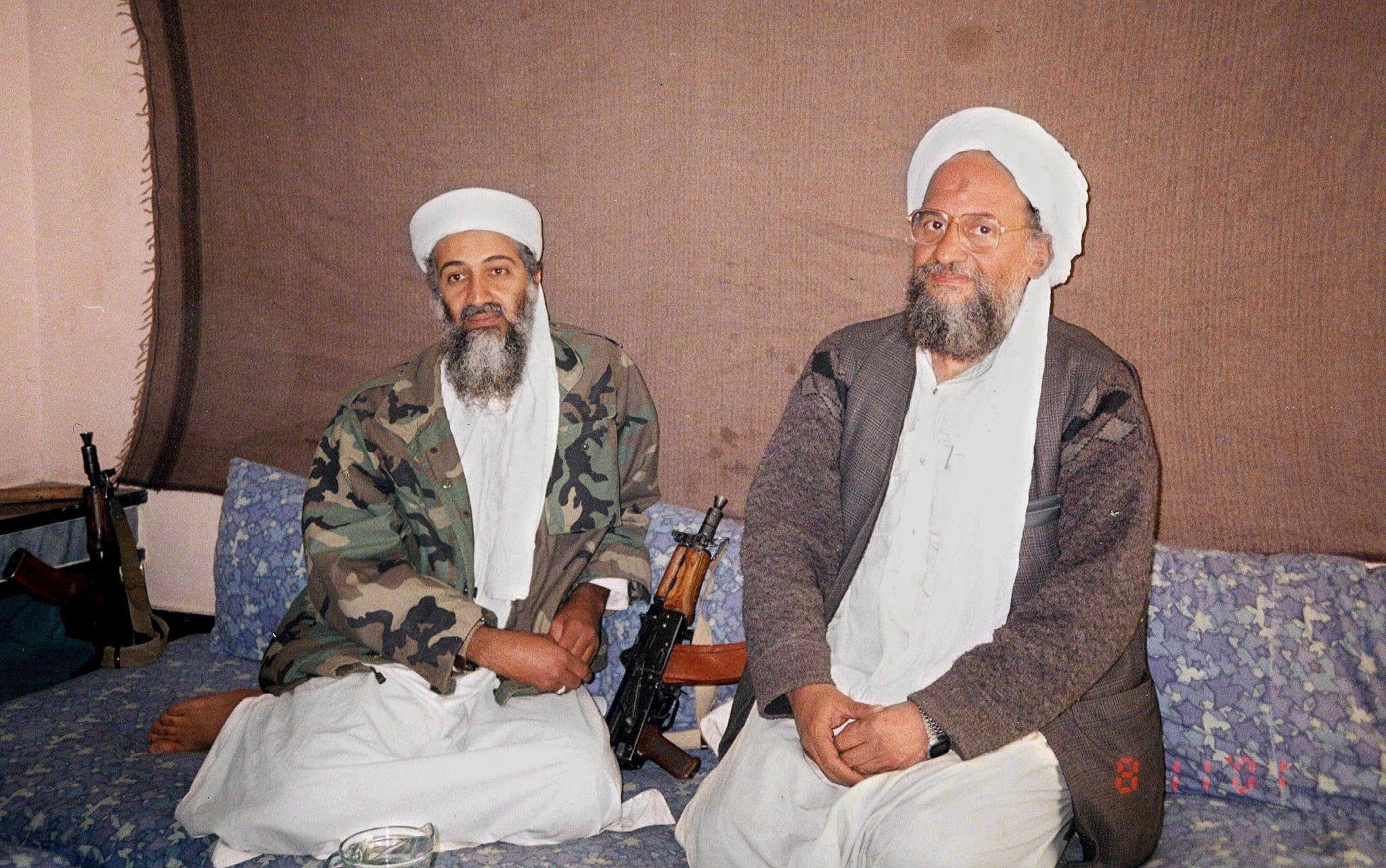 WaPo ("U.S. kills al-Qaeda leader Ayman al-Zawahiri in drone strike in Kabul"):
The United States has killed Ayman al-Zawahiri, the leader of al-Qaeda and one of the world's most-wanted terrorists, who, alongside the group's founder, Osama bin Laden, oversaw the attacks of Sept. 11, 2001, President Biden announced Monday evening.

Zawahiri was killed in a CIA drone strike in Kabul over the weekend, according to U.S. officials who spoke on the condition of anonymity to discuss sensitive intelligence.

When U.S. forces withdrew from Afghanistan last August, Biden administration officials said they would retain capability for "over-the-horizon" attacks from elsewhere on terrorist forces inside Afghanistan. The attack against Zawahiri is the first known counterterrorism strike there since the withdrawal.

Speaking in a live television address from a balcony at the White House, Biden announced that days ago he had authorized a strike to kill Zawahiri. "Justice has been delivered, and this terrorist leader is no more," Biden said.

The strike occurred at 9:48 p.m. Eastern time on Saturday, according to a senior administration official who briefed reporters on the operation. A drone fired two Hellfire missiles at Zawahiri as he stepped onto the balcony of a safe house in Kabul, where he had been living with members of his family, the official said.

[…]

The intelligence community had tracked Zawahiri to the safe house and spent months confirming his identity and developing a "pattern of life," tracking his movements and behavior, the official said. Intelligence personnel also constructed a model of the safe house, which was used to brief Biden on how a strike could be carried out in such a way that it lessened the chances of killing any other occupants or civilians, the official said, adding that intelligence agencies have concluded that Zawahiri was the only person killed in the strike.

"The United States continues to demonstrate its resolve and capacity to defend Americans from those who seek to do it harm," Biden said, making it "clear again [that] no matter how long it takes, no matter how you hide … the United States will find you and seek you out."

Senior administration national security officials were briefed in early April on the information that Zawahiri was believed to be living in the house, which he never left, the official said.

Biden received updates throughout May and June, and on July 1, he was briefed in the White House Situation Room by key Cabinet members and advisers, including CIA Director William J. Burns, Director of National Intelligence Avril Haines, National Counterterrorism Center Director Christine Abizaid and national security adviser Jake Sullivan, the official said.

The president met again with his top advisers on July 25 and continued to press the intelligence agencies on how they planned to conduct a strike with minimal civilian casualties, the official said. All his advisers "strongly recommended" the strike, which Biden then authorized, the official said.

Senior members of the Haqqani Taliban faction were also aware that Zawahiri was living in the house and took steps after the strike to conceal his presence, the official said, calling the terrorist leader's presence in Kabul a violation of the Doha Agreement signed between the United States and the Taliban in 2020.

[…]

Zawahiri, whose face was familiar to millions of Americans from his videotaped diatribes against the United States, played an important role in turning al-Qaeda into a more lethal and ambitious terrorism organization, according to many of the investigators who hunted its leadership for decades. By merging his Egyptian-centric organization with bin Laden's, the group became a far more dangerous and global terrorism group, analysts said. Zawahiri was indicted on a charge of the bombings of U.S. embassies in Kenya and Tanzania in 1998, attacks that first highlighted the growing threat from al-Qaeda.

Both bin Laden and Zawahiri escaped U.S. forces in Afghanistan in late 2001 after the 9/11 attacks, and Zawahiri's whereabouts had long been a mystery. Bin Laden was killed in a raid by U.S. forces in Pakistan in 2011.

After bin Laden's death, Zawahiri became the figurehead leader of al-Qaeda, but he was a hunted man in charge of a decimated organization. Lacking bin Laden's loyal following, Zawahiri tried to command far-flung terrorist groups that often ignored his decrees and rejected his advice. In particular, he was overshadowed by the rise of the Islamic State and its bloody dominion for several years over parts of Syria and Iraq.

But with much of the group's original leadership captured or killed, Zawahiri was perhaps the most visible reminder of al-Qaeda's grim legacy.

"I just got chills up and down my spine," said Charles G. Wolf, whose wife was killed at the World Trade Center in the terrorist attacks, when he learned about the U.S. strike. "It's great to hear … I'm sure there will be someone else to step in his shoes, but I think it sends a signal that we are still going after terrorists regardless of politics."
AP ("Biden: Killing of al-Qaida leader is long-sought 'justice'"):
President Joe Biden announced Monday that al-Qaida leader Ayman al-Zawahri was killed in a U.S. drone strike in Kabul, an operation he said delivered justice and hopefully "one more measure of closure" to families of the victims of the Sept. 11, 2001, attacks on the United States.

The president said in an evening address from the White House that U.S. intelligence officials tracked al-Zawahri to a home in downtown Kabul where he was hiding out with his family. The president approved the operation last week and it was carried out Sunday.

Al-Zawahri and the better-known Osama bin Laden plotted the 9/11 attacks that brought many ordinary Americans their first knowledge of al-Qaida. Bin Laden was killed in Pakistan on May 2, 2011, in operation carried out by U.S. Navy SEALs after a nearly decade-long hunt.

As for Al-Zawahri, Biden said, "He will never again, never again, allow Afghanistan to become a terrorist safe haven because he is gone and we're going to make sure that nothing else happens."

"This terrorist leader is no more," he added.

The operation is a significant counterterrorism win for the Biden administration just 11 months after American troops left the country after a two-decade war.

[…]

Al-Zawahri's death eliminates the figure who more than anyone shaped al-Qaida, first as bin Laden's deputy since 1998, then as his successor. Together, he and bin Laden turned the jihadi movement's guns to target the United States, carrying out the deadliest attack ever on American soil — the Sept. 11 suicide hijackings.

The house Al-Zawahri was in when he was killed was owned by a top aide to senior Taliban leader Sirajuddin Haqqani, according to a senior intelligence official. The official also added that a CIA ground team and aerial reconnaissance conducted after the drone strike confirmed al-Zawahri's death.

[…]

U.S. military officials, including Gen. Mark Milley, chairman of the Joint Chiefs of Staff, have said al-Qaida was trying to reconstitute in Afghanistan, where it faced limited threats from the now-ruling Taliban. Military leaders have warned that the group still aspired to attack the U.S.

After his killing, the White House underscored that al-Zawahri had continued to be a dangerous figure. The senior administration official said al-Zawahri had continued to "provide strategic direction," including urging attacks on the U.S., while in hiding. He had also prioritized to members of the terror network that the United States remained al-Qaida's "primary enemy," the official said.
AP ("Watching al-Qaida chief's 'pattern of life' key to his death"):
As the sun was rising in Kabul on Sunday, two Hellfire missiles fired by a U.S. drone ended Ayman al-Zawahri's decade-long reign as the leader of al-Qaida. The seeds of the audacious counterterrorism operation had been planted over many months.

U.S. officials had built a scale model of the safe house where al-Zawahri had been located, and brought it into the White House Situation Room to show President Joe Biden. They knew al-Zawahri was partial to sitting on the home's balcony.

They had painstakingly constructed "a pattern of life," as one official put it. They were confident he was on the balcony when the missiles flew, officials said.

Years of efforts by U.S. intelligence operatives under four presidents to track al-Zawahri and his associates paid dividends earlier this year, Biden said, when they located Osama bin Laden's longtime No. 2 — a co-planner of the Sept. 11, 2001, terrorist attacks on the U.S. — and ultimate successor at the house in Kabul.

[…]

But the lead on his whereabouts was only the first step. Confirming al-Zawahri's identity, devising a strike in a crowded city that wouldn't recklessly endanger civilians, and ensuring the operation wouldn't set back other U.S. priorities took months to fall into place.

That effort involved independent teams of analysts reaching similar conclusions about the probability of al-Zawahri's presence, the scale mock-up and engineering studies of the building to evaluate the risk to people nearby, and the unanimous recommendation of Biden's advisers to go ahead with the strike.

"Clear and convincing," Biden called the evidence. "I authorized the precision strike that would remove him from the battlefield once and for all. This measure was carefully planned, rigorously, to minimize the risk of harm to other civilians."

The consequences of getting it wrong on this type of judgment call were devastating a year ago this month, when a U.S. drone strike during the chaotic withdrawal of American forces killed 10 innocent family members, seven of them children.

Biden ordered what officials called a "tailored airstrike," designed so that the two missiles would destroy only the balcony of the safe house where the terrorist leader was holed up for months, sparing occupants elsewhere in the building.

A senior U.S. administration official, speaking on the condition of anonymity to discuss the strike planning, said al-Zawahri was identified on "multiple occasions, for sustained periods of time" on the balcony where he died.

The official said "multiple streams of intelligence" convinced U.S. analysts of his presence, having eliminated "all reasonable options" other than his being there.
While al-Zawahri is identified in most press accounts as a "lieutenant" to bin Laden, as well as his successor, that really understates his significance. Al Qaeda doesn't, in my view, become al Qaeda until he merges his Egypt-based organization with bin Laden's in 1998 and, crucially, issues the "World Islamic Front Against Jews and Crusaders" fatwa later that year. That turned a run-of-the-mill Islamist terrorist group aimed at apostate domestic leaders to a fight against the "far enemy," the Western powers who were propping up those leaders. By most accounts, al-Zawahri was the brains behind that strategy.
Whether killing him almost 21 years after the 9/11 attacks and just weeks after his 71st birthday brings much justice is a question for philosophers more than national security strategists. But it appears that the Biden team bent over backward to ensure that collateral damage was contained to near zero and sending the message that we can still operate "over the horizon" whenever we want is useful.
At the same time, it demonstrates the futility of our efforts in Afghanistan. Few, indeed, argued that the United States should not have gone to war after 9/11 and the refusal of the Taliban government to hand over al Qaeda leadership they were harboring.* But the notion that the only way to prevent another 9/11 was to turn Afghanistan into Sweden was always misguided. First and most obviously, because the task was unachievable, at least at a cost in time, blood, and treasure we were willing to pay. Second, because al Qaeda had already demonstrated that they could operate from pretty much any backwater. Third, as demonstrated yet again by this strike, the United States doesn't need boots on the ground in a given locality to kill a few bad guys.
__________________
*Longtime interlocutor and erstwhile OTB contributor Dave Schuler is the only serious voice that comes to mind who argued that from the outset.