U.S. President, Iranian President Speak For First Time Since 1979
President Obama spoke with Iranian President Rouhani today, the first such contact between the nations in 34 years.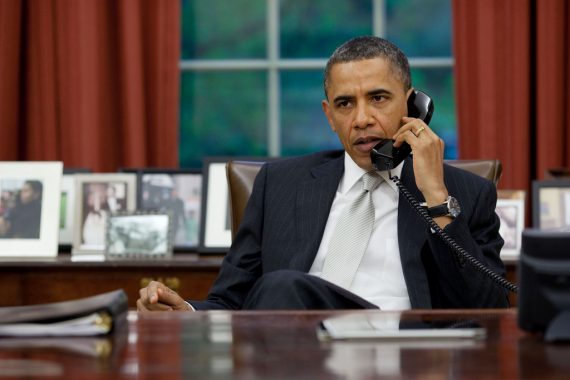 In a late Friday press room appearance devoted mostly to the developments in Congress on the budget, President Obama made an announcement that is something of big development in international relations:
WASHINGTON — President Obama said Friday he had spoken by phone with President Hassan Rouhani of Iran, the first direct contact between the leaders of Iran and United States since 1979. Mr. Obama, speaking in the White House briefing room, said the two leaders discussed Iran's nuclear program and said he was persuaded there was a basis for an agreement.
There had been some speculation that Obama and Rouhani might have met up when the two were in New York for the United Nations General Assembly meeting, but for several reasons that never materialized. Instead, President Obama had directed Secretary of State Kerry to meet with Iran's Foreign Minister in an effort to reopen stalled talks about Iran's nuclear program. In his remarks, President Obama was markedly, albeit reservedly, optimistic about the prospect of being able to reach a deal over the course of the next year.
As always, we'll have to wait to see if there are any positive developments coming out of this. There's no question that President Rouhani has very consciously moved to distance himself from his predecessor and the anti-Western tone that Iranian public rhetoric had taken during the course of his time in office. He even reached out to Israel, in a way, when he sent a Tweet containing greetings for Rosh Hashanah. Whether this is a public relations move or a signal of something more substantive remains to be seen but, it's worth noting that Rouhani was once the man who led the Iranian delegation for the multi-national nuclear talks that were taking place in Geneva, Switzerland over the years. Whether this means he is more willing than his predecessor to talk about some kind of a deal is unclear and, of course, it must always be noted that ultimate authority in Iran rests not with the President, but with Supreme Leader Ayatollah Khameni. On some level, though, it is doubtful that Rouhani would be pursuing this course of action without the approval of the religious leaders.
In any event, it's always good to see diplomacy taking place. Whether it leads to something productive and worthwhile is something we'll have to wait for.