U.S. Pushing U.N. Security Council To Authorize Direct Intervention In Libya
The Obama Administration is asking the U.N. Security Council to authorize direct military intervention in Libya. The question is, why now?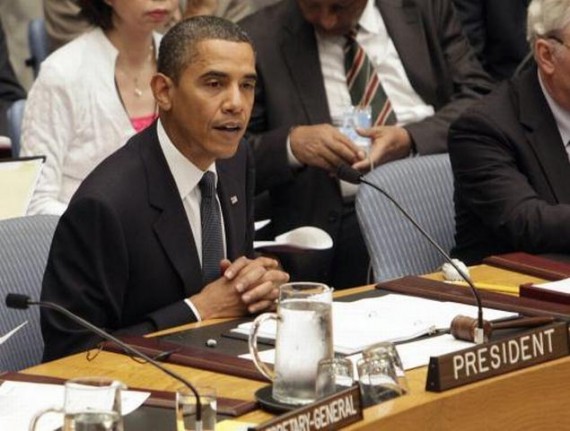 With the prospect of a successful no-fly zone pretty much out the window, and after several weeks of not really giving any indication of what he was thinking in terms of what to do about Libya, President Obama seems to be taking a rather odd policy turn at the last minute:
WASHINGTON — The prospect of a deadly siege of the rebel stronghold in Benghazi, Libya, has produced a striking shift in tone from the Obama administration, which is now pushing for the United Nations to authorize aerial bombing of Libyan tanks and heavy artillery to try to halt the advance of forces loyal to Col. Muammar el-Qaddafi.

The administration, which remains deeply reluctant to be drawn into an armed conflict in yet another Muslim country, is nevertheless backing a resolution in the Security Council that would give countries a broad range of options for aiding the Libyan rebels, including military steps that go well beyond a no-flight zone.

Administration officials — who have been debating a no-flight zone for weeks — concluded that such a step now would be "too little, too late" for rebels who have been pushed back to Benghazi. That suggests more aggressive measures, which some military analysts have called a no-drive zone, to prevent Colonel Qaddafi from moving tanks and artillery into Benghazi.

The United States is insisting that any military action would have to be carried out by an international coalition, including Libya's Arab neighbors.

The rapid advance of forces loyal to Colonel Qaddafi, combined with rising calls from the Arab world to prevent a rout of the opposition, has changed the calculations of the administration, which had clung to a belief that interfering in a Middle East uprising could provoke an anti-American backlash.

"The turning point was really the Arab League statement on Saturday," Secretary of State Hillary Rodham Clinton said Wednesday to reporters traveling with her in Cairo. "That was an extraordinary statement in which the Arab League asked for Security Council action against one of its own members."

Mrs. Clinton said she was hopeful that the Security Council would vote no later than Thursday. The American ambassador to the United Nations, Susan E. Rice, is in intensive negotiations over the language of a resolution, sponsored by Lebanon, another Arab state, and backed by France and Britain.

It is unclear how much the administration is willing to put on the line in Libya, given its deep aversion to being entangled in another war and its clear calculation that Libya does not constitute as vital a security interest to the United States as other countries in the region, notably Egypt or Saudi Arabia. Some administration officials voiced the hope that the mere threat of military action could prompt Colonel Qaddafi to show some restraint.

Still, interviews with several administration officials suggested that events on the ground were forcing its hand. "The regime's military gains have gotten everyone's attention," said a senior official, speaking on condition of anonymity.

President Obama is under pressure from both foreign leaders and allies in Congress to take decisive action. The French president, Nicolas Sarkozy, sent a letter to the United States and other members of the Security Council, urging them to vote for the Lebanese resolution authorizing a no-flight zone, saying that the world had only days, or even hours, to head off a Qaddafi victory.

On Wednesday, one of Colonel Qaddafi's sons, Seif al-Islam, urged the rebels to leave the country, saying, "Within 48 hours everything will be finished. Our forces are almost in Benghazi."

Senator John Kerry, the Massachusetts Democrat who is chairman of the Senate Foreign Relations Committee, said he regretted that the debate in Washington over how to respond to Libya had dragged on so long, allowing Colonel Qaddafi to regain his footing.

"I don't like that we've lost this time," Mr. Kerry said during a speech in Washington. "It's compacted the choices, diminished the options. And it's changed the state of play somewhat."

Administration officials contend that a no-flight zone alone would not be effective, in part because they say it could not be set up before April.

Among the other measures being proposed by the United States: sending foreign soldiers to Libya to advise the rebels, or financing them with some of the $32 billion belonging to the Qaddafi regime, which have been frozen by the Treasury Department. Rebels could use the money to buy weapons, officials said.

Neither of these steps, however, would come in time to stave off an assault by Colonel Qaddafi's forces on Benghazi.
Which makes one wonder why they are being proposed at all.
All reports at this point seem to indicate that the forces loyal to Gaddafi and the rebels are headed for a final clash at or near Benghazi. In fact, Saif Gaddafi boasted yesterday that the conflict would be over within 48 hours. Even if the resolution were approved, it seems unlikely that we'd be able to do anything to reverse the tide at this point. At best, intervention would hold off a final victory by Gaddafi and turn this conflict into a prolonged civil, perhaps guerilla, war, a war that we would then be responsible for seeing to a successful conclusion. Direct intervention on this scale therefore seems to be incredibly over-the-top considering the minimal national security issues at stake for the United States.
More broadly, though, it seems incredibly unlikely that the Security Council would approve this. Neither Russia nor China seem like they would be willing to agree to this kind of outside intervention in the internal affairs of another nation, not matter what the reason. If they exercise their vetoes, then the resolution is dead and, since the Obama Administration has already said that they will not take action outside of the authorization of an authorization from the UN or NATO, that would be the end of the debate.
All of this leads me to believe that this Security Council resolution is really an effort by the White House and the other Western powers to be able to say "See, we tried" if and when the "Who Lost Libya?" debate erupts. Either that, or they actually think that directly intervening in another war in another Muslim country is a good idea.
But nobody could be that dumb, right?
Update: The Security Council is scheduled to vote on the resolution at 6pm EDT today, and indications are that it will pass, albeit not unanimously:
French Ambassador Gerard Araud said there would no unanimity. "There will be some suprises and more than one abstention," he said. Diplomats speculated that as many as five nations could abstain, including China, Russia, Germany, India and South Africa.

The measure would pass with nine votes and no vetoes on the 15-member council.
And indications are that military action could begin within hours of an affirmative vote:
Britain, France and the US, along with several Arab countries, are to join forces to throw a protective ring around the Libyan rebel stronghold of Benghazi as soon as a UN security council vote on military action is authorised, according to security council sources.

A source at UN headquarters in New York said military forces could be deployed "within hours" of a new security council resolution calling for states to protect civilians by halting attacks by Muammar Gaddafi's forces by air, land and sea.

The resolution would impose a no-fly zone over Libya – but a no-fly zone was no longer enough, the source said. "The resolution authorises air strikes against tank columns advancing on Benghazi or engaging naval ships bombarding Benghazi," he said.

Britain, France and Lebanon sponsored the new resolution, which provides the moral and legal basis for military action.

British and French forces are understood to have been placed on standby after the US said it was prepared to support the measure if Arab countries agreed to take an active role.
So, it appears quite likely that there will be military action against Gaddafi within the next twelve hours or so. It will be interesting to see just how "international" this effort actually is.