UConn Dominates College Basketball . . . Not So Much College Itself
UConn won another national championship. Their graduation rate remains embarrassing.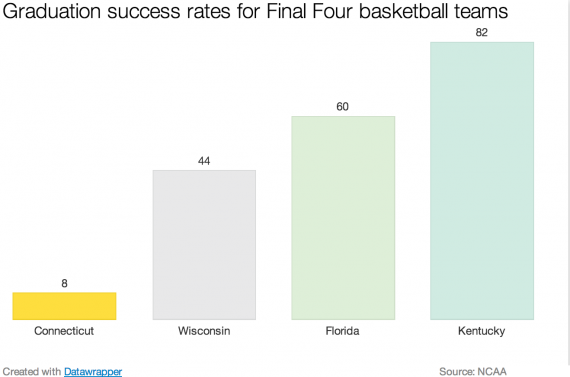 Their first year off a postseason ban for poor academic performance, the UConn men's basketball team won their fourth national championship Monday night. (The Lady Huskies joined them Tuesday night.) Two of their star players vented over the sanctions:
The Connecticut Huskies spent more than a year quietly simmering over the postseason ban that was imposed on the program last season as part of a penalty for poor classroom performance in past years. After disposing of Kentucky for the national championship Monday night, they finally let their emotions boil over.

Standing on the dais where the championship trophy had been presented after the 60-54 win, Shabazz Napier was given a microphone and called to everybody to listen a moment.

"Ladies and gentlemen, you are looking at the hungry Huskies," the Final Four's Most Outstanding Player said. "This is what happens when you ban us."

"It's a team thing. We talk about it all the time. We were all angry," said Ryan Boatright, who teamed with Napier to form an unbeatable backcourt in the title game. "We had nothing to do with the sanctions last year and they punished us. Now we've come back and we punished them.

"We had it in our hearts after what they did to us. We had it in our heads what to do about it."
Boatright's point is a fair one. The NCAA sanctions process almost always punishes current students and coaches for the sins of past students. In this case, though,  as Libby Nelson points out at the finally launched Vox, the need for punishment was rather stark.
UConn's graduation rate for male basketball players is still the worst of any team in the 2014 tournament.

UConn graduates 8 percent of its players, according to the most recent NCAA statistics. To put it another way: of the 12 players who started as freshmen eight years ago, exactly one managed to finish a college degree or leave UConn in good academic standing.

The University of Florida, whom the Huskies beat to advance to the championship, has a graduation success rate of 60 percent; the University of Kentucky, playing UConn tonight, has a graduation rate of 82 percent.
What's particularly interesting about that is that Kentucky is graduating 82 percent of its basketball players despite Coach Cal's much lamented system of recruiting "1 and done" players, superstars out of the AAU system who enter the NBA draft as soon as they are eligible–after they've played one year.
Now, it's worth noting that Napier is a senior and Boatright is a junior; both are likely to graduate college. They have every right to be angry over being punished for the sins of their program. But if the NCAA wants to maintain the slightest notion that players in its big revenue sports—football and men's basketball—are actually student-athletes, they've got to have some sort of hammer to punish schools who make a mockery of that notion. I'm not sure how they do that in a way that doesn't hurt those on campus now, since by very definition the players who aren't finishing school are already gone.
Note that I single out only two sports. The vast majority of those who play on varsity teams, including the top women basketball players, are model students.