Under Herman Cain's Tax Plan, Your Taxes Will Increase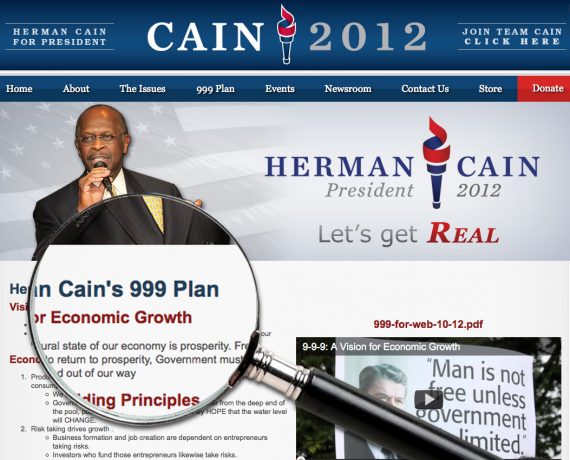 Just before last night's debate, an analysis of Herman Cain's 9-9-9 tax plan was released that was, in a word, devastating:
NEW YORK (CNNMoney) — Under Herman Cain's 9-9-9 tax reform plan, 84% of U.S. households would pay more than they do under current tax policies, according to a report released Tuesday by a nonpartisan research group.

And the impact would be felt most heavily by the lowest income groups.

Those are some of the estimates from the Tax Policy Center's analysis of Cain's proposal, which has helped make him a leading contender for the Republican 2012 presidential nomination.

While some key questions about the 9-9-9 plan remain unanswered, the Tax Policy Center's analysis is one of the first to take a comprehensive look at its potential impact.

(…)

According to the Tax Policy Center, households with incomes below $30,000 would have, on average, between 16% and 20% less in after-tax income than they do today.

By contrast, households making more than $200,000 would see their after-tax income grow by between 5% and 22% on average.

There are two reasons for that discrepancy between the poor and the rich.

First, while the Cain campaign has said it is working on ways to lessen the tax burden on low-income households, the Tax Policy Center said it didn't have enough detail to assume what that change would be. One way to address regressivity is to offer a rebate to low-income households.

The second reason has to do with how Cain would restructure taxes.

Under the current system, most of the lowest income households end up owing no federal income tax. That's because their incomes are so low that they're exempt, or because their tax liability is canceled out by the standard deduction and tax breaks, such as the Earned Income Tax Credit.

The Cain plan doesn't exempt very low incomes from taxation. And while it would eliminate the payroll tax, which is the heaviest tax for low-income families, that tax relief would be offset for many by the elimination of the EITC and other tax breaks they qualify for now.

But the majority of the highest income households would get a tax cut. For instance, 95% of those with more than $1 million in income would receive an average tax cut of $487,300.

Under Cain, capital gains — a notable source of income for the wealthiest Americans — would be tax-free. He would also preserve the charitable deduction. And taxing all non-capital gains income at 9% would amount to a considerable break from today's top rate of 35%.
You can read the analysis here, and it's worth noting that the Tax Policy Center is a left-wing organization, but the conclusions they reach match those that come from many on the right. To demonstrate just what kind of impact Cain's plan would have, all you need to do is look at one chart: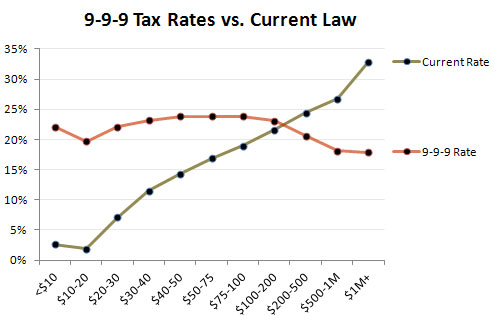 We can have our debates about how progressive a tax system should be, but it strikes me that nobody would think that a regressive tax system is either good policy, or good politics. The reason that the poor don't pay a lot in income taxes is because they don't earn a lot of income and, as the saying goes, you can't get blood from a stone. Cain's plan would benefit a small group of people at the expense of the vast majority of Americans. That's just insane no matter how catchy the name of your tax plan might be.