Unemployment in a Self-Serve Economy
The gang at Fox Nation is amused that President Obama is blaming ATMs for high unemployment. But he's right.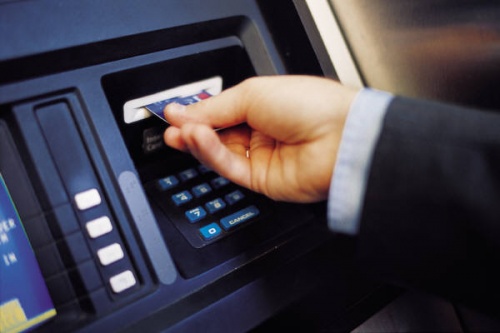 The gang at Fox Nation is amused that President Obama is blaming ATMs for high unemployment. But he's right.
President Obama explained to NBC News that the reason companies aren't hiring is not because of his policies, it's because the economy is so automated. … "There are some structural issues with our economy where a lot of businesses have learned to become much more efficient with a lot fewer workers. You see it when you go to a bank and you use an ATM, you don't go to a bank teller, or you go to the airport and you're using a kiosk instead of checking in at the gate."
I've been making a variation of this argument for fifteen years or more. The fact of the matter is that the number of jobs available to relatively low skilled workers is fast shrinking, with the functions that they used to do performed by machines. This has created jobs designing, manufacturing, selling, and servicing the machines but they're not being done by the same type of workers.
The most obvious example, for those of us over 40 at least, is the self-service gas station. When I was a kid, literally every station we stopped at anywhere in the country had one or more attendants who asked how much gas you wanted, pumped it for you, cleaned your windshield, and even checked your oil. During the gas crisis following the 1973 OPEC oil embargo, we started seeing self-serve pumps which offered gas a few cents cheaper to customers willing to pump their own. My dad hated it, because the early pumps tended to get gas on his hands, but he usually did it anyway because a buck was a buck and we didn't have a lot of them. It wasn't long before self-service pumps became self-service stations. And, outside of a couple of states that mandate that attendants pump gas, ostensibly for safety reasons, full-service stations are a relic of the past. And a couple hundred thousand jobs went with them.
Also within my memory are the days when even junior executives had secretaries. It was perhaps the quintessential job for young women and required a significant level of skill. The rise of inexpensive and efficient personal computers, easy-to-operate photocopying and facsimile machines, voice mail, and other innovations rendered clerical workers redundant–arguably by turning all of us into clerical workers. Very senior executives still tend to have secretaries, usually with a more prestigious title, and medium- and large-sized companies still tend to employ someone to handle ancillary clerical tasks for the whole office. But, again, a very large number of jobs was lost.
The latest example of this trend is the self-service checkout lines at grocery stores. Ostensibly a convenience–stores can provide more lines and thus speed checkout if they don't have to pay someone to man each register–it effectively turns customers into cashiers. Naturally, as they train us to do this, they essentially force us to except it by having only one manned lane open, creating an absurdly long wait for customers who refuse to get with the program. All the while putting hundreds of thousands of low-skill workers on the street to look for another line of work.
Of course, technological change has been putting people out of work and forcing them to acquire new skills for centuries. The automobile rendered all manner of horse-and-carriage related tradesmen out of work while creating whole new occupations–including the aforementioned gas station attendants. Push button elevators has eliminated the need for operators. Rolling luggage has eliminated the need for porters. Expedia has killed off the travel agent. And so forth and so on.
Our economy adapts to all these changes over time, creating all manner of jobs that didn't exist previously. Most of them are more pleasant than the ones they replace. But they tend to require more training–and more intelligence. But it may be that the pace of creative destruction is faster than it's ever been and that people are being displaced faster than we can create new jobs for them.