Unemployment Rate Drops To 8.6% But Job Growth Remains Weak
Some good news in the November jobs report, but not very much of it.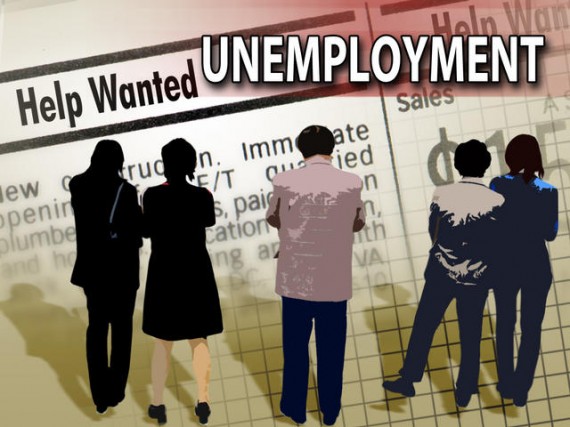 Job growth in November was still stubbornly weak, and far below the numbers we would need to see to get the vast number of unemployed people back to work, but the unemployment rate itself fell to its lowest level  since March 2009:
Job creation remained weak in the U.S. during November, with just 120,000 new positions created, though the unemployment rate slid to 8.6 percent, a government report showed Friday.

The rate fell from the previous month's 9.0 percent, a move which in part reflected a drop in those looking for jobs. The participation rate dropped to 64 percent, from 64.2 percent in October.

The actual employment level increased by 278,000. The total amount of those without a job fell to 13.3 million.

The measure some refer to as the "real" unemployment rate, which counts discouraged workers, also took a steep fall to 15.6 percent from 16.2 percent, its lowest level since March 2009.

Average earnings were essentially flat, up two cents to $23.18 an hour. Private payrolls increased 140,000, considerably less than a report earlier this week showing that nongovernment jobs were up by more than 200,000 for the month.

Government payrolls fell 20,000, including a 4,000 drop in federal positions.

As expected, the service sector was responsible for the bulk of job creation, adding 126,000 jobs against just 2,000 for manufacturing.

Long-term unemployment remains a big problem: The average duration for joblessness surged to a record-high 40.9 weeks. Stagnation in wages also continues, as more employed workers took on second jobs. There were just under 7 million multiple job-holders for the month, the highest total in 2011 and the most since May 2010.
There were also revisions to the jobs reports for September and October, which made those numbers look just a little better than they seemed initially. September's initial report of a net 158,000 jobs added was revised substantially upward to 210,000, and October's 80,000 net jobs added was revised upward to 100,000. Both of these are good numbers, but again, nowhere near the level we would need to see — typically we need at least 150,000 net jobs created per month just to keep up with population growth— for real sustained job growth. Additionally, the drop in the unemployment rate is largely attributable to the fact that some 310,000 people simply stopped looking for work and therefore are no longer counted as unemployment. The Labor Force participation rate fell from 64.2% to 64.0%, if that figure were at the same level it was at the time President Obama took office, the current unemployment rate would be 11%. So, while the press, the Administration, and many Americans are likely to focus on the topline unemployment number, there's really nothing encouraging about this report beyond the fact that it's always good when more people are working. Even Matthew Yglesias acknowledged that on Twitter this morning, when he noted that lowering unemployment by decreasing labor force participation is "not exactly winning the future."
Despite all of these caveats, the political importance of the topline unemployment number dropping shouldn't be underestimated. Notwithstanding the fact that job growth remains anemic, there's a psychological difference between saying "9% unemployment" and "8% unemployment," not a big one to be sure, but a difference nonetheless. Republicans who have been attacking the President over a 9% unemployment rate can't do that after this number, and the Administration can at least point to the fact that the number is going down, even though the reality behind that drop isn't necessarily good news. For the people who only pay attention to headlines, this drop will seem like good news.
But it's not all good news for the Obama Administration. It's been noted repeatedly that no President has been re-elected since the end of World War II when the unemployment rate was higher than 7.2. Barring a spectacular, unexpected, and unlikely spate of economic growth in the next several months, it's pretty much impossible that we'll be anywhere near that level coming November 2012. Instead, it's more likely we'll either be right where we are now, or maybe somewhere in the low 8% range. That's because these figures hint at a double edged sword for the Administration. If the economy is indeed improving and hiring is increasing, then people who have been sitting on the sidelines, and therefore not being counted in the current statistics, are going to start looking for work again. That's going to cause the labor force participation rate to rise, which is a good thing, but it will also cause the unemployment rate to rise, at least temporarily. So, even if things improve over the next year, the employment statistics are likely to remain pretty depressing, and potentially problematic for the Administration.
So there's some good news here, but not a whole heck of a lot. The biggest, and most depressing take-away from the report, in fact, is that three times as many people gave up looking for work in November as got new jobs. To say the least, we're going to need a much stronger economy before the unemployment picture starts looking anything like it was before the recession started.
Update:  Ezra Klein digs into the BLS report and notes that most of the hiring boost came from retail sales, while hiring was negative in other sectors of the economy, including construction and manufacturing. This could mean that we're looking at temporary holiday jobs that will be gone by January 2012.