Unfit For Liberty?
The uprisings in the Arab world have led some to suggest that the Middle East isn't "ready" to be free. They're wrong.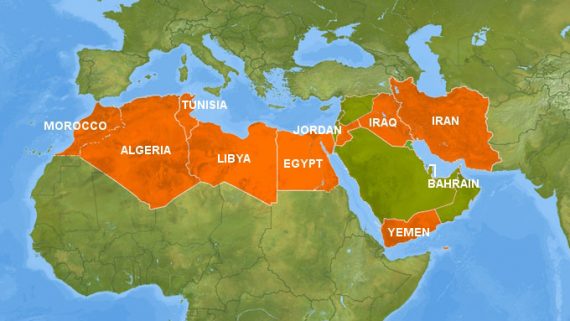 Nicholas Kristoff tackles the argument that has been raised both by Arab dictators and by some in the West that Arabs aren't ready to govern themselves:
We Americans spout bromides about freedom. Democracy campaigners in the Middle East have been enduring unimaginable tortures as the price of their struggle — at the hands of dictators who are our allies — yet they persist. In Bahrain, former political prisoners have said that their wives were taken into the jail in front of them. And then the men were told that unless they confessed, their wives would promptly be raped. That, or more conventional tortures, usually elicited temporary confessions, yet for years or decades those activists persisted in struggling for democracy. And we ask if they're mature enough to handle it?

The common thread of this year's democracy movement from Tunisia to Iran, from Yemen to Libya, has been undaunted courage. I'll never forget a double-amputee I met in Tahrir Square in Cairo when Hosni Mubarak's thugs were attacking with rocks, clubs and Molotov cocktails. This young man rolled his wheelchair to the front lines. And we doubt his understanding of what democracy means?

In Bahrain, I watched a column of men and women march unarmed toward security forces when, a day earlier, the troops had opened fire with live ammunition. Anyone dare say that such people are too immature to handle democracy?

Look, there'll be bumps ahead. It took Americans six years after the Revolutionary War to elect a president, and we almost came apart at the seams again in the 1860s. When Eastern Europe became democratic after the 1989 revolutions, Poland and the Czech Republic adjusted well, but Romania and Albania endured chaos for years. After the 1998 people power revolution in Indonesia, I came across mobs in eastern Java who were beheading people and carrying their heads on pikes.

The record is that after some missteps, countries usually pull through. Education, wealth, international connections and civil society institutions help. And, on balance, Egypt, Libya and Bahrain are better positioned today for democracy than Mongolia or Indonesia seemed in the 1990s — and Mongolia and Indonesia today are successes.
Moreover, as Kristoff points out, Americans who spout the "Arabs aren't ready for democracy" meme are basically agreeing with the Gaddafi's, Assad's, and Ahmedinejad's of the world:
It's still a view peddled by Arab dictatorships, particularly Saudi Arabia — and, of course, by China's leaders and just about any African despot. It's unfortunate when Westerners are bigoted in this way, but it's even sadder when leaders in the developing world voice such prejudices about their own people.

In the 21st century, there's no realistic alternative to siding with people power. Prof. William Easterly of New York University proposes a standard of reciprocity: "I don't support autocracy in your society if I don't want it in my society."

That should be our new starting point. I'm awed by the courage I see, and it's condescending and foolish to suggest that people dying for democracy aren't ready for it.
One point that Kristoff misses which I find interesting is the different reactions that you've seen from many on the American right to the uprising in Eqypt as compared to the ongoing uprising in Libya and 2009's Iranian uprising. The Libyan and Iranian protesters are characterized as freedom fighters and President Obama is criticized for not speaking out more forcefully or, you know, doing "something" to help the uprising (even though it's never made clear what exactly we could do to influence events inside nations ruled by leaders who hate us). The Egyptian protesters, though, were tools of the Muslim Brotherhood and, if you listened to Glenn Beck, the advance army of a worldwide caliphate. Additionally, in Eqypt, President Obama was criticized for doing something, in this case using our influence with a relatively friendly government to prevent a bloody crackdown and pressure a despised and discredited dictator to step aside. Why Libyans and Iranians are entitled to fight for their freedom but Egyptians are not isn't really explained.
Yea, it's true that the process is likely to be messy, but history rarely proceeds along the path that we would like it too. The relatively calm transition in Eastern Europe from Soviet-style dictatorship to democratic states was something of an historical anomaly. History easily could have proceeded differently but for the intervention of men like Mikhail Gorbachev who refused to use the hammer to fight what he recognized was the inevitable and irreversible collapse of the Soviet empire.
There was plenty that could have gone wrong then, and there's plenty that could go wrong now. As Jeremy Warner writes in the Telegraph today, a revolt in Saudi Arabia could wreck havoc with world oil markets, and the world economy. But what's the alternative? Sitting back and letting the Saud family violently crush an uprising, thus creating more resentment and an even more potent breeding ground for the radicalism that al Qaeda feeds upon? More importantly, I think the Libya situation is showing us that there's very little that can be done to stop these uprisings once they reach critical mass. Muammar Gaddafi is inflicting brutality on his people and, still, they rise up and there's already talk of an army making the journey from Benghazi to Tripoli to take on Gaddafi's forces. The battle is joined, the people aren't going to back down, and I don't think we should want them to.
One final thought. When these uprisings are over and the Arab world has settled down, the people are going to remember who was on their side and who wasn't Do we really want to go down in history as being on the side of the dictators, even rhetorically? For the first time in a thousand years, the Arab people are taking control of their own affairs, we should encourage that rather than telling them that they aren't ready for the freedom we enjoy here at home.