United States Knew Saddam Was Using Chemical Weapons Against Iran
United States helped Saddam Hussein launch some of the worst chemical attacks in history against Iran.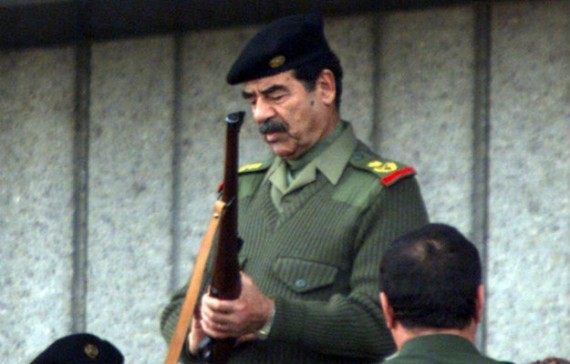 On the same day the United States all but promised military retaliation against Syria for chemical weapons strikes that "should shock the conscience of the world," constitute "a moral obscenity" and against which"all nations who believe in the cause of our common humanity must stand up to assure that there is accountability," Foreign Policy magazine reveals that the United States helped Saddam Hussein launch some of the worst chemical attacks in history against Iran.
In 1988, during the waning days of Iraq's war with Iran, the United States learned through satellite imagery that Iran was about to gain a major strategic advantage by exploiting a hole in Iraqi defenses. U.S. intelligence officials conveyed the location of the Iranian troops to Iraq, fully aware that Hussein's military would attack with chemical weapons, including sarin, a lethal nerve agent.

The intelligence included imagery and maps about Iranian troop movements, as well as the locations of Iranian logistics facilities and details about Iranian air defenses. The Iraqis used mustard gas and sarin prior to four major offensives in early 1988 that relied on U.S. satellite imagery, maps, and other intelligence. These attacks helped to tilt the war in Iraq's favor and bring Iran to the negotiating table, and they ensured that the Reagan administration's long-standing policy of securing an Iraqi victory would succeed. But they were also the last in a series of chemical strikes stretching back several years that the Reagan administration knew about and didn't disclose.

U.S. officials have long denied acquiescing to Iraqi chemical attacks, insisting that Hussein's government never announced he was going to use the weapons. But retired Air Force Col. Rick Francona, who was a military attaché in Baghdad during the 1988 strikes, paints a different picture.

"The Iraqis never told us that they intended to use nerve gas. They didn't have to. We already knew," he told Foreign Policy.

According to recently declassified CIA documents and interviews with former intelligence officials like Francona, the U.S. had firm evidence of Iraqi chemical attacks beginning in 1983. At the time, Iran was publicly alleging that illegal chemical attacks were carried out on its forces, and was building a case to present to the United Nations. But it lacked the evidence implicating Iraq, much of which was contained in top secret reports and memoranda sent to the most senior intelligence officials in the U.S. government. The CIA declined to comment for this story.
Now, the degree of US complicity is a bit difficult to discern from the evidence provided by FP. But this much seems plausible:
It has been previously reported that the United States provided tactical intelligence to Iraq at the same time that officials suspected Hussein would use chemical weapons. But the CIA documents, which sat almost entirely unnoticed in a trove of declassified material at the National Archives in College Park, Md., combined with exclusive interviews with former intelligence officials, reveal new details about the depth of the United States' knowledge of how and when Iraq employed the deadly agents. They show that senior U.S. officials were being regularly informed about the scale of the nerve gas attacks.
But this next sentence is a leap of logic:
They are tantamount to an official American admission of complicity in some of the most gruesome chemical weapons attacks ever launched.
At the very least, the Reagan administration didn't let knowledge that Saddam was using mustard and nerve gas against Iran deter them from providing intelligence support. Given the degree of enmity so soon after the Iran Hostage Crisis, that's not completely shocking.