United States Putting 'Advisers' On The Front Lines In Nigeria's War Against Boko Haram
The U.S. is poised to send troops to the front lines of yet another war we have no reason to be involved in.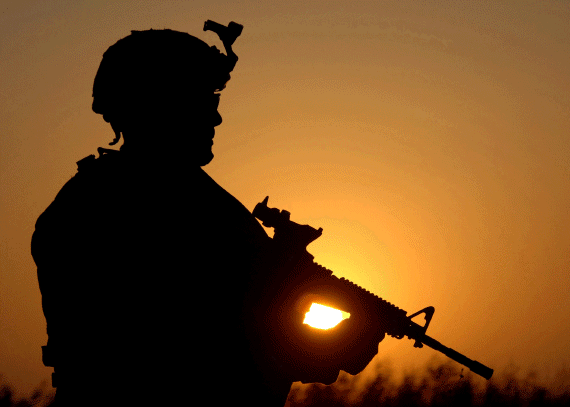 In another example of news that is getting buried in the avalanche of election coverage, the U.S. announced late last week that military advisers would be sent to the front lines of Nigeria's war against the extremist Jihadists of Boko Haram:
DAKAR, Senegal — The Pentagon is poised to send dozens of Special Operations advisers to the front lines of Nigeria's fight against the West African militant group Boko Haram, according to military officials, the latest deployment in conflicts with the Islamic State and its allies.

Their deployment would push American troops hundreds of miles closer to the battle that Nigerian forces are waging against an insurgency that has killed thousands of civilians in the country's northeast as well as in neighboring Niger, Chad and Cameroon. By some measures, Boko Haram is the world's deadliest terrorist group.

The deployment is a main recommendation of a recent confidential assessment by the top United States Special Operations commander for Africa, Brig. Gen. Donald C. Bolduc. If it is approved, as expected, by the Defense and State Departments, the Americans would serve only in noncombat advisory roles, military officials said.

Even as President Obama has drawn down the large American armies sent to Iraq and Afghanistan, he has relied heavily on Special Operations forces to train and advise local troops fighting the Islamic State, also known as ISIS or ISIL, and to carry out clandestine counterterrorism missions.

Already, about 50 American commandos are advising fighters battling the Islamic State in eastern Syria. Scores more in a new, secret kill-or-capture unit are hunting Islamic State militants in Iraq. The Pentagon has offered to send American advisers with Iraqi brigades on the battlefield instead of restricting them to bases inside Iraq. Dozens of American commandos are conducting surveillance missions in Libya and counterterrorism missions in Somalia.

"Rather than entangle U.S. combat forces on the ground, help build the capacity of regional forces to tackle their countries' security challenges," said Jennifer G. Cooke, Africa director at the Center for Strategic and International Studies in Washington, who visited Nigeria last month. "Training and advising and perhaps imparting the lessons we learned the hard way is a good thing."

Since taking office last year, Nigeria's president, Muhammadu Buhari, has vowed to pursue a military campaign against Boko Haram more vigorously than his predecessor, Goodluck Jonathan. His shake-up of the military high command and new cooperation with neighboring countries has proved effective.

Mr. Buhari, a former general, has boasted of the military's successes in wresting control of a huge portion of terrain from the group, declaring a "technical" victory late last year. But while the military has killed or captured thousands of militants and put an end to raids of villages by dozens or more fighters, the group has still carried out suicide attacks at a relentless pace in Nigeria and neighboring countries.

"Despite losing territory in 2015, Boko Haram will probably remain a threat to Nigeria throughout 2016 and will continue its terror campaign within the country and in neighboring Cameroon, Niger and Chad," James R. Clapper, the director of national intelligence, told the House Intelligence Committee in Washington on Thursday.

Two weeks ago, Gen. David M. Rodriguez, the head of the Pentagon's Africa Command, hosted Nigeria's chief of defense staff, Gen. Abayomi Gabriel Olonisakin, at the American headquarters in Stuttgart, Germany. "To contain Boko Haram, working together is a priority," General Rodriguez told his visitor.

About 250 American service members have deployed to a military base in Garoua, Cameroon, where United States surveillance drones flying over northeastern Nigeria are sending imagery to African troops. Drone photos recently helped the Nigerian Army avoid a major Boko Haram ambush, according to a senior American intelligence officer.

Another breakthrough occurred late last year when General Bolduc, a Green Beret with multiple Special Forces tours in Afghanistan, visited Nigeria. When officials there asked for assistance, General Bolduc quickly sent an assessment team to conduct a 30-day review.

Among the team's main recommendations was to position "small dozens" of Special Forces in Maiduguri, a major city in the northeast on the edge of the conflict, to help Nigerian military planners carry out a more effective counterterrorism campaign. British special forces are already assisting in the city. (The American military now maintains only a tiny intelligence cell in Abuja, Nigeria's capital.) Nigerian military officials have embraced the recommendations and are drawing up detailed requests, American officials said.

Just last fall, life seemed to be turning back to normal in the areas near Maiduguri, which for years had been the epicenter of Boko Haram's activities. But after a major military operation uprooted the militants from nearby villages they had seized, many fighters have returned to Maiduguri to launch repeated suicide bombing operations in the city or in villages on the outskirts that have caused dozens of deaths.
As with other international conflicts, the news of 'advisers' being sent into combat areas is one that causes the ears to perk up and the questions to start flowing. For one thing, it's unclear exactly what the mission of these 'advisers' will be going forward and what role they would actually play in combat between Nigerian forces and Boko Haram and other groups engaged in a battle that has been ongoing in Nigeria between the Christian and Muslim populations in the country for quite some time now. If the point of the mission actually is simply to train Nigerian forces then it's hard to see why this is something that has to happen in a combat area, especially since one would assume that troops sent into a combat zone would already have been trained as sufficiently as possible from the beginning. Additionally, a combat zone seems like a fairly dangerous area within which to conduct training operations since the possibility of capture or ambush, which is already quite high, would seem to be higher when you're dealing with untrained or insufficiently trained troops.
If, on the other hand,  the point of the mission of the U.S. forces is to actually assist in combat against Boko Haram, then that raises a whole other set of questions. Until now, the conflict between Nigeria and Boko Haram is one that the United States had largely stayed out of beyond providing some technical assistance and military equipment to the Nigerians and others involved in the conflict. If that is now changing to the point where American troops are going to be involved in fighting in a military conflict in Central Africa that most Americans had never heard of. What happens if and when one of these American advisers is killed or captured by Boko Haram and, all of a sudden, this conflict is brought into America's living rooms? I think it's fair to say that most Americans have no idea that these advisers are now in a combat situation, so it won't be until we reach a point like that when they'd even be likely to find out.
At the very least, before we start sending even a small group off advisers off to get involved in yet another war that has, at best, only dubious connections to American national interests, there should be some burden on the Administration to explain what it is doing to the American people. What is the scope of the mission, for example, and what rules of engagement will these troops be operating under? Will they be engaging in combat operations or just acting as "advisers," and if they second then why the necessity to place them so close to combat areas? What plans does the Administration have to end this mission, or do they even see an end to this mission? And, most importantly, exactly what American national interests are implicated such that direct American involvement in this war is deemed necessary? And, finally, what happens if and when an American soldier is killed or captured or American civilians or business interests in the region are attacked? The fact that we haven't had any debate at all in this county about whether or not its wise for America to involve itself in this conflict will likely be ignored, and we'll be involved in yet another war in yet another country. As the Internet meme puts it, "Thanks, Obama." For pretty much nothing.