"Universal Background Checks" Likely Unenforceable
President Obama's idea of "universal background checks" isn't nearly as simple as it sounds.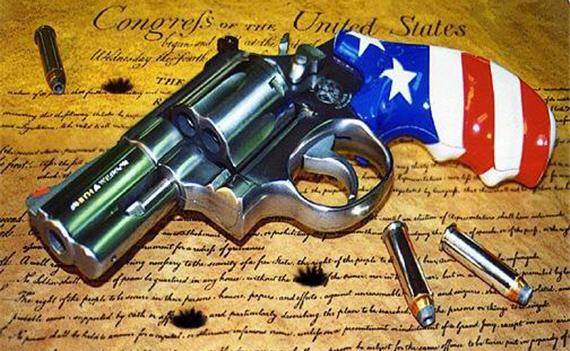 One of the centerpieces of President Obama's gun control package that was unveiled yesterday is so-called "universal background checks," essentially the idea that every single gun purchase in the country would have to go through the same type of instant background check that gun dealers are required, by both Federal Law and the laws of most states, to conduct prior to selling any firearm. Presently, all Federally licensed gun dealers, which essentially means every person engaged in the business of selling guns, must submit information about the seller to a Federal database, and to refuse to sell to anyone who the database indicated was not legally able to own a weapon. This is a duty that licensed gun dealers must comply with regardless of where the transaction takes place. Thus, when a licensed gun dealer is at a gun show, which many dealers participate in on a regular basis, they must still conduct background checks on prospective purchasers.Background checks are also required for licensed dealers who sell over the Internet or via catalogs. Thus, talk of a "gun show loophole" is misleading because it implies that guns purchased at gun shows are not subjected to background checks. To a large degree, this is untrue. Where the so-called "loophole" comes into play is when we start talking about private sales. For example, if I own a weapon and a friend or neighbor wishes to purchase it, we can conduct the transaction in private without any background check being required. Since I'm not a licensed gun dealer, I'm not required to comply with the law. Occasionally, individual gun owners will bring a weapon(s) to a gun show looking for prospective purchases. As with my sale to my neighbor, those sales do not require a background check. This is all that the so-called "gun show loophole" amounts to.
President Obama and other supporters of gun control make the claim that as many as 40% of the gun sales in the United States fall under this "loophole," but John Fund takes a look at the matter and finds that claim to be hard to believe:
The guns that Obama, Bloomberg, and others claim escape background checks are those sold or transferred between private parties. But can that number really be 40 percent?

The dubious statistic of guns that avoided background checks — which is actually 36 percent — comes from a small 251-person survey on gun sales two decades ago, very early in the Clinton administration. Most of the survey covered sales before the Brady Act instituted mandatory federal background checks in early 1994.

If that alone didn't make the number invalid, the federal survey simply asked buyers if they thought they were buying from a licensed firearms dealer. While all Federal Firearm Licensees do background checks, only those perceived as being FFLs were counted. Yet, there is much evidence that survey respondents who went to the smallest FFLs, especially the "kitchen table" types, had no idea that the dealer was actually "licensed." Many buyers seemed to think that only "brick and mortar" stores were licensed dealers, and so the survey underestimating the number of sales covered by the checks.

Another reason for the high number is that it includes guns transferred as inheritances or as gifts from family members. Even President Obama's background proposal excludes almost all of those transfers.

If you look at guns that were bought, traded, borrowed, rented, issued as a requirement of the job, or won through raffles, 85 percent went through Federal Firearm Licensees and would have been subject to a background check. Only 15 percent would have been transferred without a background check.
Now, 15 percent is certainly a much smaller number than 40 percent, and perhaps raises the question of whether or not we need to be making some of the biggest changes to federal firearms law in 50 years for such a small amount of gun transactions. Indeed, there's little evidence that these private sales are a major source of gun crime to begin with. More importantly, though, as Brad Plumer notes, the type of "Universal Background Check" that President Obama wants is, in all likelihood, impossible to enforce:
Things would be different under a universal background check system. Let's say I want to sell my gun. My colleague Dylan Matthews is interested. Instead of selling it directly to him, we might both have to travel to a federally licensed gun dealer, who would run the requisite background check on Dylan and facilitate the sale.

The big challenge, says Ludwig, would be enforcement. There are 300 million guns currently in circulation and the federal government doesn't have any data on who owns what. There's no national registry for guns. All the federal trace data shows is who originally bought the gun from a licensed dealer.

"So let's say a universal background check law passes and a gun I bought back in 2008 shows up on a Chicago crime scene a month from now," says Ludwig. "The police show up at my door and ask who I sold it to. I say I sold it before the [universal background check] passed and at that time I wasn't required to ask any questions." There would be no way for police to know if he had complied with the law or not.
More importantly, of course, people who are involved in selling weapons to, shall we say, less than reputable people aren't going to give a single thought to failing to comply with a background check system. Indeed, they cater to people who wouldn't be able to purchase weapons from a licensed dealer and end up paying a heavy premium as a result. In the event a universal background system is put into place, these black market dealers  will likely increase the cost of the weapons they sell due to the increased risk of selling outside of a mandated system. It will be impossible for the government to stop these transactions. Indeed, by the time these guns are used in a crime, it will be impossible for law enforcement to trace where the gun has been at all.
Added into all of this, of course, is the fact that a background check system like the President wants would have a significant impact on the right of private individuals to dispose of their property. If a gun collector wants to sell a few pieces from his collection to another collector, for example,  or if a family member wants to leave their gun to a relative in their will, why should they be required to go to a licensed dealer to complete the transaction? Sweeping these people up into the system does little to solve the problem of guns getting into the hands of people who shouldn't have them, but does a lot to make the lives of average people more complicated. Of course, isn't that what government is all about anyway?
The President's call for universal background checks sounds like a good idea but, like most good ideas, the details reveal it to be unenforceable and largely unnecessary.