Up To 40% Of Federal Exchange Website Still Unbuilt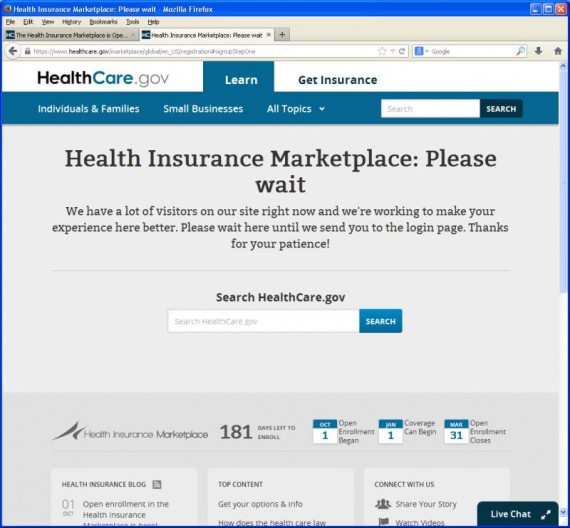 As the November 30th deadline for fully functionality of Healthcare.gov fast approaches, we learned earlier this week that a significant portion of the underlying structure of the website itself remains completely unfinished:
Today, at a hearing of the House Energy and Commerce Committee, Chao stated that "30 to 40 percent" of the federal exchange had not yet been built—despite the fact that the site was launched seven weeks ago.

The revelation came out of questioning of Mr. Chao by Rep. Cory Gardner (R., Colo.). Gardner was trying to figure out how much of the IT infrastructure around the federal insurance exchange had been completed. "Well, how much do we have to build today, still? What do we need to build? 50 percent? 40 percent? 30 percent?" Chao replied, "I think it's just an approximation—we're probably sitting between 60 and 70 percent because we still have to build…"

Gardner replied, incredulously, "Wait, 60 or 70 percent that needs to be built, still?" Chao did not contradict Gardner, adding, "because we still have to build the payment systems to make payments to insurers in January."

Gardner asked a third time: "Let me get this correct. 60 to 70 percent of healthcare.gov still needs to be built?" Chao: "It's not really about healthcare.gov; it's the federally-faciliated marketplace…the on-line application, verification, determination, plan [comparison shopping], getting enrolled, generating the enrollment transaction—that's 100 percent there."

Gardner, a fourth time: "But the entire system is 60 to 70 percent away from being complete." Chao: "There's the back office systems, the accounting systems, the payment systems…they still need to be done."
Sarah Kliff explains why this is a problem, although not necessarily an immediate one:
When someone does shop with a subsidy, the federal government is on the hook to pay part of their premium to the health insurance plan. Medicare deputy chief information officer Henry Chao testified before Congress today – and Bataille confirmed – that the system that will send those subsidies has not yet been created.

"My understanding of the system is we do not need that online until the middle of January, given how the payment schedule works," she said. "It's a back end system necessary to process information directly to issuers."

In other words: Subsidies don't start going out the door until 2014, so there is no need for the system to exist right now. Whether it exists in January 2014–that's one area where we'll have to wait and see.
The obvious question, of course, is why we're sitting here some 45 days away when this part of the system needs to be functional and it still hasn't been built yet. The pattern of bad project management on the part of HHS and CMS that arguably led to the problems that began when the site went live on October 1st seems to be continuing, and yet still nobody is being held responsible.