US Bond Prices Soar: No, It's Not Good News
The 30-year bond has actually gained more than a point in early trading after the S&P downgrade!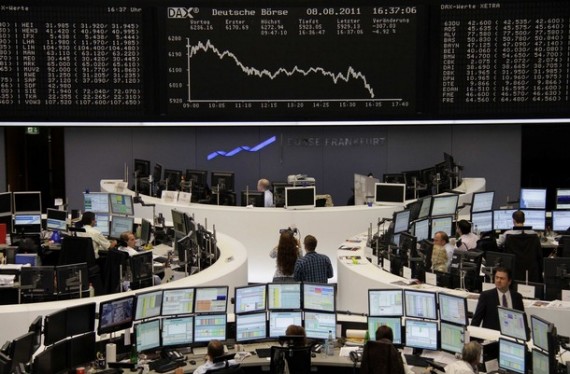 Thus far at least, Friday night's downgrade of US bonds has not had the dire impact many feared. Indeed, while the stock market is continuing its recent slide/correction, the 30-year bond has actually gained more than a point in early trading!
Charlie Homans and the Modeled Behavior team point me to an excellent post by Brad DeLong from way back in April, when S&P was signaling such a move, explaining why:
[N]ews comes in flavors: new news, old news, no news, and political news.

If S&P's announcement were new news being conveyed to the market we would have expected to see the standard pattern that we did not–dollar down, Treasury nominal interest rates up, equities either way. So it is not new news.

If the announcement were old news we would have expected to see no price movements–the smart money would already have taken up their positions, and when those less-informed investors to whom S&P was news responded by selling the smart money was there to buy and offset. That's not what we saw either: so it is not old news.

If it were no news–if the market as a whole simply thought that S&P was irrelevant–then we would have expected to see no price movements at all. The problem is that we did see price movements: both in equities, and in the dollar. So it is not no news.

That leaves us with political news.

What would we have expected to see if we were to read S&P's announcement not as a piece of information produced by a financial analyst studying the situation but instead as a move by a political actor trying to nudge a government toward its preferred policies? What asset price movements would we have expected to see then?
He answers this with several paragraphs that ring true; I commend it to you.
Meanwhile, back to today, Karl Smith argues against the notion that this is somehow the market smacking down S&P.
In my mind the political mess in Washington was worth a downgrade. And, indeed, I felt less safe than I did a month or two ago about the world and the fate of humanity.

However, what should I do in response to that? I should buy US Treasuries. Yes, buy.

Why?

Because you cannot escape US default risk. Its not like you could go out and buy something else that would guarantee you income in the event the US government defaulted. I am not even sure that investing in farmland or other wild schemes would do it.

Certainly there is no place to stash the trillions of dollars that now sit in Treasuries.

You have to buy Treasuries. There is no alternative.

This is why my reaction to the debacle wasn't. OMG sell Treasuries. It was OMG we need to create an alternative to Treasuries and fast.
Hint: Don't look in the Eurozone for a safe haven.
Photo credit: Reuters Pictures