US Troops to Mexican Drug War? (So Contemplates Rick Perry)
Would troops to Mexico help in the drug war?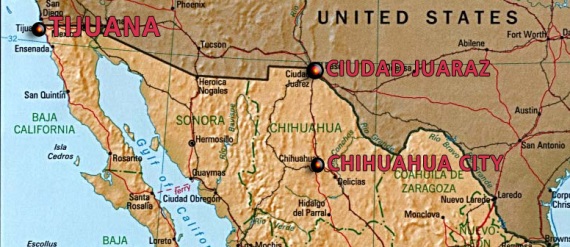 Via the Dallas Morning News' Wayne Slater:  Rick Perry open to sending the US military into Mexico
Host Chuck Todd asked whether Perry would advocate military involvement on the Mexican side of the border. Perry responded: "I think we have to have any aspect of law enforfement that we have including the military. I think we have the same situation we had in Columbia. Obviously, Mexico has to approve any type of assistance that we can give them. But the fact of the matter is these are people who are highly motivated for money, they are viscious, they are armed to the teeth. And I want to see them defeated. And any means we can to run these people off our border and to save Americans' lives we have to be engaged in."
Three things come to mind (apart from being appalled that the DMN misspelled Colombia, not to mention "enforcement" and "vicious").
First, it all depends on what Perry means.  Does he mean combat troops or advisors/trainers?  If his model is Colombia (no "u") then he means advisors/trainers.  The thing is, however, is that the US has sent advisors/trainers to Mexico.  So one is left to ponder whether he doesn't know that or whether he really is suggesting combat troops (a worse idea in this context, I am not sure I can summon).
Second, the situation is Mexico, while similar to Colombia, is not identical.  Indeed, there are several extremely important differences, not the least of which being that Mexico's violence is one of warring drugs cartels, which was never the central problem in Colombia.
Third, he hits on the main issue:  money (gobs and gobs and gobs of it).  As such, until we find a way to take these obscene profits* out of the equation, no amount of force is likely to stop the drug trade.
——–
*This is one of those cases where the phrase "obscene profits" it utterly apt given the violence, death and mayhem that the black market in drugs creates.