USA 1 – England 1: Winning By Not Losing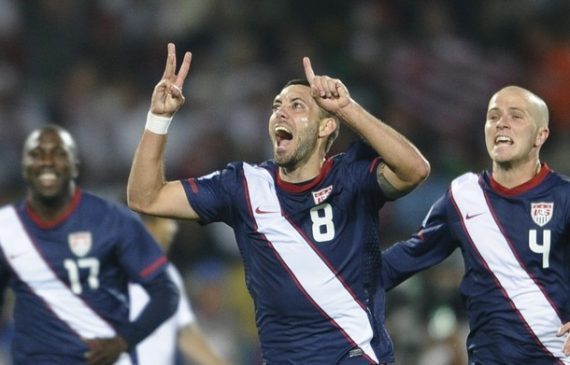 The US beat England in a thrilling 1-1 tie to open the World Cup.
That's a bit tongue-in-check, of course, but certainly the outcome is being considered a "win" for Team USA (indeed, I've received a congratulatory email for the "soccer success" from a European) and a crushing disappointment for the country which invented the sport.
The record will show it was a tie, but it was hardly that.

One found renewed confidence; the other is going to feel the heat back home.

The United States and England played to a 1-1 draw Saturday night in the World Cup, with the Americans rallying when Clint Dempsey scored on a blunder by goalkeeper Robert Green and U.S. goalie Tim Howard withstood a second-half barrage by Wayne Rooney and his celebrated teammates.

Steven Gerrard put England ahead in the fourth minute, blowing past Ricardo Clark to beat Howard from short range. But Dempsey tied it when Green fumbled his 25-yard shot that skipped off the ground twice.

"It was a difficult game," Gerrard said. "I think the important thing in the first game is not to lose. Unfortunately we've let a poor goal in and we couldn't go on and get the winner.
As an American, where even meaningless games in sports with 162-game regular seasons are played until someone wins, the idea of ending a match in the most important championship tournament on the planet in a tie still boggles the mind.   But that's the tradition in this game, where scoring opportunities are few and far between.