USA World's Most Charitable Nation
The United States tops the world in giving money, volunteering time, and helping strangers.
Commenting on yesterday morning's post  "USA Still a Christian Nation," which passed along a Gallup finding that "78% of American adults identify with some form of Christian religion," Commonist snarked, "No wonder concern for the poor, infirm and unfortunate is the norm in the US. Especially when it comes to the more religiously inclined political party."
My off-the-cuff retort, "Actually, the level of concern about the unfortunate is high, indeed, in the United States. It just manifests in charitable giving-including via churches-rather than in generous government-provided benefits," was based on fuzzy recollections of various surveys over the years. Via Paul Caron ("World Giving Index 2011: U.S. Is #1 (Out of 153 Countries)"), I've now got fresh data to buttress that claim.
The Charities Aid Foundation, a British "charity dedicated to getting the best for other charities and their donors" which claims "For over 80 years, we have found the most effective and efficient ways to connect donors to the causes that matter to them and for money to get where it's needed," has conducted a new study on the subject:
This is the second edition of the 'World Giving Index', the largest study into charitable behaviour across the globe involving 153 countries in total.

Using data from Gallup's Worldview World Poll, the report is based on three measures of giving behaviour – giving money, volunteering time and helping a stranger.
The results show that the USA is officially the most charitable nation in the world, moving from fifth place last year to first place this year. Ireland is the second most charitable country and Australia the third.

Overall the World Giving Index, demonstrates that the world has become a more charitable place over the last 12 months – with a 2% increase in the global population 'helping a stranger' and a 1% increase in people volunteering.
We've moved up incrementally since the 2010 report: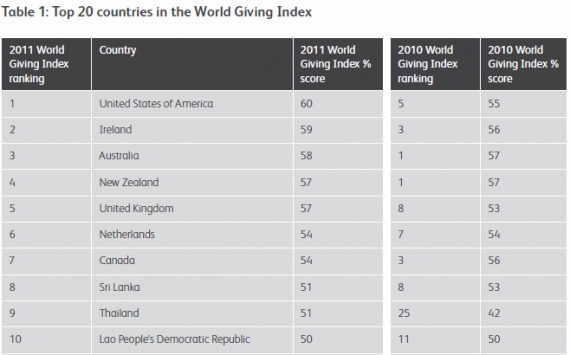 The Anglosphere dominates the list, with the USA, Ireland, Australia, New Zealand, the UK, and Canada all making the top 10.
This chart, on pages 8 and 9 of the report, breaks it down by geographic region: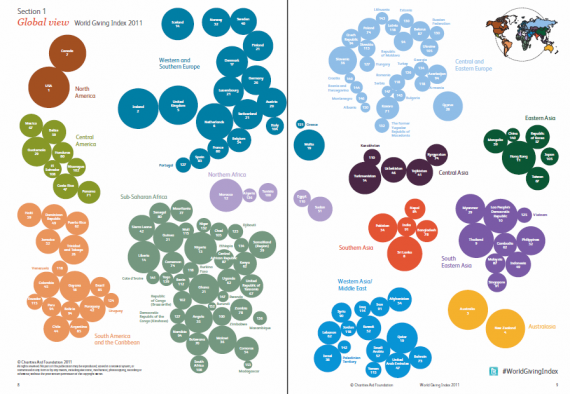 You can read the report for yourself and see if you agree with the ranking methodology. But all of the surveys of this type that I've seen put the United States at or near the top.
My hunch is that it has little to do with our religiosity–after all, several of the other top countries are much less religious–and more to do with cultural and societal norms. We give more privately precisely because we don't have as generous a government safety net as most developed nations. I don't know enough about the subject matter to have a meaningful opinion on the relative advantages of public and private funding for helping the less fortunate.