USS Cole Attack: 10 Years Ago Today
It's been a decade since al Qaeda attacked the USS Cole, killing 17 American sailors. The perpetrators are still at large.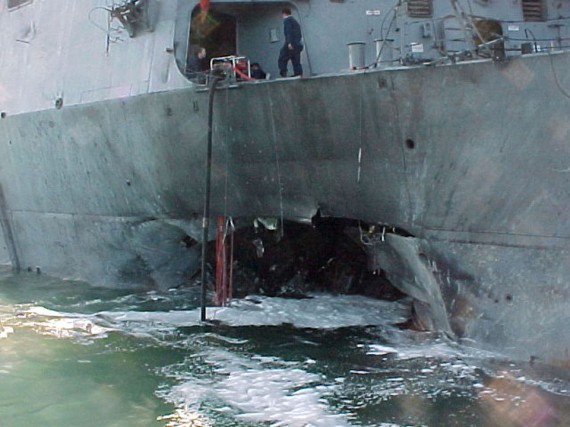 The USS Cole was attacked a decade ago.  Retired CDR Kirk S. Lippold, her commander, reflects on the occasion:
The attack on USS Cole (DDG 67) ten years ago this October 12, was a watershed moment for the Navy and the nation.  It signified that al Qaeda was now willing to attack our military capability to defend our interests worldwide.  It was also a subtle shift in tactics lost on both the military and political leadership of the country.  Tragically, the American people paid a heavy price eleven months later with the attacks of September 11.

Today, the military is fully engaged in a war effort to stem the tide of al Qaeda and its radical brand of Islam.  As we were warned, this will be long-term fight with a determined enemy willing to die for their cause.  While fortunate to date that no large-scale attacks have been successfully carried out within our borders, it is up to everyone to keep up their guard and not allow complacency to overtake the daily grind of our jobs, school and kid's soccer games.

The crew of USS Cole rebounded from that attack and all have gone on to achieve remarkable lives for themselves – business owners, college educations, and careers within the Navy.  Each possesses a unique insight into the horrors of combat the Navy has rarely seen since World War II.  For the seventeen sailors that were killed that day, as well as the three shipmates we have lost since then, not a day goes by that I don't think of them.  I miss my shipmates.

This October 12, at 11:18 am the crew and families will gather in Norfolk, Virginia, to pay tribute and remember those who made the ultimate sacrifice for our freedom.  While the 10th anniversary may be significant, for those us who saved a ship from sinking and worked tirelessly to prevent our shipmates from dying, every anniversary is just as important as the last.  To those who continue to serve our nation today, thank you for your service.  God Bless each of our servicemen and women and the United States of America!
Galrahn lists the casualties.  Those with asterisks were posthumously promoted under regulations:
Hull Maintenance Technician Second Class* Kenneth Eugene Clodfelter, 21, of Mechanicsville, Va.
Electronics Technician Chief Petty Officer* Richard Costelow, 35, of Morrisville, Pa.
Mess Management Specialist Seaman Lakeina Monique Francis, 19, of Woodleaf, N.C.
Information Systems Technician Timothy Lee Gauna, 21, of Rice, Texas
Signalman Seaman* Cherone Louis Gunn, 22, of Rex, Ga.
Seaman James Rodrick McDaniels, 19, of Norfolk, Va.
Engineman Second Class Marc Ian Nieto, 24, of Fond du Lac, Wis.
Electronics Warfare Technician Second Class* Ronald Scott Owens, 24, of Vero Beach, Fla.
Seaman* Lakiba Nicole Palmer, 22, of San Diego, Calif.
Engineman Fireman Joshua Langdon Parlett, 19, of Churchville, Md.
Fireman* Patrick Howard Roy, 19, of Cornwall on Hudson, N.Y.
Electronics Warfare Technician First Class* Kevin Shawn Rux, 30, of Portland, N.D.
Mess Management Specialist Third Class Ronchester Manangan Santiago, 22, Kingsville, Texas
Operations Specialist Second Class Timothy Lamont Saunders, 32, of Ringgold, Va.
Fireman Gary Graham Swenchonis Jr., 26, Rockport, Texas
Ensign Andrew Triplett, 31, of Macon, Miss.
Seaman* Craig Bryan Wibberley, 19, of Williamsport, Md.
Adam Serwer brings to my attention a powerful NYT op-ed from retired FBI Special Agent Ali Soufan, "Closing the Case on the Cole," noting the remarkable facat "the attack's mastermind still hasn't been prosecuted, and many of the men tried and imprisoned for the bombing are again free."
As soon as the F.B.I. received news of the Oct. 12 bombing, I flew to Yemen with a team to investigate. The bodies of sailors draped in flags on a blood-stained deck, guarded by teary-eyed survivors, formed a heartbreaking image that motivated us during the following months.

Our investigation faced difficulties from the beginning. Yemen's weak central government's on-again, off-again relationship with extremists meant that Al Qaeda had influential sympathizers in positions of authority, as well as among powerful tribes in the country's vast desert. As a consequence, we regularly faced death threats, smokescreens and bureaucratic obstructions.

While such obstacles were not unexpected, what surprised us was the lack of support from home. No one in the Clinton White House seemed to care about the case. We had hoped that the George W. Bush administration would be better, but except for Robert Mueller, the director of the F.B.I., its top officials soon sidelined the case; they considered it, according to Paul Wolfowitz, the deputy defense secretary, "stale." Even the families of the sailors were denied meetings with the White House, a disgrace that ended only when President Obama took office — and a precedent I hope the administration maintains.

[…]

It is not merely an insult to the 17 dead sailors, their families and our national honor that Washington does nothing while convicted terrorists walk free and Mr. Nashiri sits unprosecuted. It also harms our national security. We long ago realized that if the American government had not let the Cole attack go unanswered, and if our investigation had not been so constrained, we could have undermined Al Qaeda and perhaps even averted the 9/11 attack. After 10 years, we need to finally put that lesson to use.
Truly shocking that we haven't.