Utah Blogger Fired for Homophonia
The folks at the Nomen Global Language Center are not that adept with the local language. Paul Rolly reports for the Salt Lake Tribune:
Homophones, as any English grammarian can tell you, are words that sound the same but have different meanings and often different spellings — such as be and bee, through and threw, which and witch, their and there.

This concept is taught early on to foreign students learning English because it can be confusing to someone whose native language does not have that feature.

But when the social-media specialist for a private Provo-based English language learning center wrote a blog explaining homophones, he was let go for creating the perception that the school promoted a gay agenda.

Tim Torkildson says after he wrote the blog on the website of his employer, Nomen Global Language Center, his boss and Nomen owner Clarke Woodger, called him into his office and told him he was fired.

As Torkildson tells it, Woodger said he could not trust him and that the blog about homophones was the last straw.

"Now our school is going to be associated with homosexuality," Woodger complained, according to Torkildson, who posted the exchange on his Facebook page.
Somehow, I think they'll be known for something else entirely.
UPDATE: Woodger denies the claims, according to a report from The Independent:
Woodger refuted the comments from Torkildson, saying that his decision to remove him from his post had nothing to do with homosexuality.

He told the Salt Lake Tribune that Torkildson's recent blog postings had begun to "go off on tangents" and had become confusing and sometimes offensive.
He also said that homophones were beyond the understanding of the majority of the students at Nomen, who were mostly at the basic levels of learning the language.
A little more digging turns up a Google cache version of Torkildson's actual blog post. It certainly strikes me as appropriate for the position and reasonably well crafted.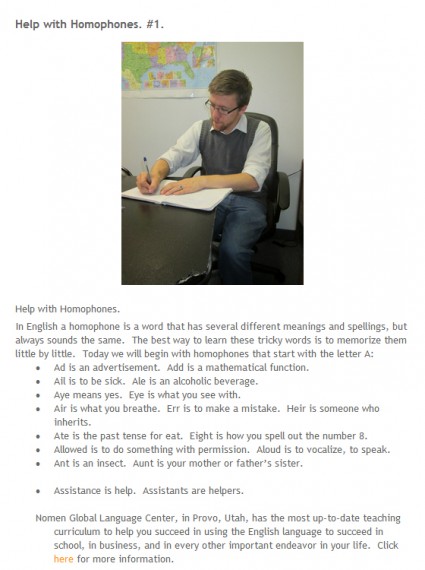 Utah is a right to work state and Woodger and company have the right to fire their social media manager for pretty much any reason they please—although probably not on the basis of Torkildson's sexual orientation. If they did it simply because they thought people would get confused by the blog posts, they're legally clear but they certainly look like buffoons.