Utopia Is A Relative Concept
What we think the ideal society looks like depends a lot on what kind of society we live in.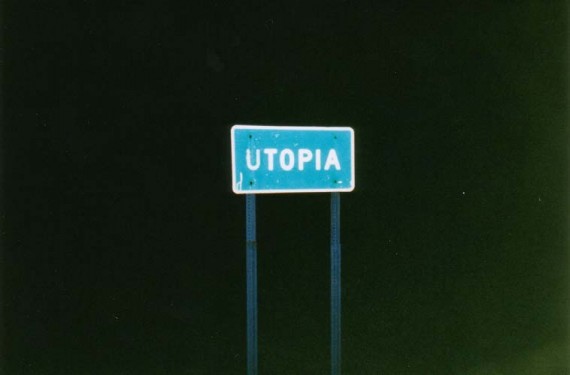 Shannon Love reminds us that utopia is a relative concept:
Star Trek is often used as a starting point for musing about this or that utopia because everything in Star Trek seems so wonderful. Star Trek is Gene Roddenberry's vision of New Frontier democratic socialism evolved to a utopia so perfect that individuals have to head out into the wilds of deep space just to find some adventure. Watching Star Trek, one naturally begins to wonder what it would be like to live in a world so advanced that all of the problems we deal with today have been resolved or minimized to insignificance.

Well, we don't actually have to imagine what it would be like to live in a Star Trek-like, radically egalitarian, technologically advanced, "post-scarcity" society because we live in a Star Trek-like utopia right now, right here, in contemporary America.

How can I say that? Simple, Star Trek the Next Generation takes place 353 years in the future from 2364 to 2370. If we were to think of ourselves as living in a futuristic science-fiction society we would likewise look back 353 years in the past to 1658.

Image what modern America would look like to the people of any of the world's major cultures back in 1658! Any novel, movie, TV or comic book set in day-to-day middle-class America would read like astounding science fiction to anyone from 1658. Our society looks even more utopian in comparison to 1658 than Star Trek world 2370 looks to us today.

I'm not just talking about all the amazing and frightening technology like nuclear power/weapons, spacecraft, cars, cell phones, computers, the Internet, etc. I'm also talking about issues of want, individual dignity and social/political equality.

Just to start, by the standards of anywhere 1658 ,contemporary America is a land completely devoid of material poverty. No one in 1658 would consider anyone in America, even a street person, to be even marginally materially poor. Poor people today in American have a material standard of living that surpasses that of even the wealthiest individual in 1658.

For example, just turning on a faucet and getting safe, clean drinking water would look as amazing to a 1658 person as a Star Trek replicator looks to us today.

A poor American has functionally unlimited access to clean drinking water, something not even the emperors of 1658 had. A 1658 person would be gobsmacked that we take perfectly clean and safe drinking water so much for granted that we don't think there is anything even remotely odd about using a few gallons of it to shit and piss in every single time we go to the bathroom!

In 1658, one in four children died before the age of five. For poor Americans today, more children die from accident than disease. In 1658, waves and waves of disease cut through the population regularly, killing young and old alike in vast numbers. Plagues of all kinds emptied cities and wiped out armies. In modern America, owing to vaccines, antibiotics and sanitation even the poorest person is protected from history's greatest killers. We have so forgotten the terrible diseases of the past that many of today's idiots question if vaccinations and antibiotics are even necessary any longer!

In 1658, even middle-class people spent 80% of their income on food and the poor spent 95%. Today, our "poor" spend at most 25%. Moreover, they routinely eat 1658 luxury foods like beef, jello and marshmallows. Spices common today like black pepper cost the equivalent of hundreds of 2011 dollars an ounce in 1658. Sugar in 1658 cost roughly five dollars a teaspoon. Tea and coffee were exotic drinks of the fashionable wealthy, selling for the equivalent of $20 or more a cup.

Even more amazing, poor people today eat different foods for every meal every day! In 1658, the vast majority of humanity ate the same boiled grain/rice for their one or two meals a day, every day. There was no seasoning and salt was rare. Any meat at all was a weekly or monthly luxury. You had to be a 1658 upper-middle class to eat bread with every meal. If you bemoaned to anyone in 1658 that 2011 America was a flawed society in part because obesity was a major health concern for its poor, they would have looked at you like you were insane. Well, the wealthiest of 1658 would think you insane, the actual poor of 1658 would beat you to death in moral outrage.
Indeed, they likely would. Not to mention the fact that the idea of being able to talk to anyone in the world at any time with a device that fits in the palm of your hand would seem like witchcraft to them and might just get you burnt at the stake. And that was a mere 353 years ago. Unless humanity enters a new Dark Age or the Earth experiences some sort of calamity that sets civilization back several centuries, if not more, the world of 2364 is likely to be just as far beyond our current ability to conceive. It may not be the Star Trek future, that's a fictional show that employs fictional technologies and has a fictional history that doesn't match our own, but it's likely to be pretty darn amazing anyway. For all we know, the 2364'ers will look back at Star Trek and other visions of the future that we have today and laugh at our naivete and lack of imagination. At the same time, though, they'll probably be having their own ideas of what 2717 will be like that will turn out to be just as wrong.
By its very definition, utopia is an unattainable ideal state of existence. Part of the reason for that, I think, is that our idea of what a "utopia" is changes as we become more technologically advanced. Usually, our view of what the future will be like is constrained by the world we live in at the time. Consider, for example, this video from 1969 that predicted what the future of home computing would be like.:
Even in this home of the future in 1969, the computers were big, and clunky, and looked like they were more suited to an industrial plant than a suburban residence. When AT&T created that video, they had no idea of what was to come in just the next ten years, not to mention the next four. We're in much the same position. Ten years ago, smartphones, social networking, and online video didn't exist and most people were still accessing the internet via a dial-up connection. Who knows where we'll be ten years from now, not to mention 353?