Vast Majority Of Americans Already Dreading The 2012 Election Campaign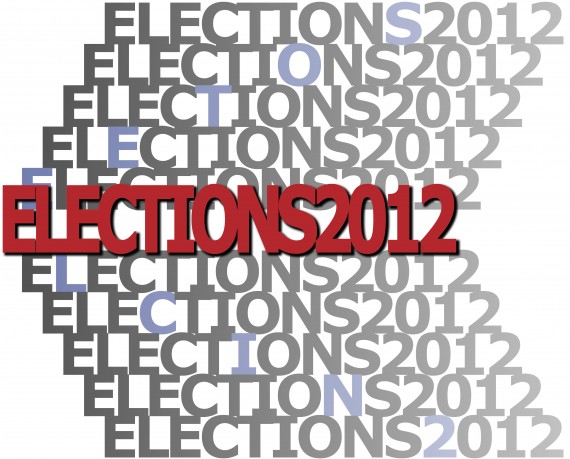 We're just about finishing up with the pre-game show, and already it's pretty clear that the public isn't looking forward to the upcoming election campaign:
PRINCETON, NJ — With the Jan. 3 Iowa caucuses serving as the kickoff of voting in the 2012 presidential election campaign, Americans would likely prefer to fast-forward to the end of the campaign than watch it unfold. Given a choice, 70% of Americans say they can't wait for the campaign to be over, while 26% can't wait for it to begin.

These results are based on a Dec. 6-7 USA Today/Gallup poll.

Gallup asked the same question Nov. 30-Dec. 7 of residents in 12 states that are expected to be the most important in deciding the electoral vote outcome — Colorado, Florida, Iowa, Michigan, Nevada, New Hampshire, New Mexico, North Carolina, Ohio, Pennsylvania, Virginia, and Wisconsin. The eventual nominees are likely to focus their campaign efforts on these 12 swing states, meaning their residents will be bombarded with candidate advertisements, events, and grass-roots outreach.

But even before those efforts have begun in earnest in most of these states, swing-state residents express a slightly higher level of negativity toward the campaign than the overall population, with 75% saying they can't wait for the campaign to be over and 21% saying they can't wait for it to begin
This sense of impending doom is shared across all demographic groups, too: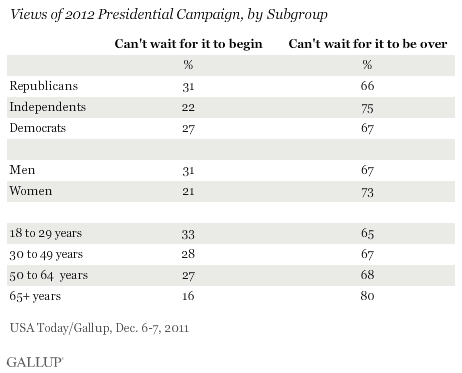 I can't say I blame people for feeling this way. If the 2008 and 2010 elections were any indication, we are in for a long, ugly trip through the mud.
Graphic via The Hawaii Reporter