Veteran Diplomat Richard Holbrooke Dies At 69
One of the most active American diplomats of the past twenty-five years has passed away.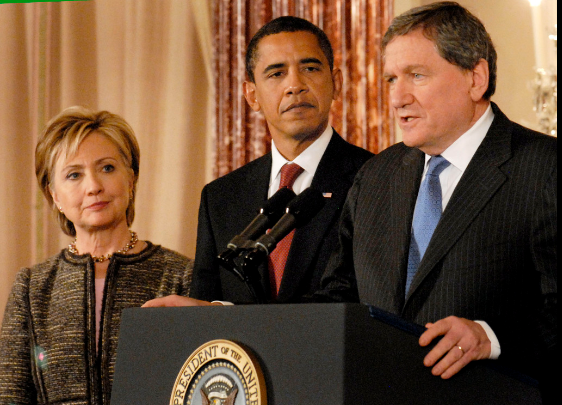 Richard Holbrooke, who made a name for himself in the 90s by negotiating an end to a bloody war in Southern Europe and return in the Obama Administration to work on the tricky situation in Afghanistan, died yesterday at the age of 69:
Richard C. Holbrooke, the Obama administration's special representative for Afghanistan and Pakistan since 2009 and a diplomatic troubleshooter who worked for every Democratic president since the late 1960s and oversaw the negotiations that ended the war in Bosnia, died Monday evening in Washington. He was 69 and lived in Manhattan.

His death was confirmed by an Obama administration official.

Mr. Holbrooke was hospitalized on Friday afternoon after becoming ill while meeting with Secretary of State Hillary Rodham Clinton in her Washington office. Doctors found a tear to his aorta, and he underwent a 21-hour operation. Mr. Holbrooke had additional surgery on Sunday and remained in very critical condition until his death.

Mr. Holbrooke's signal accomplishment in a distinguished career that involved diplomacy in Asia, Europe and the Middle East was his role as chief architect of the 1995 Dayton peace accords, which ended the war in Bosnia. It was a coup preceded and followed by his peacekeeping missions to the tinderbox of ethnic, religious and regional conflicts that was formerly Yugoslavia.

More recently, Mr. Holbrooke wrestled with the stunning complexity of Afghanistan and Pakistan: how to bring stability to the region while fighting a resurgent Taliban and coping with corrupt governments, rigged elections, fragile economies, a rampant narcotics trade, nuclear weapons in Pakistan, and the presence of Al Qaeda, and presumably Osama bin Laden, in the wild tribal borderlands.
Prior to the Clinton years, Holbrooke had already developed an impressive resume:
Few diplomats could boast of his career accomplishments. Early on, Mr. Holbrooke devoted six years to the Vietnam War: first in the Mekong Delta with the United States Agency for International Development, seeking the allegiance of the civilian population; then at the embassy in Saigon as an aide to Ambassadors Maxwell Taylor and Henry Cabot Lodge Jr.; and finally in the American delegation to the 1968-69 Paris peace talks led by W. Averell Harriman and Cyrus R. Vance.

Mr. Holbrooke was the author of one volume of the Pentagon Papers, the secret Defense Department history of the Vietnam War that cataloged years of American duplicity in Southeast Asia. The papers were first brought to public attention by The New York Times in 1971.

As assistant secretary of state for East Asian and Pacific affairs in the Carter administration, Mr. Holbrooke played a crucial role in establishing full diplomatic relations with China in 1979, a move that finessed America's continuing commitment to China's thorn in the side Taiwan and followed up on the historic breakthrough of President Richard M. Nixon's 1972 visit to China.
https://www.outsidethebeltway.com/wp-admin/post-new.php
During the Clinton presidency, Mr. Holbrooke served as ambassador to Germany in 1993-94, when he helped enlarge the North Atlantic alliance; achieved his diplomatic breakthroughs in Bosnia as assistant secretary of state for European affairs in 1994-95; and was chief representative to the United Nations, a cabinet post, for 17 months from 1999 to 2001.

At the United Nations, he forged close ties to Secretary General Kofi Annan, negotiated a settlement of America's longstanding dues dispute, highlighted conflicts and health crises in Africa and Indonesia, and called for more peacekeeping forces. After fighting erupted in the Democratic Republic of Congo in 1999, he led a Security Council delegation on a mission to Africa. He also backed sanctions against Angolan rebels in 2000.
As the Washington Post notes, Holbrooke's untimely passing could have an impact on the future course of American policy in Afghanistan:
The death could have a profound impact on the administration's efforts to implement aspects of its strategy for the war in Afghanistan, which relies not just on military gains but development assistance and diplomatic initiatives with the governments in Kabul and neighboring Pakistan that had been his principal focus.
In one of those ironies that often happens in these situations, Holbrooke's death came one day before the 15th anniversary of what was his arguably his greatest achievement, the signing of the Dayton Peace Accords which brought to an end the bloodiest European conflict since World War II.
Secretary of State Clinton issued the following statement on Holbrooke's passing:
Tonight America has lost one of its fiercest champions and most dedicated public servants. Richard Holbrooke served the country he loved for nearly half a century, representing the United States in far-flung war-zones and high-level peace talks, always with distinctive brilliance and unmatched determination. He was one of a kind — a true statesman — and that makes his passing all the more painful.

From his early days in Vietnam to his historic role bringing peace to the Balkans to his last mission in Afghanistan and Pakistan, Richard helped shape our history, manage our perilous present, and secure our future. He was the consummate diplomat, able to stare down dictators and stand up for America's interests and values even under the most difficult circumstances. He served at every level of the Foreign Service and beyond, helping mentor generations of talented officers and future ambassadors. Few people have ever left a larger mark on the State Department or our country. From Southeast Asia to post-Cold War Europe and around the globe, people have a better chance of a peaceful future because of Richard's lifetime of service.

I had the privilege to know Richard for many years and to call him a friend, colleague and confidante. As Secretary of State, I have counted on his advice and relied on his leadership. This is a sad day for me, for the State Department and for the United States of America.

True to form, Richard was a fighter to the end. His doctors marveled at his strength and his willpower, but to his friends, that was just Richard being Richard. I am grateful for the tireless efforts of all the medical staff, and to everyone who sat by his side or wished him well in these final days.

Tonight my thoughts and prayers are with Richard's beloved wife Kati, his sons David and Anthony, his step-children Elizabeth and Chris Jennings, his daughter-in-law Sarah, and all of his countless friends and colleagues.
Peacemakers don't often get the recognition they deserve until after they've gone.