Viewership For Fifth Democratic Debate Drops Significantly
Wednesday night's debate drew the smallest television audience of any of the debates so far.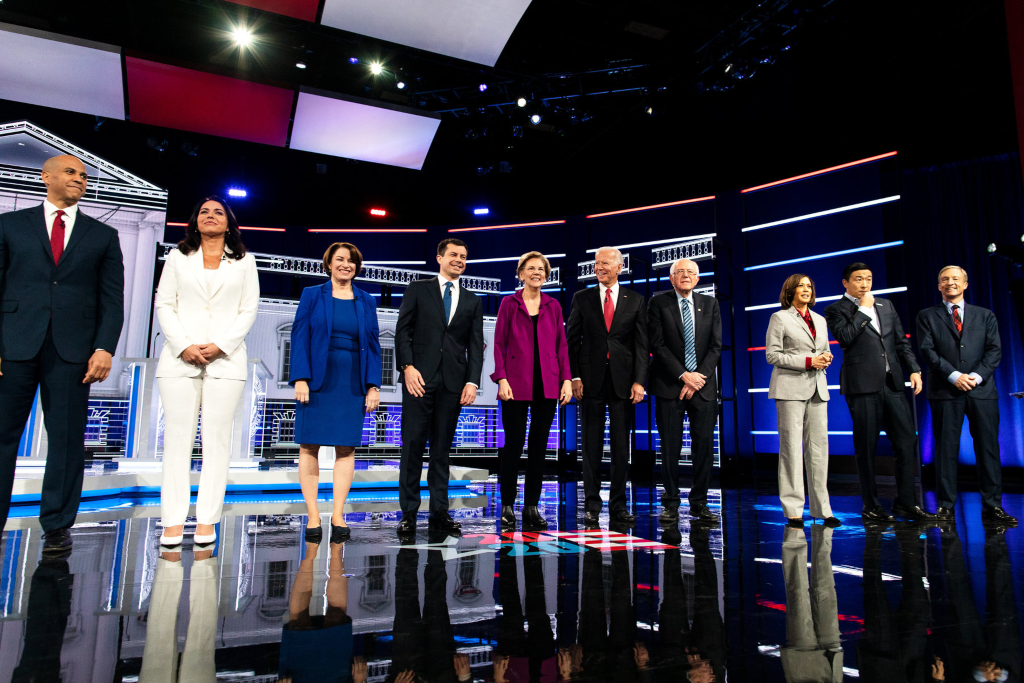 Wednesday night's Democratic Debate drew the smallest audiences yet, with less than 7 million people tuning in to watch ten of the Democratic candidates for President debate for the Fifth time since June:
MSNBC's Wednesday-night broadcast of the latest Democratic debate won outsized plaudits from media critics, but its viewership does not appear to have reached similar heights.

According to data measured by Nielsen, the cable-news outlet's telecast captured just 6.5 million viewers overall and a little more than 1.67 million among viewers between 25 and 54, the demographic coveted most by advertisers in news content. The totals would make the event one of the least-watched in the recent cycle of five Democratic debates that have been offered by the Democratic National Committee in 2019.

MSNBC noted that some people watched the debate in non-traditional fashion. Coverage generated more than 1.3 live video streams via NBCNews.com MSNBC, and NBC Now on broadband-enabled devices.

In a memo to staff, NBC News and MSNBC Chairman Andy Lack offered praise for Wednesday night's coverage. "We took a completely blank canvas – a sound stage at Tyler Perry Studios in Atlanta – and turned it into a stunning debate venue worthy of the moment," he said. Staffers, he added, "knocked it out of the park."

(…)

The program aired after a long day of televised impeachment inquiry hearings broadcast across many different networks, and it's possible that viewers who might have normally tuned in to see former U.S. Vice President Joe Biden, South Bend Indiana Mayor Pete Buttigieg, Senator Elizabeth Warren and Senator Bernie Sanders square off with each other and Senator Cory Booker, Senator Kamala Harris, Tom Steyer, Andrew Yang and U.S. Rep. Tulsi Gabbard were simply burnt out on political coverage for the cycle.
y way of comparison, the first night of the first debate back in June saw some 15.3 million viewers tune in to watch a debate that included Elizabeth Warren, Pete Buttigieg, and a field of also-rans. The second night of that debate saw 18.1 million viewers tune in to watch a debate that became best known for the showdown between Senator Kamala Harris and former Vice-President Joe Biden. The numbers for the second debate, though, showed a significant drop, with just 8.7 million viewers for the first night and 10.7 million viewers for the second night. The third debate saw viewership numbers jump back up, with some 14 million viewers tuning in, while the fourth debate in October saw viewership drop to roughly 8.3 million viewers.
In addition to the fact that viewers may be growing tired of a debate format that includes candidates that essentially have no chance at becoming the nominee, the difference in viewership numbers may be due to the news outlet(s) covering the debate. The first and third debates, for example, were broadcast by NBC and ABC News respectively, In addition to each network's broadcast channel, the debate also showed up on a number of different cable news outlets such as MSNBC and Telemundo for the NBC debate and Univision for the ABC debate. The second and third debates, by contrast, were broadcast only on CNN, which may have limited the audience to some extent. The same is true of Wednesday's debate, which was only broadcast on MSNBC and not on the broader NBC network. The debate also competed against first-run episodes of primetime programming on the broadcast channels as well as going head-to-head, at least for a short period of time, with the "afternoon" session of Wednesday's session of the impeachment hearings, which didn't begin until roughly 5:00 p.m. rather than the planned start time of 2:30 p.m.
In any case, going forward we are likely to see much smaller debates thanks to the increasingly difficult qualification criteria. In order to qualify for the next debate in December, candidates must reach 4% in at least four designated national polls or 6% in two qualifying polls taken in one of the four February voting states, Iowa, New Hampshire, Nevada, and South Carolina. Additionally, candidates must have received donations from 200,000 unique donors with 800 unique donors in 20 different states, territories or the District of Columbia. So far, six candidates — Joe Biden, Elizabeth Warren, Pete Buttigieg, Kamala Harris, Bernie Sanders, and Amy Klobuchar — have qualified, while three other candidates have one but not both criteria. Of those three, Andrew Yang is the closest to qualifying given that he's met the donor criteria and is one national poll away from reaching the poll criteria. The other two — Tom Steyer and Cory Booker — have met one but not both the polling and donor criteria. The rest of the field has yet to meet any of the December criteria. (Source) This could mean that we'll have as few as seven, or as many as nine, candidates on the stage in December. Of course, we'll be at the fever-pitch of impeachment by then so it's unclear if the public appetite for politics will be as insatiable as it was over the summer.